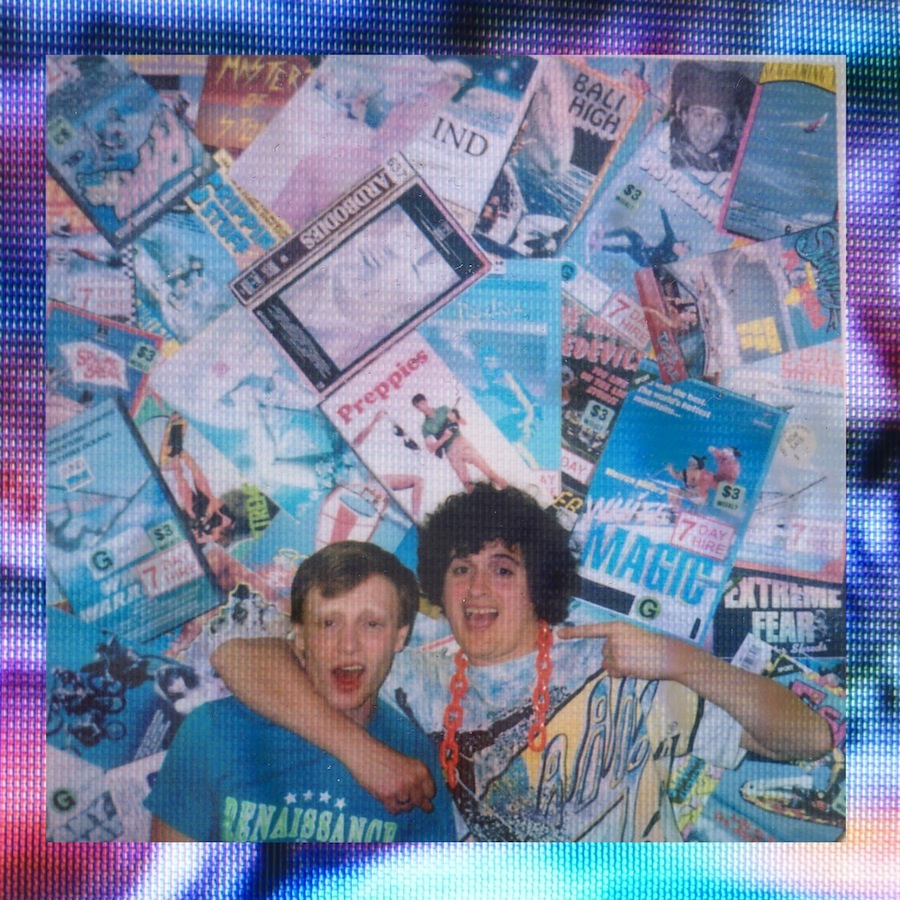 Inspired by the surfer dude spirit of his new Inner Tube project (featuring Spencer Clark of the Skaters), we asked Emeralds guitarist Mark McGuire to share an exclusive summertime mix under his DJ Road Chief guise. He fired back a two-hour tape that includes "Beach Blanket" edits, experimental flourishes (Cindytalk, Coil, Suzanne Ciani) and enough yacht rock to make you feel like you're in Duran Duran's "Rio" video.
Presenting "Road Chief's Sun Burnt Reef Rash Beach Bash 2K12" mix–the "Unsound SPF 50+ Edition," in tribute to the two shows McGuire is playing at the New York festival this week. For more info about all of the above, as well as McGuire's past work and upcoming projects, be sure to check back on our site later today for an interview that's about as long as his mixtape…
To help prepare your brains for the wavelength of Inner Tube, I pulled tunes from my favorite beach and summer mixes over the past four years, and turned them into a new extended sunburn experience. This is not just your typical "spring break hit Daytona with three kegs and PARTY DOWN" style beach jam, although there are some classic brew-spiking anthems like "Summer of '81" and "Me and the Boys" to get things rippin'.
However, it also takes you to the other side of the beach, where Redolfi and Iasos are hanging out tripping and watching the mix between sun and moon light glisten between the breaking wave caps as they stretch back to the horizon, connecting Earth to the 4D universal grid–the bridge between land and the mysterious world that exists in the vast network of the oceans and seas, and the still more wondrous world that exists far beyond the horizon. So as spring is springing, let's get stoked and set our sights on the inevitable summer stokers, and hit the beach that lies in each of our minds! –Mark McGuire
Mark McGuire, "Road Chief's Sun Burnt Reef Rash Beach Bash 2K12" Mix:
Ishikawa Akira – The Dawning of Love
Michel Redolfi – Pacific Motion
Mondo Rock – Summer of '81
The Church – Bel-Air
Iasos – Splash Happy
Kassav – La Ri a
Zouk Machine – Pisime Zouke
NRBQ – Me and the Boys
Australian Crawl – Lakeside
Beach Blanket edit #1 – reggae in the wind
Ashra – Pretty Papaya
Sandii & the Sunsetz – Calling You
Con Funk Shun – California 1
Dieter Schutz – The Coast
Beach Blanket edit #2 – sand dreaming
Cindytalk – Up here in the clouds/The Eighth Sea
Bil Vermette – Long Trail Down
Coil – Triple Sun
Kashif – Send me your love (Onra remix)
Beach Blanket edit #3 – Sunshine
The Cool Notes – My Love is Hot
Beach Blanket edit #4 – humid breeze
Etienne Daho – Signe Kiko
Second Image – Paradise
CJ Anthony – Luv's intro
SOS Band – Tell me if you still care
Dam-Funk – Keep Lookin' to the Sky
Koko Pop – On the Beach
Mathematiques Modernes – Jungle Hurt
Kazumi Totaka – Southern Island
Iasos – Soft Beach/Tahiti Sunset
Roxy Music – True to Life
China Crisis – Blue Sea
David Behrman – On the Other Ocean
Suzanne Ciani – The Seventh Wave – Sailing Away