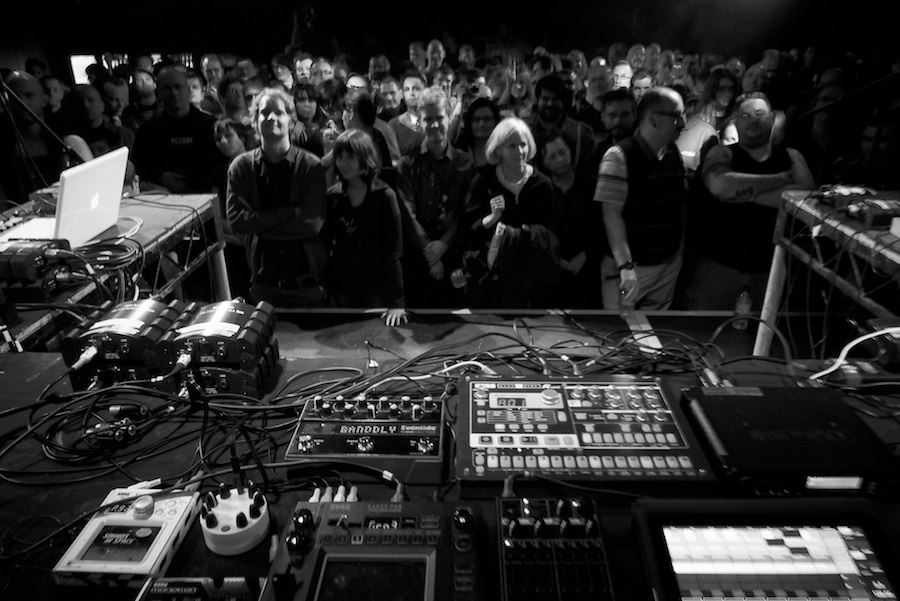 Since we weren't satisfied with simply streaming Transverse–a killer one-night-only collaboration between Nik Colk Void (Factory Floor) and the married-with-machines duo Chris Carter and Cosey Fanni Tutti (Chris & Cosey, Throbbing Gristle)–self-titled went two steps further. First: we asked one of the Quietus' co-founders, John Doran, to spend a morning interviewing Carter and Tutti about their entire career. The result is so thorough we decided to split it into two parts, which will run later this week.
But not before we get to another bit of Carter Tutti Void-related press: a free mix of the trio's favorite tracks, available below alongside a complete track-by-track commentary…
Nik Colk Void
Mika Vainio, "In Silence a Scream Takes a Heart"
This is taken from Mika Vainio's solo album Life (It Eats You Up). I first became a fan of Mika's work through Pan Sonic–from the Finnish techno underground–back in 2004. He's disowned the harder, comparatively dancefloor edge of Pan Sonic and selected his own staple sounds via his investigative approach of drones and feedback. Very physical, very personal, very honest; I would love to work with him one day!
Chris & Cosey, "This Is Me"
This is one of my favorite C&C tracks, taken from the Heartbeat album. I always start my DJ sets with this. Cosey's horn is my signal to get ready and "Go"!
Peter Gordon & The Love of Life Orchestra, "Beginning of the Heartbreak / Don't Don't"
I love this track, but the first track that got me buying up all Peter's back catalog was "Condo." I messaged him on Facebook explaining that "Condo" had changed my life. We immediately became friends and are now working on a track together! Our collaboration, along with Gabe Gurnsey from Factory Floor, is scheduled to come out in September on Optimo Records.
COSEY FANNI TUTTI
Jefferson Airplane, "White Rabbit"
I love the build up in this and the strength of Grace Slick's vocal delivery. I never tire from listening to it. "Use your head" says so much about the time and is just as poignant now.
Monte Cazazza, "A Gringo Like Me"
It's Monte…what more is there to say? For those who don't know him, the clue is in the title. Enjoy.
Soisong, "Ti-Di-Ti Naoo"
Sleazy's beautiful collaboration with Ivan. It brings me close to him and speaks so much of his idiosyncrasies and influences. Whenever I listen to this it makes me both smile with happiness and shed an affectionate tear.
CHRIS CARTER
Les Baxter, "White Sands"
Less well-known than Martin Denny but covering similar territory, Les Baxter's arrangements were often more refined and had a lighter touch. Actually more akin to John Barry with his later albums, as this track displays wonderfully.
Delia Derbyshire, "Ziwzih Ziwzih 00-00-00"
One of Britain's unsung experimental music heroines. It still surprises me how many people have never heard of her. I think her compositions were hugely influential to experimental electronic musicians of a "certain age" but this is one of her more commercial tunes.
Henry Mancini, "Experiment In Terror"
I'm a huge fan of John Barry and Ennio Morricone, but like all musicians they are influenced by each other. I thought it was pretty obvious who was the influence in this instrumental: but it predates John Barry's similar sounding works by a few years. Love it.