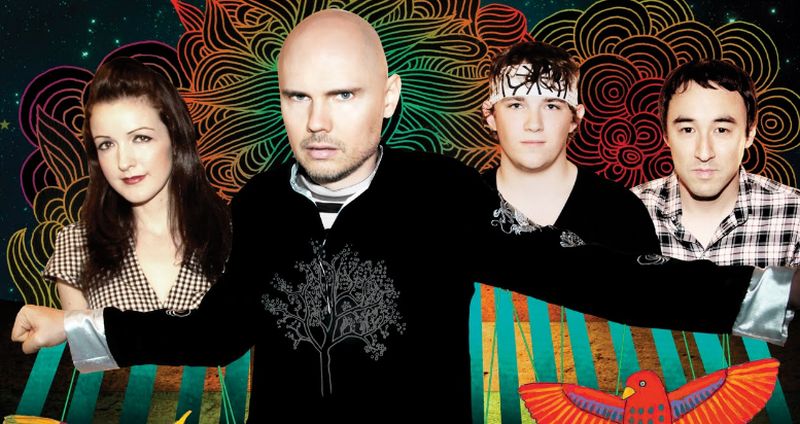 If you're like us and holding onto one last ray of hope regarding the Smashing Pumpkins, there's this: Oceania, the band's first proper album since 2007's Zeitgeist LP, is due out June 19th and is the first to feature guitarist Jeff Schroeder, drummer Mike Byrne and bassist/vocalist Nicole Fiorentino. Whether this new blood will rejuvenate Billy Corgan remains to be seen. What we do know is that the record's 13 songs are but a small piece of the frontman's ongoing, 44-track Teargarden By Kaleidyscope project. And, well, we don't even know where to start with that one.
Anyway, find out more straight from the source and a press release below (we cut out the part that was basically a commercial for Corgan's label partners at EMI)…
Can you talk about how the recording of Oceania may have differed in any way from previous Smashing Pumpkins albums?
We worked for a time in an empty movie theatre in Sedona during the winter months of early 2011, sketching out some primary versions of the songs while trying to dial in the emotional terrain we were seeking. In that kind of process it wasn't that unusual from past records where I'd worked with a band as a unit to help me define a set of templates to work towards. We'd just come off the road, and had a good sense of what was no longer working in our eyes from a dynamic point of view. We worked hard to create space in the music, but not lose any of the emotive power that I like to have behind my songs.
[What was] your creative mindset during the recording?
From a production standpoint I was dead set on making an album where every song was just as valuable as any other, ignoring the typical claptrap you hear about needing a single. The only way to make the case that every song on Oceania is worth hearing is to put your heart into the sequence as a cohesive whole. Once we felt we'd achieved that balance, only then did we let anyone outside our world hear the record we'd made.
What you feel your bandmates have added to the album?
I've been adamant in stressing that as a group, first and foremost, we are here to make new music together. I'm proud to say that on Oceania I feel we've cut our own path forward. Jeff, Mike, and Nicole have all made significant contributions to the tone and texture of Oceania, which is an album that is unlike any I've ever made. Yet at the same time I believe it upholds the same musical values I've always pushed for with The Pumpkins, be they progressive, emotional, epic, or restless.
Do you feel the recording of the album benefitted by the band having played some of these songs on the road first?
If we've learned anything from playing as an intact unit now for over two years, it's that unless we create our own sound and our own legacy, it's a given that people will default to what they know; whether it's my past or someone else's. We know we have much more in us to share than being an alluring, virtual jukebox. Being in The Pumpkins will always be defined by what we can create from our hands and hearts right now, and I wouldn't have it any other way.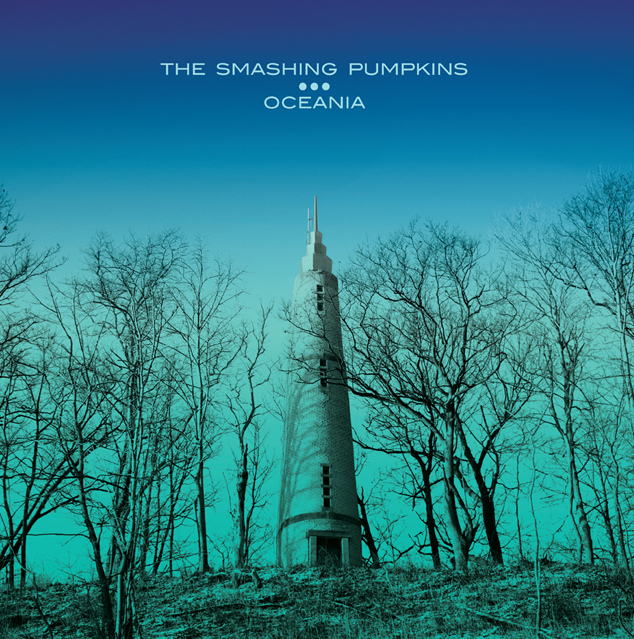 Smashing Pumpkins, Oceania (Martha's Music, June 19th):
1. Quasar
2. Panopticon
3. The Celestials
4. Violet Rays
5. My Love is Winter
6. One Diamond, One Heart
7. Pinwheels
8. Oceania
9. Pale Horse
10. The Chimera
11. Glissandra
12. Inkless
13. Wildflower