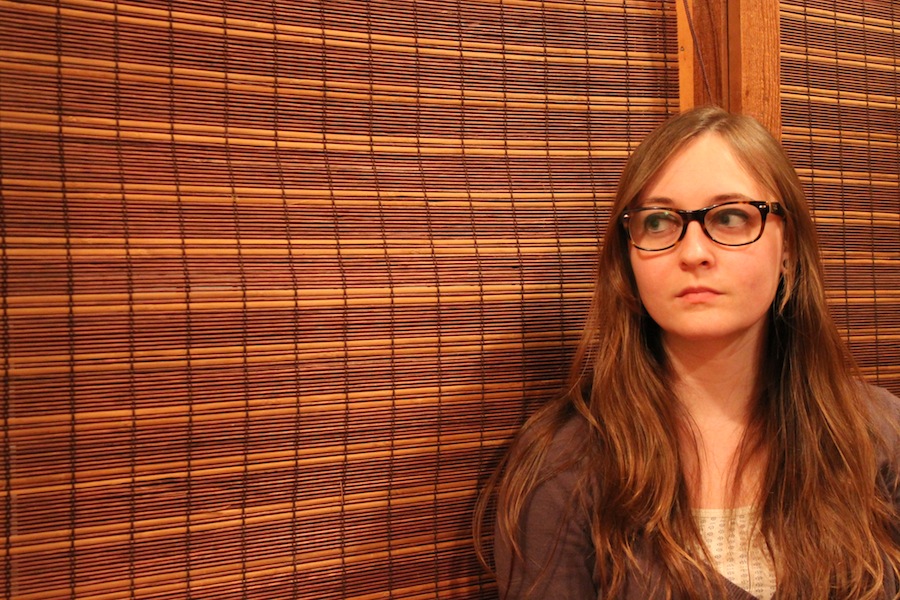 Mix and Words by Rachel Evans
This mix starts in 2009. I started recording as Motion Sickness of Time Travel "officially" in December 2008, but didn't release anything under that name until 2009. I was in my final year of college, double majoring in art and music. Tracks 1 and 2 are from my first 'experiments' as MSOTT, and are actually composed of remixes of my older more singer-songwriter type music. I did a lot of chopping up the original track files, rearranging them in geometric patterns within the audio-editing screen. After that I tried to combine those new techniques with traditional composing/songwriting and even 'traditional' instruments.
The releases on this mix that were put out in 2010 were mostly recorded in between graduating from college and starting grad school to study librarianship. All of these earlier recordings were released on Hooker Vision (the label my husband Grant & I run, which he founded in 2008). My first non-Hooker Vision release was on Digitalis Ltd. (starting at track 10 on this mix) after submitting a demo tape to them, thanks to Grant encouraging me to. That tape became Seeping Through the Veil of the Unconscious and was re-released at the beginning of 2010 on vinyl on the same label. A couple of the releases on this mix are from tapes that were put out on Digitalis-related labels like Dial Square Tapes and Teosinte. I also did a split around that time with Eden's solo project Mass Ornament (she's half of Digitalis/Altar Eagle), which we released on Hooker Vision in early 2011.
Almost all of the releases I've put out so far as MSOTT, and even the ones Grant and I released as our duo Quiet Evenings, were released on the labels of friends that we've made in the past few years…either by making similar music, releasing their music on our label, or releasing music on the same labels. That's the case with Hobo Cult Records (run by Frank Oulette, who actually did the artwork for the L&S LP/CD, White Candle CS, and of course the Dreamcatcher CS), Kim Dawn (run by Frank Baugh, who records as Sparkling Wide Pressure), and Tranquility Tapes (run by Franklin Teagle of the NYC synth duo Afterlife, with tape designs/art by Caroline Teagle of Imperial Topaz).
After a short tour of the southeast coast with our friend Jeff of Xiphiidae (Housecraft Recordings/Digital Natives/etc.), we had made several friends in the Asheville area, including Bathetic Records. In late 2011, I released my final MSOTT release of the year on that label, a split cassette with the UK's Listening Mirror. It's probably my favorite solo release from 2011. There are also several Quiet Evenings tracks on this mix, mostly recorded in 2011. We recorded a lot of material together that year, and played more live shows that year than ever before. An excerpt from our upcoming LP Impressions is featured on this mix at the end, and is forthcoming on Belgium's Aguirre Records, the same label that released a split LP between Grant's and my solo projects (Grant was recording as Nova Scotian Arms at the time) in late 2011. The final track on this mix is unreleased material which I recorded just last week…
Motion Sickness of Time Travel – Needle Exchange 105:
1. I'm 11 or 12 again (0:00 – 1:21)
Middle Winter EP, Hooker Vision, CDr , 2009
Motion Sickness of Time Travel
2. They Came Up from the Hills and Down from the Sound (1:18 – 2:07)
Middle WInter EP, Hooker Vision, CDr , 2009
Motion Sickness of Time Travel
3. The Magick That Is You (2:06 – 2:58)
A Forest Aching Cold, Hooker Vision, cassette, 2009
Motion Sickness of Time Travel
4. The Devil's Voice (2:56 – 4:22)
Feathers and Furs, Hooker Vision, cassette, 2009
Motion Sickness of Time Travel
5. Mid-Afternoon (4:20 – 7:05)
Communicating From Within a Wooden Box, Hooker Vision, cassette, 2009
Motion Sickness of Time Travel
6. Dark Room (5:36 – 7:52)
Aditive Abature split, Hooker Vision, cassette, 2009
Motion Sickness of Time Travel
7. Enchantment Versus Mind Control (7:52 – 8:51)
Aditive Abature split, Hooker Vision, cassette, 2009
Motion Sickness of Time Travel
8. Earthly Vapors and Witches (8:50 – 10:38)
The Soma Mandala, Hooker Vision, cassette, 2009
Quiet Evenings
9. Absolute Pigment (10:38 – 11:42)
The Sound of Reality Dissolving EP, mini CDr, 2010
Motion Sickness of Time Travel
10. Clairvoyance (11:42 – 12:32)
Seeping Through the Veil of the Unconscious, Digitalis, cassette, 2010
Motion Sickness of Time Travel
11. Little Green Bottle (12:20 – 13:35)
Red Tide EP, Hooker Vision, mini CDr, 2010
Motion Sickness of Time Travel
12. Awakening (13:18 – 15:00)
Awakening, Dial Square Tapes, cassette, 2010
Motion Sickness of Time Travel
13. Firework of Echoes (14:41 – 16:59)
Slow Architecture split, Sweat Lodge Guru, cassette, 2011
Motion Sickness of Time Travel
14. Moon-blued (16:50 – 19:26)
Slow Architecture split, Sweat Lodge Guru, cassette, 2011
Motion Sickness of Time Travel
15. Moons Through a Telescope (19:10 – 21:00)
A Disembodied Voice in the Darkness, Teosinte, cassette, 2011
Motion Sickness of Time Travel
16. A Drug-Induced Phenomenon (20:13 – 22:57)
A Disembodied Voice in the Darkness, Teosinte, cassette, 2011
Motion Sickness of Time Travel
17. Fade Away (22:17 – 25:44)
split with Mass Ornament, Hooker Vision, cassette, 2011
Motion Sickness of Time Travel
18. Transcending Spheres (25:21 – 28:27)
Transcending Spheres, Preservation, CD, 2011
Quiet Evenings
19. Finality (27:13 – 29:42)
Transcending Spheres, Preservation, CD, 2011
Quiet Evenings
20. Spirit Smoke (29:01 – 31:00)
Spirit Smoke, Kim Dawn, mini CDr, 2011
Quiet Evenings
21. Eight Nineteen (30:44 – 32:59)
Luminaries & Synastry, Digitalis, LP & CD, 2011
Motion Sickness of Time Travel
22. Binah (32:23 – 34:59)
Sistrum, Self-released, mini CDr, 2011
Motion Sickness of Time Travel
23. The Dawn (34:40 – 36:24)
Dreamcatcher, Hobo Cult, cassette, 2011
Motion Sickness of Time Travel
24. Textiles (36:05 – 37:41)
Dreamcatcher, Hobo Cult, cassette, 2011
Motion Sickness of Time Travel
25. Inner Circle (37:21 – 39:02)
Inscriptions Volume 1 compilation, Sacred Phrases, cassette, 2011
Motion Sickness of Time Travel
26. Pillar of Insects (38:40 – 41:31)
Pillars at Night, Tranquility Tapes, cassette, 2011
Quiet Evenings
27. Existential Sphinx (41:03 – 43:16)
Existential Sphinx, Kim Dawn, mini CDr, 2011
Motion Sickness of Time Travel
28. Slow (42:49 – 46:01)
Variations on Sleep split, Bathetic, cassette, 2011
Motion Sickness of Time Travel
29. Kohti Iltaa (45:36 – 48:23)
Octavaiset Otsakkaha, Hooker Vision, cassette, 2012
Nuojuva
30. A Thought (48:14 – 51:27)
Chinaberry, Hooker Vision, cassette, 2012
Motion Sickness of Time Travel
31. Censer (50:50 – 52:34)
Crystal Anniversary split, Aguirre, LP, 2011
Motion Sickness of Time Travel
32. Blue Dream (52:15 – 56:44)
Impressions, Aguirre, LP, 2012
Quiet Evenings
33. Untitled 1 (55:57 – 59:59)
Unreleased, TBA, 2012
Motion Sickness of Time Travel