"I would like to be a 'real producer' and work with vocalists one day," says Ikonika. "I think it will happen naturally and I'm looking forward to that stage…I feel like I'm at that stage now."
That much is clear on "Beach Mode," a collaboration with Hyperdub labelmate Jessy Lanza that has the subtitle "Keep It Simple" because that's what Ikonika learned to do over the past five years, as the London-based beat maker shifted from the post-dubstep prequels of "Millie" and Contact, Love, Want, Have to the darker detours of last year's I Make Lists EP. And now we're left cracking the codes of Aerotropolis, easily the first album to put Gattaca and "Let the Music Play" on the same pedestal.
With Ikonika set to play Seattle's Decibel Festival this September—a Hyperdub showcase that'll take place in several other cities this fall—we thought we'd pair an exclusive mix with an interview that elaborates on all this freestyle-via-sci-fi business…
First off, could you tell us a little bit about your mix? It's inspired by your love of freestyle music right? How would you describe that sound for people who are unfamiliar with it?
Freestyle music was a genre from the '80/'90s that combined Latino, pop, R&B, hip-hop, electro, disco and house beats. I'm into a lot of hybrid genres and this is a great representation of that—very fun and very danceable. The beats are usually hard and the singing usually soft, but the synths are what I respond to the most. The last album was very much about my UK garage roots and video games; this album started off with a trigger and I ended up fantasizing about being a freestyle producer.
The mix was a little bit off the cuff. It's quite rough in places and not as tight as it could be, but it was just me fiddling around with some records and going with the flow rather than trying to perform a mix. I am also not into doing takes; I think you lose the energy that way. It's also not all freestyle; it has house and pop, but that all melds together. I called it "Animatronik" because it's the name of the bonus track for the Japanese version of Aerotropolis. I didn't want to call it "Ikonika's freestyle/house/pop mix," because that's boring. The mix also has a lot of 'dub' mixes, where the vocals are cut up or made sparse. I'm really into those b-sides; they're not only great to mix, but they offer more of a dancefloor attraction.
What are five freestyle records EVERYONE should own?
These should be the most recognizable…
1. Shannon, "Let the Music Play"
The biggest mainstream hit. Everyone should know this. Shannon was really good. I was also into "Stronger Together." She had such a great voice.
http://youtu.be/UE4WokN5Z6s
2. Lisa-Lisa and Cult Jam, "I Wonder If I Take You Home"
More of an electro and hip-hop feel. Still very catchy and recognizable.
3. Expose, "Come Go With Me"
I absolutely love this one; it's definitely up there as one of my favorites. I like the melancholy vibes and the dodgy chord change in the bridge!
4. Connie, "Rock Me"
She didn't have the best voice, but that was really the point. Connie was classic, she had the hardest beats, great electro vibes and catchy vocals.
5. Stevie B, "Dreamin Of Love"
Stevie B and Noel were such cheesy heartthrobs. They were always breaking up with girls, trying to get them back, etc. etc.
A lot's happened in the UK underground in the three years between your debut album and Aerotropolis. How have your own tastes evolved during that time, and how has that impacted your own music and the material you've put out on Hum + Buzz?
I think if you followed my DJ sets in those three years you can see them slowly shift to where I'm at now. DJing is important to me as a producer for that reason, it allows me to digest and understand the music I'm listening to at the time, and react to it by sharing it when I DJ.
I also feel like I have a lot of freedom to exercise my ideas. I'm very lucky to be signed to Hyperdub and also have Hum + Buzz to release whatever I like. This is really important to me.
Speaking of Hum + Buzz, you haven't put anything out this year. Is the label on hiatus at the moment or will you be dropping some new material on it from you or another artist soon?
Yes, we have something coming out next month from Marriage Proposal and hopefully another two releases by the end of the year.
Did you have any goals in mind for this album?
I don't really like to set goals, but themes start to appear in the process, and I find that really helps with the completion—you end up making a story with bits of sketches and shapes. The valuation of the final product gets me to start asking questions about why I chose this path, and there, I piece together things that triggered them. I like experimenting and I end up recording lots of different bits and pieces. I shove them in a folder on my computer, then maybe go back to them after a week or so to see if they make any sense and try to build as much as I can 'til I have a playable demo.
I think the only real goal was to avoid a dubstep label and bleeps. Actually maybe to just [hit] reset.
And one of the main concepts of the record was escapism?
Yes, it's about escapism but I think the tone remains positive because I'm a positive person. Visually, the album is inspired by the film Gattaca, and the imagery of being somewhere higher. I get disappointed when I don't DJ every weekend, so in parts, it's about that too. It became my routine for a while—I got used to jumping on a plane to do shows—then things slowed down and I started to feel twitchy. I got addicted to traveling. For the first time it felt I couldn't take control; I felt promoters were only booking tech and deep-house DJs and that left me feeling really disappointed with the UK, questioning if I was any good or not.
Science fiction has always played a part in your productions and general aesthetic. What are a few of your favorites in that genre and why?
I'm particularly into films that have a postmodern city, such as Gattaca, Equilibrium and Demolition Man. I like seeing the future through architecture and technology; I like the flashy and visual elements.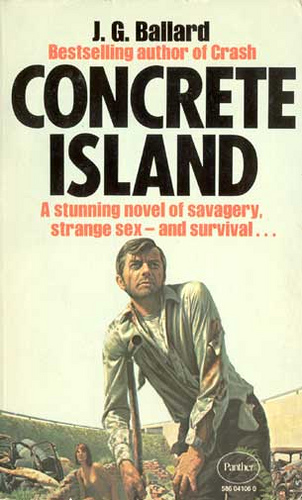 I read Concrete Island while making this album. I started to relate to [J.G.] Ballard a lot as I live in a very disconnected and uncool part of London, close to where the book is actually set. Although I live in an 'Aerotropolis', I drive a lot in and out of the city at weird hours of the morning, going to gigs coming back. It's a drive that in some ways almost heals me if I've had a heavy and loud night—that idea of slowly descending back to my stage of normality. Concrete Island taps into that a lot for me.
I also know someone that had a similar accident, where he crashed his car after drunk driving in a roundabout underneath the M4 motorway. He broke his arm, ditched his car and ended up walking to the nearest hospital. He lied about his name and date of birth because he had been drinking. This was about 10 years ago, so you could get away with that kind of stuff…This whole story for me brings Concrete Island to life—that journey of being on your own, traveling on your own.
What were some other non-musical influences on the record?
My niece and two nephews, I actually sampled my 2-year-old nephew trying to say "cheese" on "Manchego." I love them so much; it's nice to have kids around, and to try and understand their perception of life.
I'm also into a lot of cookery programs, particularly Australian Masterchef, I always look forward to the new series. I like the positivity of it; it's not as competitive as a lot of these reality food shows and I really like that. Competition should be healthy and not fierce. It should also be a collaborative effort that involves real knowledge and experince.
What's up next for you? Touring? DJing? Remixes? An EP?
I'll be touring the states with Kode9 and DJ Rashad. I'm really looking forward to that. We're also doing Mutek Mexico; I'm really happy to be able to tour again and DJ in cities I haven't been to. I'll also be in Canada and Asia soon.
We will hopefully do another EP by the end of this year. I'm making a lot of distorted broken tunes at the moment, with a lot of layers and experimenting with sound design a lot more.