Late Night Tales has tapped Nils Frahm as the latest featured artist in its ongoing mix series. Due out September 11th, Frahm's entry is described as "a hypnotic voyage through modern and classical composition, experimental electronics, jazz, dub techno, soundtracks and soul." More importantly, it features several exclusives (a John Cage cover, a spoken word piece from actor Cillian Murphy, an alternate version of the recent soundtrack recording "Them") and slightly edited selections from Rhythm & Sound, Boards of Canada, Nina Simone, and more.
Here's what the rising composer had to say about the entire affair:
I've really got off on working on compilations lately. It's such a wonderful way to delve deep into your music collection. My flat is now crammed with music media of all stripes, from an old hand-cranked 78 phonograph player to 45s and albums on vinyl, my beloved old cassette tape collection, even mini-disks and, lately, WAV and MP3s. It's all music to me. After spending hours recording from all of these diverse sources, I started to play around with the tunes, layering them, sampling, looping certain parts, extracting phrases and using all the freedom that this allowed me. If I got a little carried away or stepped on anyone's toes in my quest to do something interesting and original, then I apologize. Some things may have accidentally landed on the wrong speed, while other spooky happening have occurred along the way, whether it's ghostly additions of reverb and delay or simply subtle edits or reproductions, they've all gone into the magical stew I've tried to create for your pleasure and edification. I can't tell you how much fun I've had creating this compilation for you but, suffice to say, I hope it will be a nice journey for your mind and heart.
Check out a SoundCloud preview below, and Frahm's rather fantastic Needle Exchange mix here.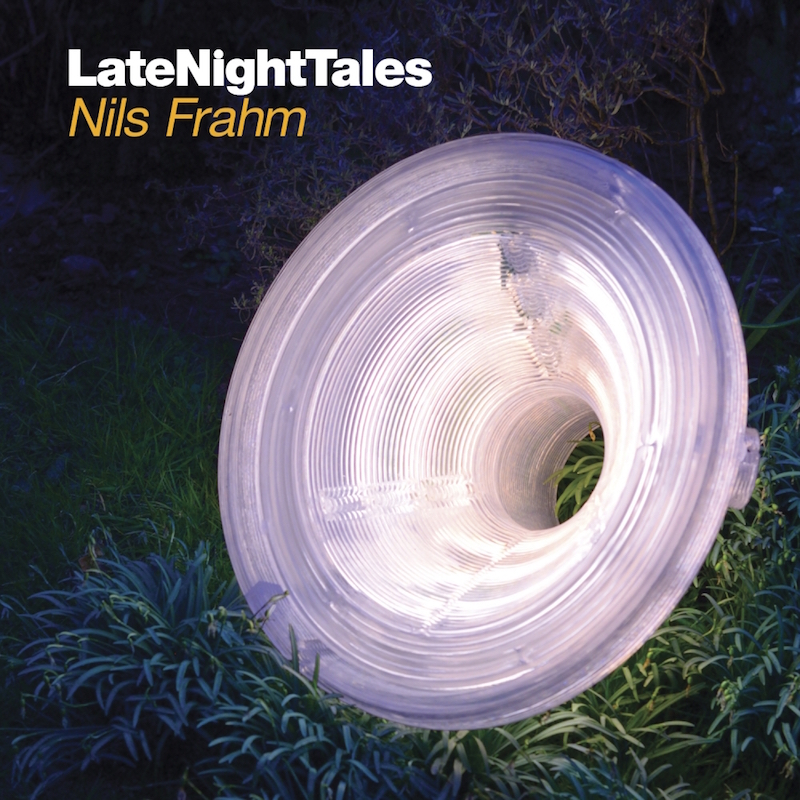 Nils Frahm
Late Night Tales
(Late Night Tales, September 11th)
1. Nils Frahm – 4'33" (Exclusive John Cage cover version)
2. Baka Forest People Of South East Cameroon – Liquindi 2
3. Carl Oesterhelt & Johannes Enders – Divertimento Fur Tenorsaxophon Und Kleines Ensemble Pt.4
4. Four Tet – 0181 (Excerpt)
5. George Autry – You're The Only Star In My Blue Heaven
6. Boards of Canada – In A Beautiful Place Out In The Country
7. Bibio – It Was Willow
8. Dictaphone – Peaks
9. Vladimir Horowitz – The Flight Of The Bumblebee
10. Miles Davis – Concierto de Aranjuez (Adagio)
11. Victor Silvester & His Ballroom Orchestra – Talk Of The Town
12. System – SK20
13. Rhythm & Sound – Mango Drive
14. Miles Davis – Générique
15. Dinu Lipatti – O Herr Bleibet Meine Freunde, BWV 147
16. Colin Stetson – The Righteous Wrath Of An Honorable Man
17. Penguin Café Orchestra – Cutting Branches For A Temporary Shelter
18. Nina Simone – Who Knows Where The Time Goes
19. Nina Jurish – Cleo The Cat (Exclusive track)
20. Dub Tractor – Cirkel
21. The Gentlemen Losers – Honey Bunch
22. Nils Frahm – Them "Solo Piano Edit" (Exclusive version)
23. Cillian Murphy – In The Morning (Exclusive spoken word piece)