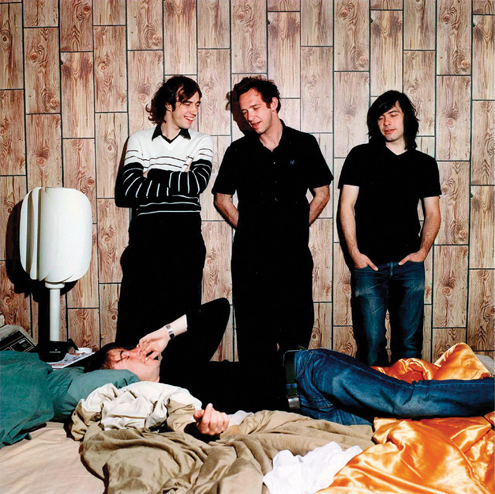 Soulwax is mostly known for their genre-jumping alter ego 2 Many DJs, so like most people, self-titled had low expectations for their live stateside debut a few years back.
Actually, let's be honest: We went just so we could see their DJ set afterwards. And you know what? The living, breathing version of Soulwax didn't let up one bit. In fact, it was nastier and gnarlier than 2 Many DJs at 2 a.m. Running through their Nite Versions (Modular Moods) record from intro to out–think a straight-banging DJ set with no sense of peaks and valleys–Belgium brothers Stephen and David Dewaele lead a full band and a packed Studio B through a healthy hour of hammerhead hooks and saw-toothed synths. An equally engrossing evening on the decks followed, proving the Dewaele's can play both roles with equal aplomb.
"How do they do it?" we wondered. Steve-O offered some answers on the DJ mix tip …
SOULWAX @ Coachella 2006
self-titled: Be straight with us: How do you make a good mix?
Making a good mix is simple: songs I like. A shit mix would be songs I don't like. Usually, a good mix is also the kind of thing you make for a girlfriend because you put a lot of time into it. You want her to discover every song, to make her think you're an amazing guy.
Have you become good at that over the years?
No, I haven't. I always end up wanting to put too much in there, so it ends up like a 2 Many DJs mix tape. Which is too eclectic and has nothing to do with being romantic. Mix tapes are cool but hard for us. We start with one record and simply think, "Hey what can we play after this?" It's completely dependent on the vinyl around you at that point. That's how you build it up. We never really know what we're going to do beforehand. I actually always put some stuff in the record box that Dave doesn't know about.
When we started 2 Many DJs, it was a bit of a "fuck you!" because we were fed up with people playing shitty house music. Whenever you'd play Monster Magnet or something, people would be angry but three or four guys would say, "Oh, you blew my mind." That's always been the thing we liked. I have a real problem with people getting angry with me. Things are changing though: No one gets angry at us anymore. I love going to Berlin and fucking up some minimal [techno] party. We're still able to raise some eyebrows, to get some muso's to stoke their chin.
"Part of the Weekend Never Dies" trailer
[youtube=http://www.youtube.com/watch?v=Q3tTGb-PiCw]
So you don't premeditate your mixes at all?
No, that'd be kind of weird. Then I'd have to rehearse, which would suck. If we end up using a certain mix again it's because we did it live and realized these two things worked well together. I've never sat down with a pen and paper to decide which track goes where. It always starts with one track and we never know where it'll end up.
What are some blends that have worked well over the past year?
That's a hard question. I can't answer that. Because I'd say something and then say, "No, that's wrong." There aren't any that made me particularly say, "Wow!"
What do you think of the quality of DJ sets over the past couple years?
There was a point when 2 Many DJs started–when stuff happened with DFA and Peaches, the new wind–where everything came together, but it's very segregated right now. People just play minimal [techno] or hip-hop or whatever. Not too many people have the guts to mix things up. The minute someone tries, they are seen as extravagant. Some young kids making stuff in their bedrooms is insane. That's where the future may be.
Soulwax are playing Irving Plaza next Wednesday and will soon release a tour documentary called Part of the Weekend Never Dies (see the above trailer). For an idea of their full-band material/2 Many DJs, check out the following cuts along with an endless Essential Mix from BBC Radio …
[audio:http://www.self-titledmag.com/wp-content/uploads/audio2/01%20Essential%20Mix%2001-02-2005.mp3]
"NY Lipps"
[audio:http://www.self-titledmag.com/wp-content/uploads/audio3/10%20Another%20Excuse.mp3]
"Another Excuse"