Photography MICHAEL DELEON ROMERO
When we last spoke to Actually Huizenga, she was planning on touring behind her brash Patriarchy project — bringing the performance art side of its Asking For It album to life the way her self-produced videos often do.
And then COVID happened, of course, leaving the restless, multi-medium artist with a ton of ideas and limited outlets to express them. Enter Reverse Circumcision: The Remixes, "a safely-distanced blossoming of creative connection with some of her favorite fellow artists and friends." Due out this Friday through Dero Arcade, it features such s/t favs as Light Asylum, ADULT., and Drab Majesty.
Huizenga also created special videos for a handful of singles that feature a "remix of past footage pertaining to the original song's original video" and "new footage which either involves the remix artist directly (acting in the video like Bon Harris and Geneva Jacuzzi) or by researching and having a creative discussion with said artist, in which Actually actually becomes the artist's character and ego (like Deb Demure in the Drab Majesty remix video) or references their iconic symbology (like in the Front Line Assembly remix video)."
A lot's going on in other words, so we asked her to take things one step further by sharing her favorite songs from each remixer and an early stream of the album itself….
If I can masturbate, cry and / or dance alone to a song, that means I 'dig' them. Here is my list of fave songs from each artist (in order of their appearance on the album)….
GENEVA JACUZZI – DO I SAD?
She knows how important sadness is to happiness.
NITZER EBB – JOIN IN THE CHANT
I know this is the one that everyone plays, but you can't mess with such a solid classic.
DRAB MAJESTY – UNKNOWN TO THE I
This is one of the most romantic Drab Majesty songs to me. I am always a sucker for an I in the mouth.
VR SEX – LANDMINE
Second Skin have not officially released anything yet, so I really can't say what to recommend from them. One of the Brians (Second Skin consists of two Brians) is from a band called VR SEX and I like their song "Landmine," so I think we can add that.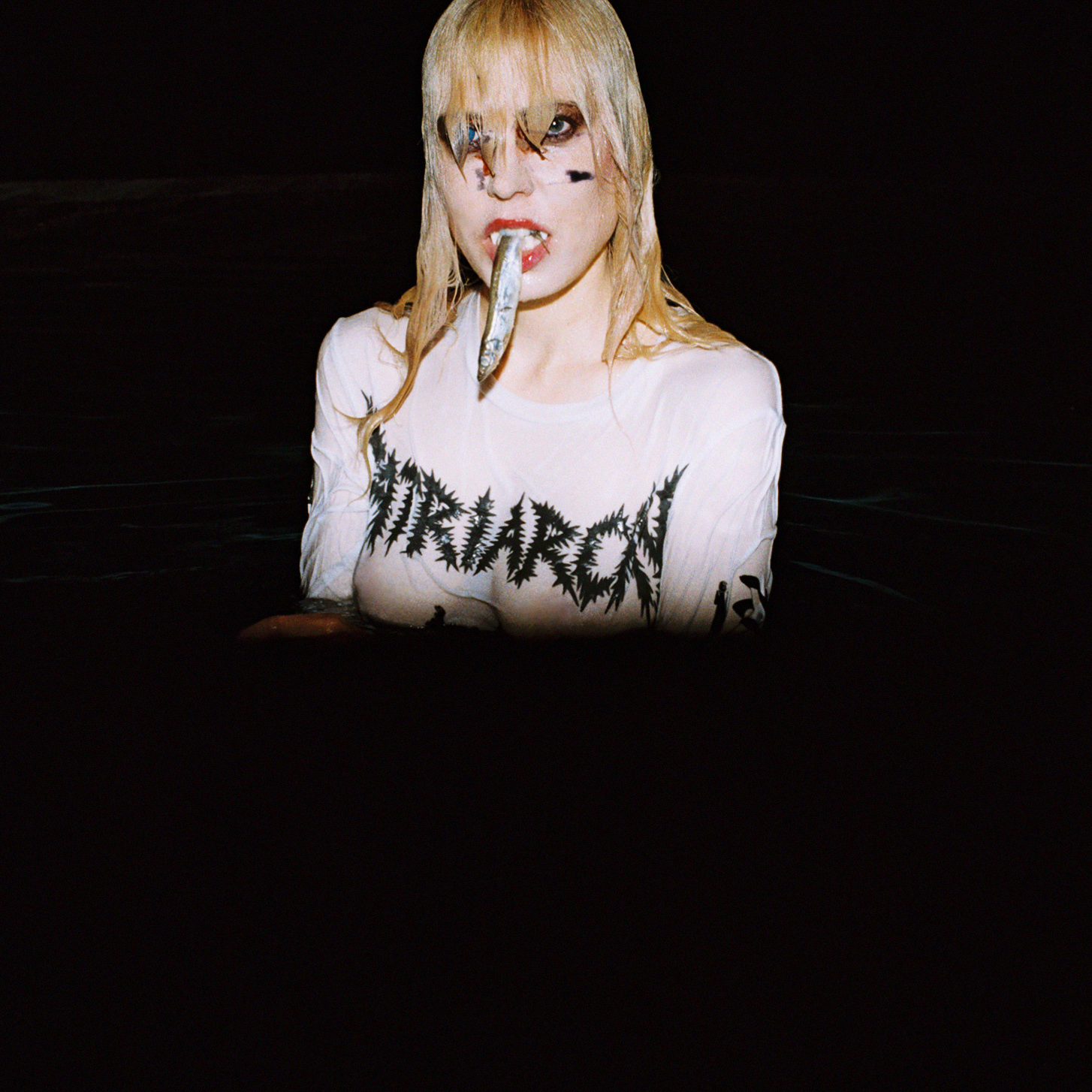 THIS MORTAL COIL – SONG TO THE SIREN
I fell in lust with this song through David Lynch's film Lost Highway.
3TEETH – PEARLS 2 SWINE
Story of my life.
FRONT LINE ASSEMBLY – REMORSE
This song relaxes me in a sexual way.
LIGHT ASYLUM – A CERTAIN PERSON
Solid romantic angst riding naked on a stallion.
ADULT. – GLUE YOUR EYELIDS TOGETHER
I heard this before I was an addict. Now it finally makes sense.
FURTHER VIEWING