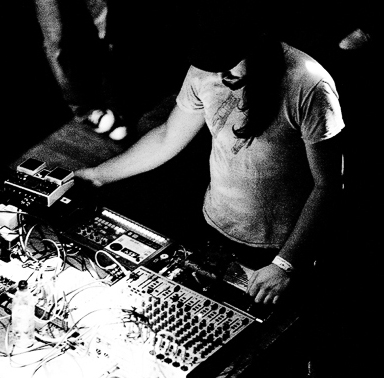 Recording Under the Influence is a recurring self-titled feature where we ask artists to ignore their musical inspirations for a minute and share what really went into the making of a particular record.
In the case of Pete Swanson–who just released his latest torture chamber techno EP, Punk Authority, on Oneohtrix Point Never's Software imprint–that means everything from the so-bad-it's-brilliant storyline of Police Academy 2 to something as serious as pursuing an accelerated degree in nursing from Columbia… 
1. Police Academy 2
I was obsessed with the Police Academy movies when I was a kid. When I was out in the middle of nowhere, Oregon, recording Man With Potential and I Don't Rock At All, I had access to some old movies that included Police Academy 2. There is a scene where the police commissioner comes back from a run-in with a punk gang completely covered in graffiti. I used that image as an inspiration for the artwork for Punk Authority. Additionally, I really find the leader of the punk gang, Zed, to be extremely sympathetic and incredibly anarchic. Seeing that movie again set me off on a spree of scouring YouTube for Bobcat's most sub-lingual standup performances, of which there are many. I think he may be the most successful sound poet. He really GOT THERE.
2. Georges Perec, Life A Users Manual
While I had been a fan of OuLiPo writers since my teens, I never really understood their agenda fully until I took a class on Perec in 2010. The explicit use of "constraints" in constructing art gave me the language to describe strategies I have employed to create for ages. Perec's novel that utilizes the most elaborate set of constraints is also the most enjoyable novel of his to read. There is a certain visceral pleasure leaping off every page as he plays with this complex scaffolding and weaves all sorts of disparate elements into an odd 100-room tapestry that takes place in one frozen moment in a Parisian apartment building. One of my favorite aspects of the novel is a narrative that involves an artist that employs using constraints in an extravagant and ultimately pointless artistic endeavor. I appreciate the presence of an alternate-reality failed self. Additionally, this novel provided the title for "Do You Like Students?", which is a fictional teeny-bopper magazine in one of the rooms of the building. "Life Ends at 30" is also a Perec reference..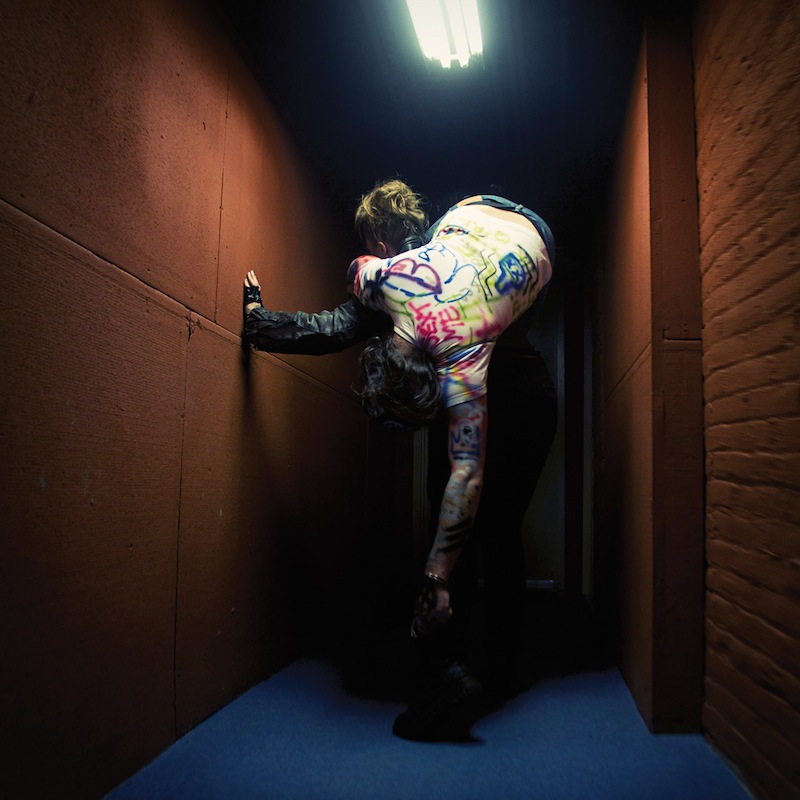 3. My Roommates
I never would have been able to realize the artwork for Punk Authority without having such interesting roommates. Sara La Rosa is a make-up artist, a competitive weight lifter and a nurse. Ryan Burke is a talented photographer. Both of them get dressed up in incredible and elaborate outfits when they go out. Check out Ryan's Tumblr if you want to see some of his various looks. They were both great resources for the shoot, but are also just really cool, inspiring people to be around.
4. The Accelerated Nursing Program at Columbia
People keep telling me that Punk Authority is stressful to listen to. Well, I was pretty stressed out while I was working on this music. The intensity of the music reflects the intensity of my workload over the last year or so. Things are chilling out with school now so my next album is going to be MELLOW…KIDDING. I'm pretty sure I'll be mangling beats on the next one too. I still have a lot of residual stress I need to work out from that year of accelerated work.
5. Growing Up Going to Punk Shows in the '90s
I'm not speaking of the actual music that was played at these shows, but more my having some nostalgia for having a sense of danger at punk shows. I recently ran into Nick Forte, who's a musician I've known for ages and was in Rorschach, and we reminisced about going to shows back in the day and having to fight skinheads from time to time, or the odd show where you'd end up getting chased by police dogs or simply getting a boot-print bruise across your face at some point in the evening. I don't think I've seen a show where I've feared for my life in at least a decade. While I don't want to encourage actual bodily harm or even the threat of such a thing, I do want my concerts to touch on the physicality of those shows and a vague sense of danger. That's why I play so loud and play on the floor. That physicality has to be the focus. I'm not playing music for a DJ booth or a stage.