Photo THOMAS HACK
Much like the rest of Oliver Barrett's Petrels material, The Dusk Loom is a heady listen worth diving into—music that's mythic in scope and pulls its reference points from literature, art, and nature. To help make sense of his expansive songs, we asked Barrett to break down the entire record, the singer/multi-instrumentalist's first in three years for his longtime label Denovali Records….
"SURFACE OF LAST SCATTERING"
Very early in the process of writing The Dusk Loom it was obvious that this track would open the album. It combines many of the different sonic elements that I've used with Petrels previously and if somebody were to ask me what kind of music Petrels is, I'd probably play them this track. For now, at least. The title refers to the furthest observable boundary of the universe; if I'm being hyperbolic, I'd say this is what I'm always striving for in my music. I never get anywhere remotely close of course, but the joy is in the trying.
"ELYAS ANAIS" / "THE HERMIT KING"
This is essentially one track split into two unequal parts. After opening the album with a track that has a fairly lengthy build at the start I was wary of doing the same straight away, and I like how the opening choral fragments work as a standalone little introduction in any case. Elyas Anais is the name of the Hermit King in Arthurian mythology who gives ambiguous information relating to the Grail Quest. He's not a character with a whole lot of importance but I liked the idea of a king without a territory—a ruler who rules themselves alone. The lyrics are about seeking and striving; being blind to any answers and solutions by focussing only on the one you've already decided upon. It was written whilst re-reading Ursula K. Le Guin's translation of the Tao Te Ching.
"EMBROIDERING THE EARTH'S MANTLE"
There's a lot packed into this album—instrumentation, dynamics, layers, motifs—and I was concerned that the impact of some of the tracks would be lost without having some space to breathe between them. So this is the first of two sonic 'palate cleansers' to space out "The Hermit King," "Halls of Los," and "Tiny Specks of Light." I've always loved murky old tape modulation and it was nice to write something without any other adornment. The title refers to a painting by the Spanish artist Remedios Varo, whose book of letters and dreams I was reading whilst working on it.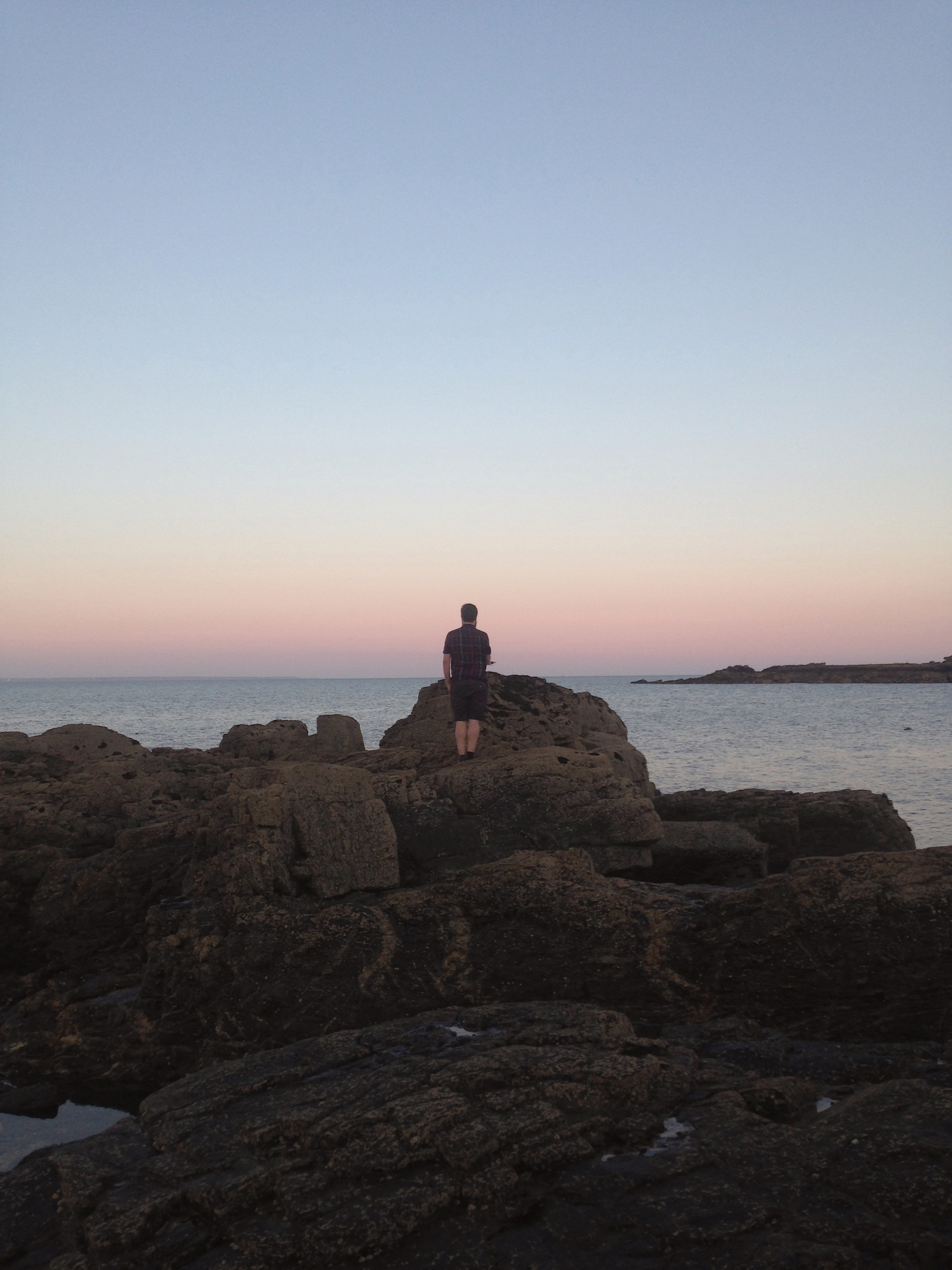 "HALLS OF LOS"
This one started off with me playing around with various polyrhythms with the intention of making something entirely percussion-based, and ended up showcasing far more of my love of old Harold Faltermeyer and John Carpenter soundtracks than I was intending. No matter; I like to follow where things lead rather than trying to dictate the writing too much. Despite being one of the most sonically simple tracks on the album, this ended up being one of the toughest ones to mix—lots of ideas competing for attention. The title references the mythology of William Blake, introduced to me by my dad at a young age and something that's stayed with me ever since.
"BETWEEN THE QUIET POLES"
Another little palate cleanser. This one features a recording of some of the great tits and goldfinches that cluster in the trees outside my studio window. The day I mixed this one I unthinkingly left the window open and they all flew back, making a racket as they talked to themselves. I switched to mixing on headphones in the hope of not confusing them any further.
"TINY SPECKS OF LIGHT"
This is the last track I wrote for the album. I initially wanted a quiet, stripped-back choral piece to calm things down a little before the build in the final tracks of the album, but in the end the instrumentation took on a mind of its own, probably ending up at its peak as the loudest part of The Dusk Loom. So it goes. It's about finding comfort in insignificance—realizing how little anything we do matters and doing it anyway. Making it matter. It's something of a companion piece to "Concrete" from the first Petrels album.
"TELLERS" / "TELL US" / "TELOS"
One track in three pieces. I started writing this one before the last Petrels album came out in 2016 and originally it was over twice as long and was going to be a full album in its own right. The more I worked on it though, the more I cut away ("kill all your darlings," etc) and so the result is actually a lean 15-minute edit. I think it works as a kind of summation of where I've got to with Petrels over the years since I started this project, lyrically and musically. Ideally I'd love to play it live with a full band at some point. One day.