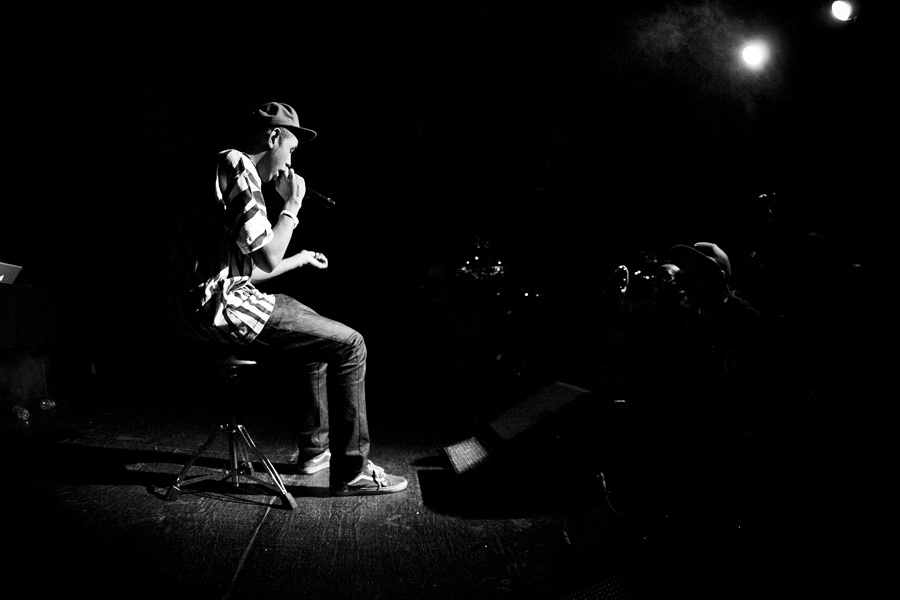 As the Odd Future hype train continues to clobber every weak-willed writer in its path, some actual concrete interviews are starting to pop up beyond predictable blog posts about how "crazy" and "edgy" these kids are. Interviews like the SXSW Q&A Pitchfork ran today, which including the following Tyler, the Creator tidbits…
On Their Fallon Performance:
I was like, "Fuck it, let's get a bitch to dress up like a zombie." That was really it. We really don't plan shit out. Like, at the Woodies, we just wanted people dressed up like a goldfish and a chicken–I didn't fuckin' know I was gonna stage dive or go upstairs and throw water bottles. Everything is in the zone onstage. We never know what the fuck is gonna happen. That's the best part about it. Most people rehearse every step, but we just swag it out.
On R.L. Stine's Goosebumps Book Series:
I'm a big Goosebumps fan, [books like] Revenge of the Lawn Gnomes. My favorites are the pick-your-own-death ones.
On Kicking It With Justin Bieber:
I'm a believer that if you keep saying shit's gonna happen it will. Like, I always talked about how I wanted a trampoline, and now I have one. And I'm a big Justin Bieber fan, so when I met him these niggas knew how much I wanted that to happen. It was actually weird when I met Justin Bieber because when I walked in he was talking to me about my video and Odd Future. He's awesome.
On Goblin's Record Sleeve:
I have two covers, that's the first one; you'll have to wait to see the other one. When Buffalo Bill took that photo, he was 19. And I finished the album and made that cover when I was 19. It's a crazy age– a couple years before you're a legit adult. Buffalo was a real nigga.
On the Album's Tightest Track:
My favorite changes every day but, right now, the song Left Brain produced, "Transylvania," is my shit. I like Dracula a lot so I made a song from his point of view. But it's humorous. Like I talk about how Buffy–the vampire-slayer bitch–is always stalking me and sending me garlic as gifts and shit. I like my raps but I'm never too happy with some of 'em because I feel like they could be better. But every time I hear my flow on that song I wow myself.
On Working With the Neptunes:
That was one of the greatest days of my life. I'm a diehard fan of the Neptunes. I was going into the studio with Chad [Hugo] because he's a big fan, so we set up two days just to meet and work. And then Pharrell [Williams] came to the studio for a while, too. We made some beats together and I rapped on one of 'em. I don't know when it's coming out or what it's for but it's tight.
You can read more about Odd Future's upcoming plans, the Goblin record, and how the group's dealing with their success here.