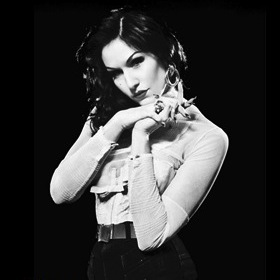 While Carrie Wilds' debut mixtape (a self-titled effort that dropped on Mishka last month) is driven by the bass-heavy beats of Joker, Araabmuzik, Lunice, Terror Danjah and other denizens of the DayGlo underground, the singer's roots are firmly placed in Motown-schooled soul, doo-wop and R&B. Which might explain why the record's lead-off single pairs a soaring Maurice Williams cover with creeping keys and a guest spot from label mate Mr. Muthafuckin' eXquire.
Since Wilds is performing at Santos Party House on Thursday night, we asked the Florida native to share some of the key throwback tracks that shaped her sound over the years. Here's the breakdown…
1. Bill Withers- "Lean On Me"
This is where I'll begin…In my after-school program, we sang two songs daily: "Lean on Me" and "Go Tell It on the Mountain." It was there–with those songs–that my love for soul, gospel and R&B was born. Bill Withers is, without question, one of my songwriting heroes. He writes with such immense honesty and though his words are often pain-ridden, their lyrical simplicity make them easy to relate to. I often wish I could put out an entire album of Bill Withers tributes and covers to convey my absolute adoration for him.
–
2. Little Willie John, "I'm Shakin'"
I had the great fortune of stumbling onto Little Willie John years ago, whilst perusing old soul records. It wasn't much more than a moment's time before I snatched up as much music of his as I could find. Little Willie John was the first of many singers to record "Fever, in 1956. His voice has a lot power though it lacks the gentler tones necessary to convey the messages on some of the more gentle songs in his catalog. "I'm Shakin'" Is my absolute favorite of his songs–that beat…that BEAT!!!
–
3. Aretha Franklin, "Chain of Fools"
It goes without saying, but I'll say it anyways: Aretha Franklin is A GODDESS among vocalists. One couldn't achieve her level of greatness, no matter how much work was put in.  Her talent is a gift, a tremendous gift at that. I could go on and on, but I wont bore you with what you likely already know. When people ask me to sing them a song, "Chain of Fools" is what always comes to mind. I love channeling Aretha.
–
4. Carol Jones, "Don't Destroy Me"
I found an old soul blog a while back and I think I spent a solid week reading up on all their posts and downloading the songs they listed. This song has stuck with me for the past two years. "Don't Destroy Me" combines some of my favorite elements of soul music: distraught singing, pleading lyrics and a fantastic horn section. This song has a string version as well and was released on Mutt Records, a small label which attempted to compete with Motown in its time.
–
http://www.youtube.com/watch?v=LNR4ozlz1TQ
5. Gloria Jones, "Heartbeat"
This song is short and sweet, and despite not having a defined chorus, its clear message sticks with you. It's cute and peppy and I love it to pieces. (So much so, in fact, that I recorded my own version of "Heartbeat" over an Araabmuzik beat.)  Gloria Jones was the original singer of "Tainted Love," which was written in the early '60s and recorded by Jones in 1965. If you're a fan of Northern Soul, I absolutely recommend checking out her early recordings.
–