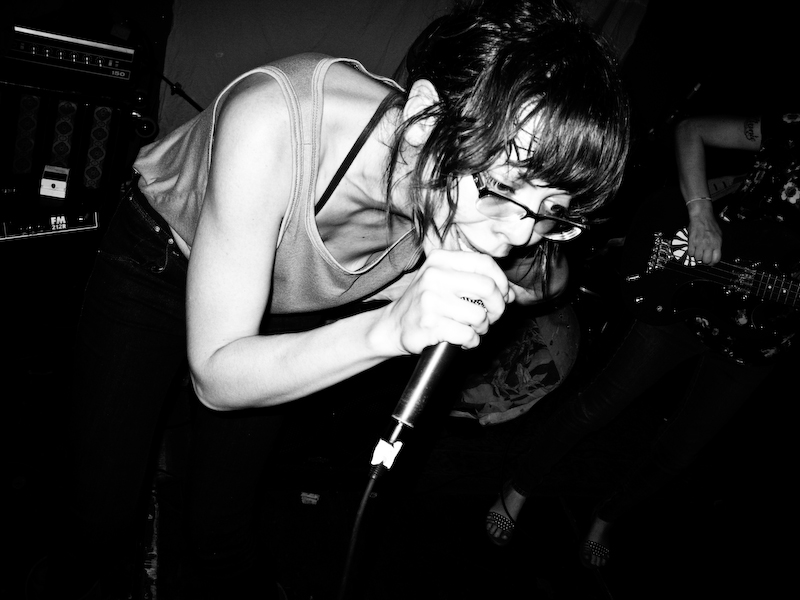 Photo by Aaron Richter

Here's something you probably didn't know about the Coathangers: they're huge fans of the greatest geriatric sitcom of all time, The Golden Girls. Well, frontwoman Julia Kugel is at least. As she revealed in a recent eMusic interview, the band's latest LP–the barnstorming Larceny & Old Lace– "is the name of a Golden Girls episode. I'm obsessed with the Golden Girls. I wrote two papers in college on the show, and I was watching one of my favorite episodes and I saw the name and was like, 'I love the way that sounds together.' Then I found out the play Arsenic and Old Lace was about a killer, so it all came together."
In the following exclusive, Kugel breaks down five of her favorite GG-related YouTube clips for the uninitiated…
1. "Larceny and Old Lace"
Not only does Mickey Rooney appear in this jewel of an episode, but Sophia totally does him. He pretends to be a bank robber just to impress her! Nothing says love like larceny. I guess the "old lace" part of the title refers to Sophia's undies? Dunno, but loving it!
–
2. "Scared Straight"
Favorite part: when Blanche and Clayton meet and sweet-talk each other. "Prettier than a spring bloomin' peach tree on a dewy April morning!" Wow! I love the South.
–
3. " Miami You Got Style"
Okay, not sure if this is actually the name of the episode, but it is the name of the hit jam Dorothy and Rose wrote about their hometown. Look at the way Sophia sways back and forth…she loves it!
–
4.  "An Illegitimate Concern"
Picture this: Sophia is Sonny Bono and Dorothy is Cher–furry vests, wigs, and one sick handlebar mustache. Is it a dream? No!  Dorothy and Sophia enter the mother-daughter beauty pageant at Shady Pines Retirement Home. Hilarity ensues…
–
5. "Isn't it Romantic?"
Dorothy's friend Jean comes to visit and she falls in love with Rose. Rose has no idea. Apparently neither does Blanche, who mistakes "lesbian" for "Lebanese." These ladies were really ahead of their time. They represented gay and lesbian characters as well-rounded individuals and avoided cliches and stereotypes (mostly). I love this show!
–