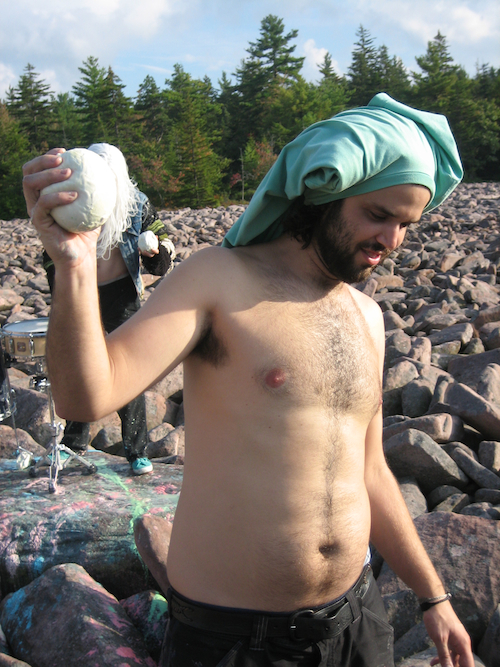 So you've probably already heard about ODDSAC, Animal Collective's first feature film–a "visual album" that makes about as much sense as, well, any of the other visual art pieces they've completed with longtime collaborator Danny Perez. That includes everything from the blood-soaked "Who Could Win a Rabbit" video to the pair's patience-testing "performance" at the Guggenheim last March.
With that in mind, we asked Perez to share five of his favorite "mind-fucking movies." He fired back four, with a bonus commentary on an Adult Swim show that'd offend your mom way quicker than an old episode of Metalocalypse or Tim and Eric.
As for what Perez has on tap next, he's finally in the midst of finishing his first feature film, a "cross between Bully, Altered States, and Evil Dead." Now get your LSD-laced popcorn ready…
DEATH GAME
The bootleg is even better. Seymour Cassel's dubbed voice is great. Lends just another strange texture to it. Sondra Locke manipulating a domesticated man with sexual fantasy and irritation. Playfully dark. Heavy petting in a hot tub. I enjoy it.
–
BEGOTTEN
One of the few movies that has really creeped me out in my adult life. Really seems like a document/ritual from an alternate universe. The high contrast processing is wonderful. Really inspiring as far as abstracting natural elements.
–
INSIDE
More than just part of the "torture porn" genre that's emerged as of late. Takes a one-location scenario and does it well. The sound design reinvents the kill-sound with harsh electronic spasms. Good gore. At a time when a lot of friends have moved past getting married into having kids, this French movie about one woman's attempts to protect her pregnant womb from an intruder with a large pair of scissors gave me a little consolation for not wanting to spread my seed.
–
LAST SUMMER
Young, young Barbara Hershey playing a twisted domineering teenage girl, manipulating teenage lust and an ugly duckling to violent ends. It has a real distinct vibe complete with a kids lazing around Fire Island, smoking joints, and flirting in the sun. You can watch it on YouTube. And since all video stores are going under, and many films will be lost to the transition into digital, it might be your only way unless you're the kind of person who will pay $100 for a VHS. I'm not.
–
XAVIER: RENEGADE ANGEL
Of all the rapid fire, non-sequitor humor shows on Adult Swim, this is is the BEST. Scathingly irreverent with real bite. I've watched these episodes a lot and can still discover new things. You'll never order fritatta the same way again. I recommend "Signs From Godrilla, Bloodcorn"; where else will you see a poorly animated girl shove a tampon made of cookie dough up her snatch in the blink of an eye?