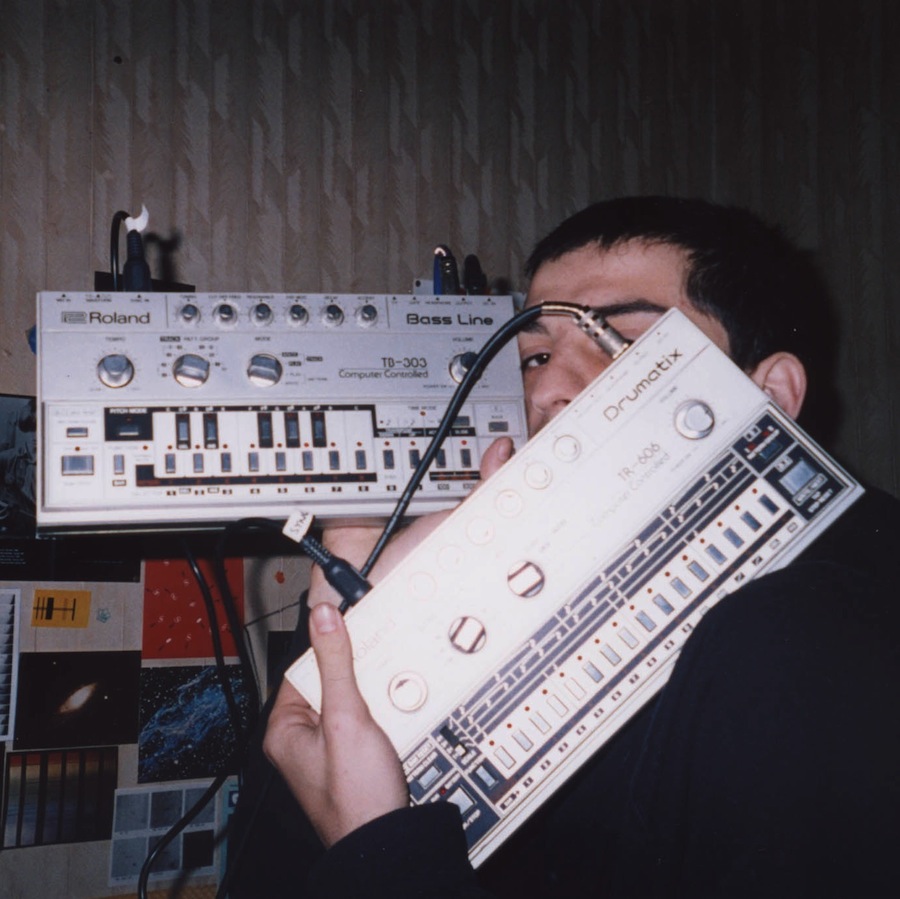 Primer is self-titled's ongoing series of guides to our favorite artists, subgenres and scenes. This week, Polysick–an Italian producer who's released some killer EPs through 100% Silk, and just dropped his debut album (Digital Native) through Planet Mu–presents his favorite outre electronic records from Italy…
http://www.youtube.com/watch?v=YEWmh2U-pdA
Dedalus, "Santiago"
An experimental jazz-rock band from Torino, Dedalus released their self-titled debut album in 1974, a period of social and political unrest in Italy. The studio where they used to rehearse had a view over the big FIAT industrial complex called Lingotto. (It was one of the biggest in Europe and still working at full capacity back then.) Smoky and nervous, this is the perfect soundtrack to a busy working town of the '70s.
–
http://www.youtube.com/watch?v=CyiW-beYCXU
Franco Battiato, "Propriedad Prohibida"
This music used to scare me a lot when I was a kid; RAI–the public television company–used this Franco Battiato track (taken from his experimental electronic album Clic, released in 1974) for the titles of a late night news magazine show. Whenever the music broke up out of nothing with that otherwordly sound, followed by a rumbling minimalistic synth arpeggio, it was disturbing and fascinating at the same time. I'm not a Battiato fan, but this is indeed a great record.
–
http://www.youtube.com/watch?v=wuYaz6jmA4Q
Roberto Cacciapaglia, "7th Movement"
Roberto Cacciapaglia–the avant garde pianist and composer involved in the early experimental albums of Franco Battiato–is probably best known by indie blogs and '80s enthusiasts for the 2003 reissue of The Ann Steel Album, a quirky synth-pop record released in 1979, made with treated acoustic sounds and even a prepared piano. This track is from his electronic/ambient masterpiece and debut album, Sonanze. Released in 1975, this is cosmic, ethereal music halfway between the Cosmic Couriers and classical music.
–
M. Zalla (Umiliani), "Savana"
It's really hard for me to pick up just one track from Umiliani's immense catalog. Locked into his studio in Roma, hidden behind many different aliases, he has baked (together with some of the best session men of the time) a huge quantity of jazz, easy listening, lounge, electronic, exotic, bizarre and pioneering tunes, releasing dozens of limited runs of library albums through his personal labels. This soothing and beautiful simple track is from one of these albums, called Africa (Liuto, 1972), and is only one of the many hidden gems you will find if you dig deeper into his catalog.
–
Nico Fidenco, "Zombie Parade"
Nico Fidenco is really an interesting man. He was an acclaimed singer in the '60s, famous for several hit songs about tender summer loves and good feelings. (Try Googling "Legata ad un granello di sabbia.") Twenty years later, he was composing soundtracks and themes for every kind of film, ranging from cartoons to splatter and cannibal-themed movies (another Italian speciality), even porn. (He provided the soundtrack for the first porn movie ever made in Italy, Sesso Nero.) The track I picked up is from the soundtrack of Zombi Holocaust (1979); it's an obsessive, haunting dub cut, a perfect tribal dirge performed in hell.
–
http://www.youtube.com/watch?v=YwTyD1ikPWI
Krisma, "Miami"
Here's a claustrophobic, abstract tune by Krisma (or Chrisma), one of the best and most influential bands of the Italian new wave/electronic scene of the '80s. Halfway between Kraftwerk and Chris & Cosey, "Miami" is one of their most experimental tracks, taken from Clandestine Anticipation (1982). Here you have a long version (sides A and B1 of the 12" USA version)–more than nine minutes of wild mechanical beats and noises by Maurizio Arcieri (the guy behind the keys), graced by the muezzin-like chant of the gorgeous Cristina Moser.
–
Tullio De Piscopo, "Stop Bajon"
Hailing from Napoli, a Balearic invocation to spring. Released in 1984, "Stop Bajon" was a worldwide hit at the time. It's a massive track with a tight groove, lush Rhodes pads and funny rapping. Theo Parrish 'translated' this tune a couple of years ago, but I have to admit the original is still unequaled. By the way, I found this nice TV performance on YouTube where you can see the smiling face of Tullio de Piscopo (skilled drummer and much requested session man) and the fantastic set of a classic '80s Italian TV program.
–
B.W.H., "Stop"
Italo disco was undoubtedly one of the bestselling Italian products abroad in the '80s, and the echo of some of these (most often cheesy) productions went so far as to cross the ocean and even influence the rising American house and techno scene. This track is credited to a mysterious "BWH" (a one-shot Italo-disco project involving Casco and other elusive producers) and is a quintessential Italo banger, with a solid bassline, groovy synth stabs and a thrilling chord progression. It's absolutely one of my favorite Italo-disco tracks ever.
–
http://www.youtube.com/watch?v=DZ2n16NDuUw
Alexander Robotnick, "Dance Boy Dance"
Maurizio Dami, aka Alexander Robotnick, said in an interview that he composed "Problemes d'amour" (his biggest disco hit from 1983) only because someone suggested that there was "a lot of money to make with dance stuff." (Which seems ages ago now.) Whether it's true or not , the following year he was working on his debut album (Ce N'est Q'Un Debut, 1984) in a basement in Firenze full of synthesizers and without a window, that he used to call "the crypt." This track is a true masterpiece taken from that album–sweet and gloomy at the same time, yet ironic and pretty ahead of its time, just like the man who made it.
–
http://www.youtube.com/watch?v=YHDYBhVOKSM
Leo Anibaldi, "Elements"
Leo Anibaldi, together with Lory D and a few others, is one of the key figures in the first techno and rave explosion in Roma, in the early '90s. An amazing producer and skilled DJ, he has released a lot of techno 12-inches and a couple of fantastic albums. (Later he signed to Rephlex.) Ranging from 210 BPM hard acid techno killers to more experimental and abstract stuff, he always kept a very personal and experimental approach with a dark, soulful touch that is common to many of those early Roman techno productions. The cut I picked up here instead, is a moody house track from his 1991 debut–deep and mellow night vibes from good old Roma.
–