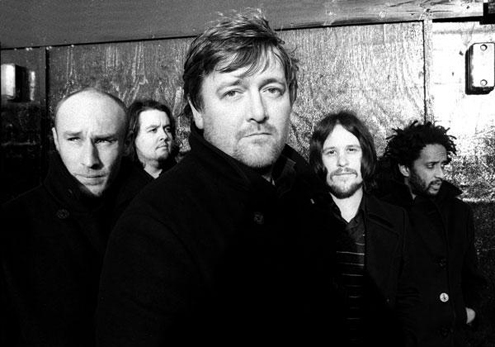 By Arye Dworken
Since their 2001 debut, Asleep In The Back, the mellow/melancholy Brit band Elbow has been unjustly dismissed here in the U.S. The problem, ultimately, is they never quite achieved the pretentious cred of, say, Radiohead, or gone the completely opposite route of reducing themselves to the cloying, formulaic sap of a troupe like Travis.
Instead, Elbow produces life-affirming, anthemic rock so intent on rousing crowds into heartfelt singalongs that, frankly, they're out of fashion. It's of little surprise, then, as keyboardist/producer Craig Potter tell us that the band's primary influence is early-Genesis. (Is there anything more dramatic than Peter Gabriel in a full-sized flower costume?) We believe him, too–Elbow's new record, Seldom Seen Kid (out now; hence the band's position as our first 'Record Release Party' Q&A), is so striking and poignant we can't help but whip out our copy of Lamb Lies Down On Broadway to compare notes. Throughout the stellar fourth record, singer Guy Garvey's vocals are in top form and the instrumentation is grandiose without leaving us feeling Coldplay.
Now, about that British invasion problem …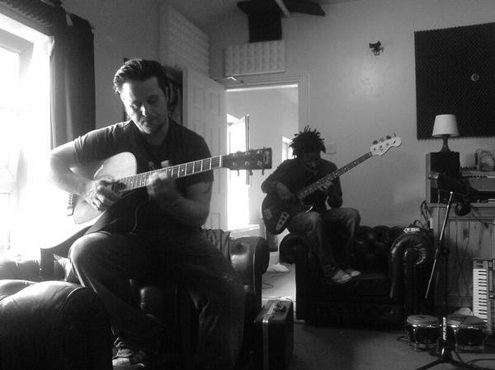 self-titled: Where are you calling from now?
We're in Bristol right now. We're a third of the way through the UK tour.
On the cusp of its domestic release, I've noticed that Seldom Seen Kid has gotten an incredible critical response overseas.
Well, all of our records have always gotten good critical response. Which we'd been very appreciative of but it does seem that this one is getting the stronger response. We're incredibly proud of this album.
The first single, "Grounds For Divorce, " is so strong production-wise. Can you tell me about that one?
There were two versions of that song, and the original one : we were toying with it for a while. It sounded more poppy but then we re-approached it and gave it that harder edge, almost a Zeppelin-like riff. There's a line in the song about a hole in the neighborhood and that's about a local pub we frequent. Although, the song itself is about the loss of a close friend of the band and a local musician Bryan Glancy. The last song "Friend of Ours" and the album title itself is also a reference to Bryan as well.
Do you talk to Guy about his lyrics?
We do all the time. The lyrics aren't collaborative–it's Guy's thing, but we do talk about them. And it's great to have the insight into the songs from his perspective. It helps us shape songs.
Being that you're the producer of this record, I'm curious about the aesthetic influences. Things are generally really epic and grand.
Our influences really come from all over but I think we really look towards early Genesis for inspiration. Guy, mainly, but the rest of us as well are fans. Those interesting chord changes, the soundscapes, it was all completely out there but also very emotional and potent. Spiritualized as well is a big influence.
This is the fourth time the NME has given Elbow a 9 out of 10 review …
We were really pleasantly surprised to hear that we're the only band to have achieved that.
What's your relationship with America, being that your presence is obviously so strong in Europe?
We understand that there's a slight [difference] between the reactions here and there. But we'll keep coming back and stick to doing smaller tours unless there's a hit song used on television, as is the case with Snow Patrol, and then there's a demand for larger venues. But really, the fans' reactions are the same–it's an equal enthusiasm. Maybe it's the mass number that changes.
We're always been asked why we're not as big as Coldplay, let's say, but we really don't know how to answer that. Maybe we're not as accessible?
In the song "Grace Under Pressure" [from the 2003 LP Cast of Thousands], you have the crowd from Glastonbury sing the chorus at the end. At the risk of sounding too sensitive, I've always been quite moved by that portion.
Guy got the crowd to sing that during our set at the festival. I don't think we had recorded the song at the time. In fact, I don't think we had written the song yet. [Confirms with someone sitting in the room] No, we hadn't even written it yet. Guy just sang it and we figured we'd use it when we began recording the record later on. The year after "Grace" came out, when we played Glastonbury again, the crowd sang along just as it appears on the record without instructions or prompting and it was a truly beautiful moment.
Elbow is great at crafting epics–songs like "One Day Like This" on the new record How did that come about?
That song came about pretty late in the recording process. We wrote it based on the idea that we wanted something written that would make people smile. It's a really old-fashioned song in that you keep the vocal line really simple but just build it up as the song progresses. That's a song we really set out to write.
Am I right in assuming that Marc [Potter, lead guitarist] is your brother?
Yup, my brother Marc. As a band, collectively, we've been together for about 17 and half years. Since school many years ago.

I read about where the band name came from but can you remind me?
It comes from The Singing Detective (a BBC miniseries) written by Dennis Potter. And there's one part of it when he asks a nurse what she thinks the most beautiful word in the English language is. He says that he thinks that "elbow" is the most beautiful word. In retrospect, it's a weird name for a band. There are times when we wish we could change it but it's too late now. [Laughs]
That's so funny that you say that because I've always felt that it truly is a weird name for a band that sounds like yours. It's almost : um … how do I say this?
Yeah, it's a lighthearted band name. But what can you do–we're stuck with it. We're not completely serious sods. We are capable of having a good time.
How long did it take you guys to make this new record?
It was a long time because we were in-between labels. Since V2 folded, we had a lot of that time spent figuring out what to do next and there was no point in writing songs and recording a record if no one was going to hear. We waited a while to see where we would wind up. When we did finally sit down to write, we wrote about 40 songs–there were a lot of versions of certain songs.
From a production standpoint, what is the song you're proudest of?
"The Loneliness of A Tower Crane Driver." I think it sounds the best. But my favorite song overall is "Weather To Fly." It's got that perfect mood.

Was there a reluctance to sing with a major as you did in the U.S. (Geffen/ Interscope)? Perhaps this was time to reconsider or change strategy like self-release or sign with an indie?
If things truly fell apart, we would have considered our roots. But Geffen stepped in and played an active roll in showing us how to promote the record better. We felt [the 2006 album] Leaders of the Free World was very under-promoted but there's no use getting upset over a bad experience and judging all label experiences based on one particular experience. We're optimistic about this record and quite proud of it. We're getting a wonderful response here and that's really the goal. All we can ask of a major label is that they get people to listen to the record. If they give it a chance, I think we can win over some ears.