We weren't sure exactly what to make of Richard Fearless when we first heard a song by his band Death In Vegas. Coming across like a far more chaotic and fierce version of the trendy 'electronica' tunes that infiltrated MTV in the late '90s, Andrea Giacobbe's "Dirt" video was downright terrifying — about as menacing as 120 Minutes gets.
In the decades since — starting with Death In Vegas' sorely overlooked Satan's Circus LP — Fearless has zeroed in on a sound all his own, a delicate balancing act between his undying love of dub and techno. All these sonic roads have led to one record: Deep Rave Memory, the first album Fearless has made under his own name. It's a dizzying journey indeed, starting off slowly but surely with "Vision of You," a slightly unsettling ambient piece that sounds like it's being pulled in and out of a time portal.
On the other side of the spectrum is the title track, which we're unveiling in video form above. Featuring the Simon Paul's camera work, 241247's editing, and Fearless' own artwork, it's the sort of thing we want to hear as the sun begins to come up and closing time is still hours away. Or to quote another track on the album, it's "Broken Beauty" at its finest.
"[That's] something I've always strived for in my art," explains Fearless. "It's inspired by Robert Frank, William Eggleston, and the way they could take the most inane object a turn it into something of beauty. It's equally schooled by the aggressive simplicity of King Tubby's dubbing and the transcendence of Joy Division's 'Decades.' The sparse allure of the best dub and techno is something I'm always striving for; being able to conjure emotion with the fewest possible elements; to not fix what's broken, but to make it shine."
In the following exclusive feature, the influential DJ / producer / label owner shares the songs that have shaped his life, from the Byrds to Bauhaus to Burning Spear….
THE RECORD THAT MADE ME WANT TO BE A MUSICIAN
Hearing the live version of Joy Division's "Decades" on Still, which was recorded at Birmingham University. The rawness and heartfelt emotion of it still breaks me.
THE RECORD THAT BLEW MY BRAIN STRAIGHT ACROSS THE FLOOR
The first time I heard MMM's "Donna." I think this is the 12-inch I have the most copies of for the sole reason it barely leaves my record box and needs to regularly replaced. Timeless and totally moronic techno.
THE RECORD I RIGHTFULLY JUDGED BY ITS COVER
Michael Bunt's "La Chasse Aux Microbes." An absolutely amazing prog record.
THE RECORD THAT SAYS MORE ABOUT ME THAN WORDS EVER COULD
The Byrds' "Here without You," with Gene Clark on lead vocal duties. The Byrds, and Gene Clark's later work with the Gosdin Brothers and Doug Dillard, were the soundtrack to many late night shenanigans on the Death in Vegas tour bus.
THE RECORD THAT'S KEPT ME GOING WHEN NOTHING ELSE COULD
The Black Acid album. Being able to channel your emotions into music is an absolute blessing. When I wrote this album, I was in a pretty dark place and feel it saved me to an extent.
THE RECORD THAT REMINDS ME OF BEING A KID
Missa Luba by Les Troubadours Du Roi Baudouin. This is the first record I can remember being played in the house. When I hear it, it takes me back to being a child in Zambia.
THE RECORD THAT MADE ME FALL IN LOVE WITH ELECTRONIC MUSIC
Techno! The New Dance Sound of Detroit. I was into bands like Loop and MBV at the time, then I heard this compilation and started going to raves. This record really had an impact on me, introducing me to the likes of Blake Baxter, Eddie 'Flashin' Fowlkes, and Juan Atkins.
THE RECORD THAT'LL ALWAYS REMIND ME OF LONDON
I have an aunty who I adore who lived in London. At one point, she was a seamstress for Ossie Clark, who designed a lot of Roxy Music's more flamboyant attire in the '70s. Her son Olly, who was my going to gigs buddy, always used to play her Roxy Music albums. This one's a personal favorite — the sounds Eno was bringing to the table, Ferry's voice, Manzanera's playing… utter perfection.
THE RECORD THAT MAKES ME GET ON THE DANCEFLOOR
Gloria Jones' "Tainted Love." Get the talc out, motherfuckers!
THE RECORD I HOPE TO NEVER, EVER HEARD AGAIN
Any national anthem.
THE RECORD THAT OPENED A DOOR TO ANOTHER UNIVERSE
Burning Spear's "Girls Like You." Pure soul. I found this on a cassette on a bus when I was a teenager. Nothing was written on the tape, so I became obsessed with it, later finding out it was Burning Spear. This led to a lifelong love affair with dub and roots music.
THE RECORD MY FAMILY HELPED ME APPRECIATE
"Bela Lugosi's Dead." My sister Fiona was a huge Bauhaus fan.
THE RECORD THAT MADE ME WANT TO START MY OWN LABEL
Back in 2006, Death In Vegas had just been dropped by our label after handing in the instrumental album Satan's Circus, so we decided to start our own imprint and release it. "Heil Xanex" was the first time I did a pass on the mixing console. I remember feeling like I had an electric current running through my body. This was a new direction I wanted to push the band and felt like it was the first time the music was really reflecting what I was personally into — a marriage of dub and techno.
THE RECORD THAT WAS LIKE A SPIRITUAL AWAKENING
Gris-Gris by Dr. John. I got this album when I was around 13. It blew my mind — total voodoo magic.
THE RECORD I WANT PLAYED AT MY FUNERAL 
"Polly" by Gene Clark just kills me.
THE RECORD THAT CALMS ME DOWN WHEN LIFE GETS ROUGH
Howlin' Wolf's "Evil." I once travelled around India with this in my cassette player. I must have listened to it until the tape wouldn't play any more.
THE RECORD I RECENTLY REDISCOVERED
Le Matin's "Mensonges d'état." This record will always remind of the Golden Pudel at the break of dawn, as it was the last record my friend Thomas played when I first played the club.
THE FIRST ECORD I BOUGHT WITH MY OWN MONEY
Haysi Fantayzee's "John Wayne is Big Leggy." I bought this in Dublin while staying at a Butlins. That night I asked the DJ to spin it at the disco and it cleared the floor. I think it's the last time I ever asked for a request.
THE RECORD I TOOK A CHANCE ON (AND ENDED UP LOVING) 
D.o.A.: The Third and Final Report, the first Throbbing Gristle album I ever bought. I remember thinking, 'What the fuck is this?' It soon became one of the most important records in my collection and altered my musical development drastically.
THE RECORD EVERYONE WOULD BE SURPRISED I OWN 
Bee Gees' "To Love Somebody." This is a big one in the Fearless household.
THE RECORD THAT HELPED ME FIND MY WAY
Getting into labels like Likemind and Rephlex was a big turning point for me, as up until then, I'd been mainly looking across the pond for my techno. Tura's "Reishi" was a big record in my sets and still makes the cut; the whole EP is sublime, with B12 under a different name on the flip. When it all kicks in at the end, it's such a cerebral brain dance.
THE RECORD I WISH I'D WRITTEN
Ø's "Twin Bleeps." Mika Vainio was an absolute genius, may he rest in peace. This is minimal magic at its best. Had the honour of sharing a stage with him at Atonal Festival.
THE RECORD THAT NEARLY DROVE ME TO TEARS
The Beach Boys' "Till I Die." This mix was done by an engineer for himself; on the sly, I believe. Gorgeous.
THE RECORD THAT WAS WAY AHEAD OF ITS TIME
The Man-Machine by Kraftwerk. The fact that this was made in 1978 is mind-boggling.
THE RECORD I DISCOVERED KINDA LATE
Günter Schickert's "Suleika." In 2005, I was asked to curate a compilation for the fantastic German label Bureau B. I don't think they thought I'd asked to listen to the whole archives before I made my decisions; it turned in a triple album. I'd never heard this before up and freaked when I heard it for the first time. It made the cut — a total gem.
THE RECORD THAT DROVE MY PARENTS CRAZY
Mikis Theodorakis' Zorba the Greek. I adored this record — still do. I remember playing this on repeat and totally going nuts as the music sped up, running around like a total loon. I'd definitely get sweaty to it.
THE PSYCH RECORD THAT'S BETTER THAN ANY DRUG
We the People's "In the Past." I prefer this faster version over the Chocolate Watch Band one (which I also adore).
THE CREEPIEST RECORD I OWN
Ha. Might be my Black Acid cover of Roky Erikson's "Enforced Peace."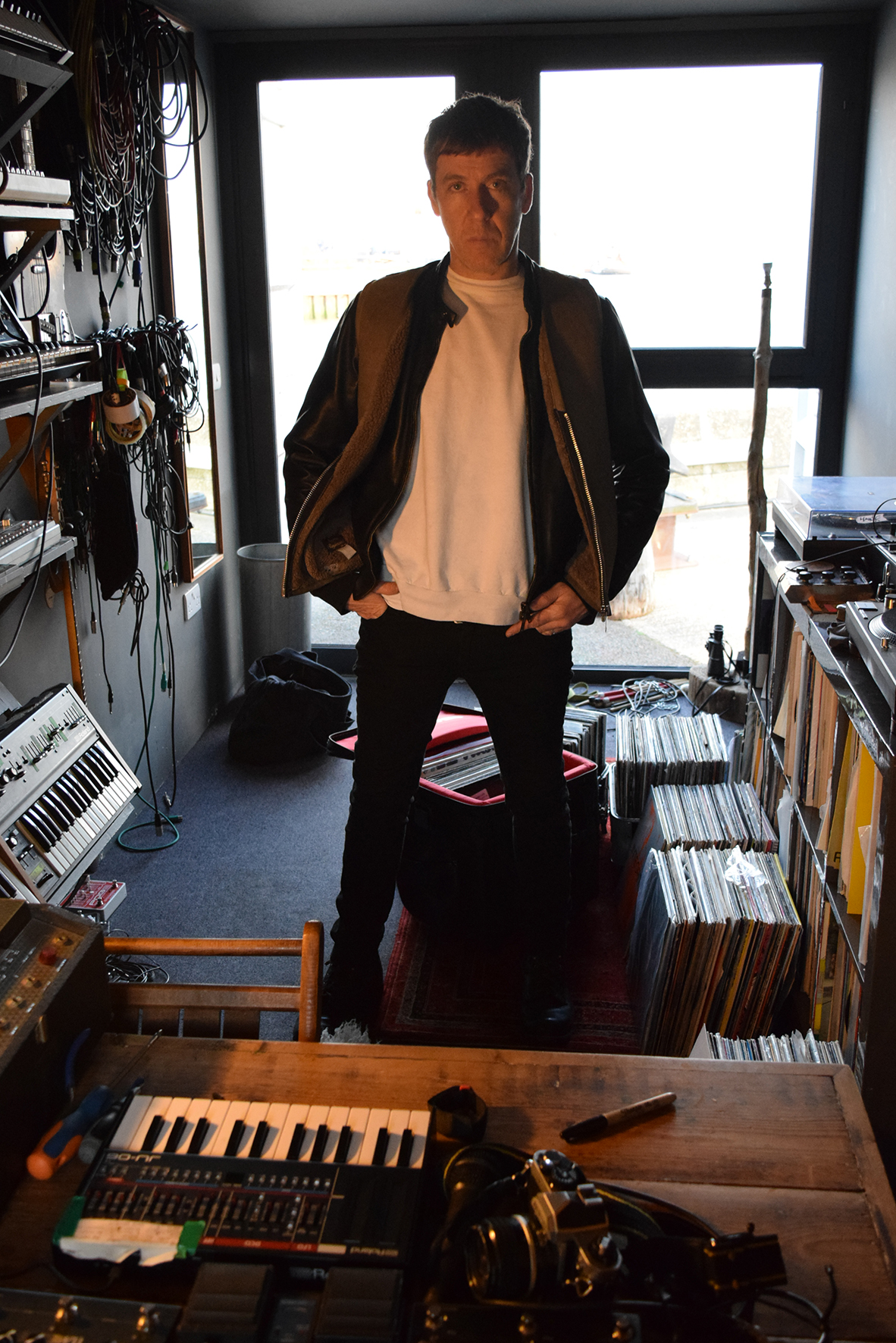 FURTHER LISTENING