Photography ANGEL RIVERA
Free Association is a recurring feature that reveals the debilitating roadblocks and restorative breakthroughs that went into our favorite new records. Kinda like a DVD commentary track crossed with a confessional booth.
This week's piece zeroes in on the deeply personal album Play With the Changes, the first proper Rochelle Jordan LP in seven years and one of the most fully realized outside projects on TOKiMONSTA's Young Art imprint yet….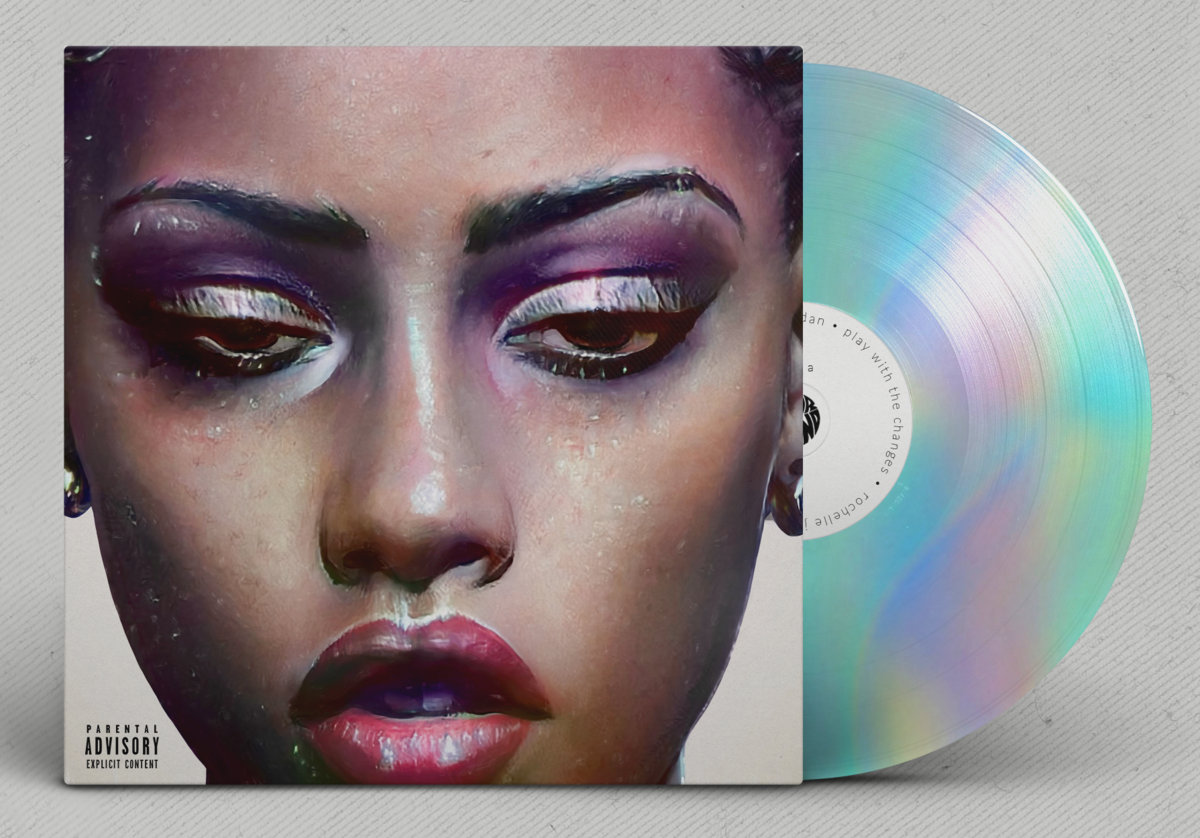 "LOVE YOU GOOD"
This song is one of my favorites. Not just because the beat is so gravitating; it's also the concept of being a little strange, hard to love, misunderstood. Feeling like your inner weirdo keeps ruining certain relationships for you, but in this moment finding someone who deeply relates to that. Now the question is, can two unloveable lovers find love in one another?
"GOT EM"
"Got Em" is my song of affirmations and manifestation. I can't say I solely rely on this spiritual concept, but I do use it and believe in it.
I found myself in a pretty dark place a few years back. I was getting hit pretty bad by the inner saboteur and imposter syndrome, when I was thankfully advised by one of my producers on the album, Jimmy Edgar, about the power of affirmation and manifestation. It really hit me and I began to practice it and it worked for me.
Next thing I know, I was being played what would be the "Got Em" beat by KLSH and the words just oozed out. No effort. Words are powerful — like a spell or a prayer. So I'm glad I created this song. I trust that these repetitive words of positivity and affirmation will help lift my listeners' spirits up.
"NEXT 2 YOU"
"Next 2 You" is about finding what you want, and boldly going for what you want after experiences of being caught up in relationships that never felt right. It's a very simple lyrical concept with an intricate and unique musical stance, which is why I love this song so much. It makes for the perfect balance and makes me think of what music might sound like in 2077.
"ALL ALONG"
I don't want to toot my own horn (ha!), but "All Along" lifts up the frequency of life every time I hear it. It  brings me back to the feelings of classic records like Earth Wind and Fire's "Can't Let Go" or Bel Biv DeVoe's "Poison," but with house-like drum patterns.
This song never came easy to KLSH, Machinedrum, or I. We had a whole other version of this song that didn't feel right, so what everyone is hearing is a revised version that took a while for us to get right. Not to mention — after about two months of listening to what we thought was the final version — I was forced to re-record the entire song the day before the album had to be submitted for mastering due to what was becoming technical/mixing issues.
So it makes me happy that we worked it out and that it has become one of my favorite records I've ever made.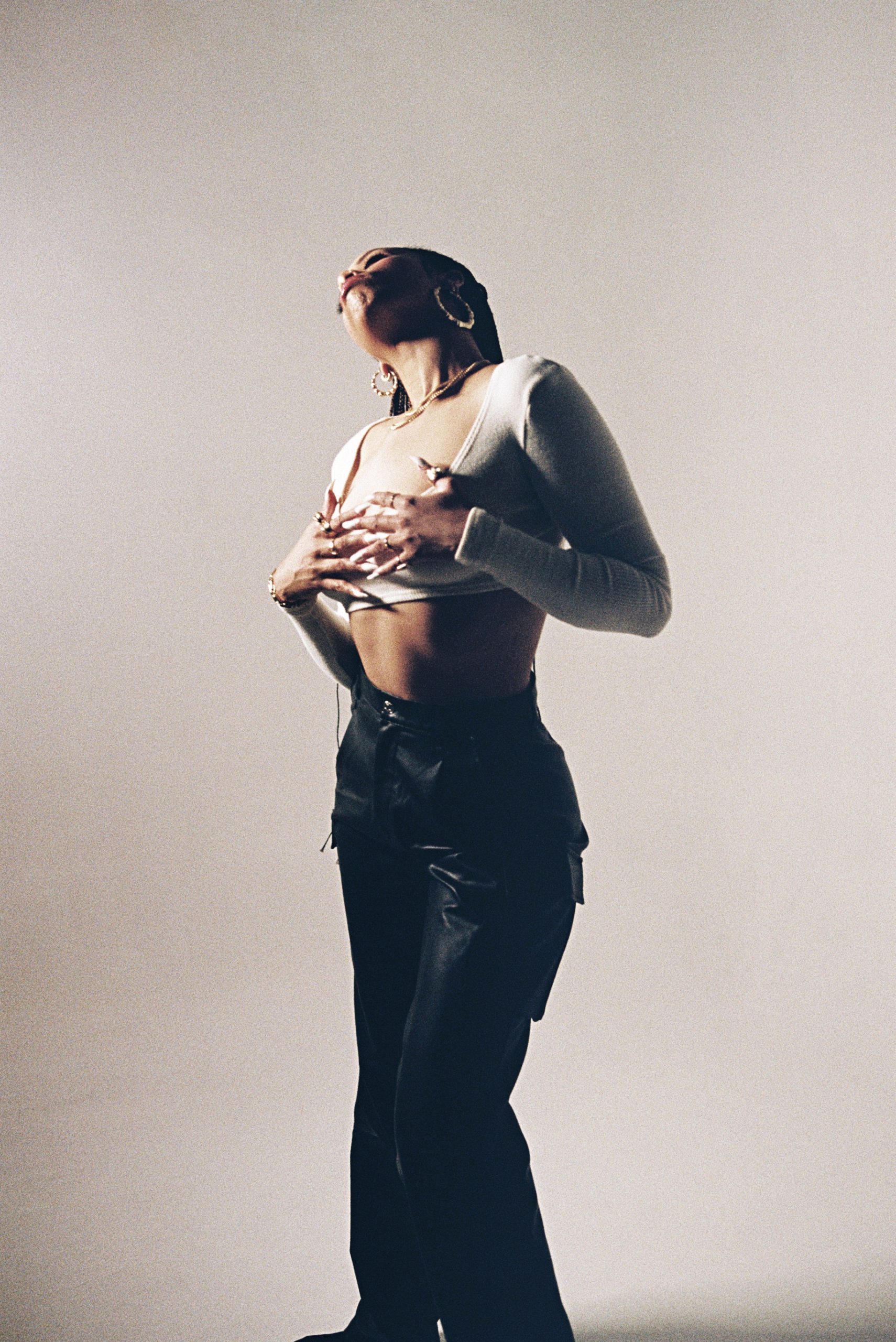 "BROKEN STEEL"
I'm happy I found what I feel are the right words for speaking to the plight of Black women. Being a Black woman is one thing, but to get a message across in a way that connects to the listener is another. It was important to me to highlight stereotypes we face and the "strong Black woman" trope as it pertains to women of color, for I myself have experienced this first hand from the outside and inside.
I have been admitted into the ER for a ridiculously painful sickle cell crisis countless times, and had my pain questioned by many non-Black doctors and not be taken seriously or seen to in an appropriate time frame, which is very dangerous. All the Black women who fear giving birth because the statistics show our death rate is higher due to careless non-Black medical teams not taking Black women's pain tolerance into consideration, therefore ending in suffering and tragedy.
These are just a few examples, all because of how society has been conditioned to look at us. It's toxic and inhumane. I really wanted to shed light on this conversation as it is an important one.
"COUNT IT"
This song was massively inspired by Bernadine Harris, Angela Bassett's character from Waiting to Exhale. I watched her give up everything for her husband. She even told him she wanted to start a business and he told her after his was where it needed to be, then they would focus on hers. All for him to run off with another woman and leave her with nothing!
It's a toxic tale as old as time. I am very confident I don't have to worry about this in my personal life, but my mom always told me to secretly "put some cash to the side." Not necessarily for a situation like this, but it connected for me. It's important that us women make sure that we will be good whatever happens, especially in a society that continues to condition men to think we're disposable.
A classic production by Jimmy Edgar, as always.
"ALREADY"
This is my favorite track (today, at least) on this album. It's my redemption song — the moment I took back control over my life.
I actually wrote this song while I was a little tipsy one night, after months of struggling with writer's block. I guess it was liquid courage flowing, but I said what needed to be said. Not to mention this beat was everything when I heard it.
But, yes, I had been waiting a while to express my feelings on being taken advantage of and the very moment the switch flipped.
"NOTHING LEFT"
When Jimmy sent me this beat, I didn't even know what I was going to do on it, but right away I texted him and asked him if I could have it for my album. He sent a smiley face back, which wasn't really an answer, but I took it as a yes. Ha!
This song was inspired by a friend of mine's story as I watched her go through the ringer with a fuckboy for years. I watched her go back every time and become so exhausted, but I also watched her bravely end it.
"Nothing Left" is another bold goodbye moment from what I felt was her point of view with a beat heavier than my heart when I wrote it. This song was also inspired by Amerie's "All I Have," which is one of my all-time favorites.
"LAY"
"Lay" is me expressing from a place of anxiety what Black people are currently living in due to the state of this country (America) and all the racist hate groups and police forces that are freely walking among us. It's the fact that I am made to feel this heightened sense of fear when my significant other leaves for the day.
It's even more of a travesty that the level of empathy for Black people could ever be this low. How can one human even see what has happened in the past and what is so clearly happening today and still find a way to compartmentalize or defend it? Again, all Black lives do matter.
For me, this song was a way of trying to help the listener empathize with the feeling of a loved one being taken from them so carelessly. I hope that through this song, whoever can't relate to being Black can at least relate to the pain of losing someone you love undeservingly, what that does to the human psyche and maybe change their way of seeing us and what we unfairly go through.
Another iconic instrumentation by KLSH.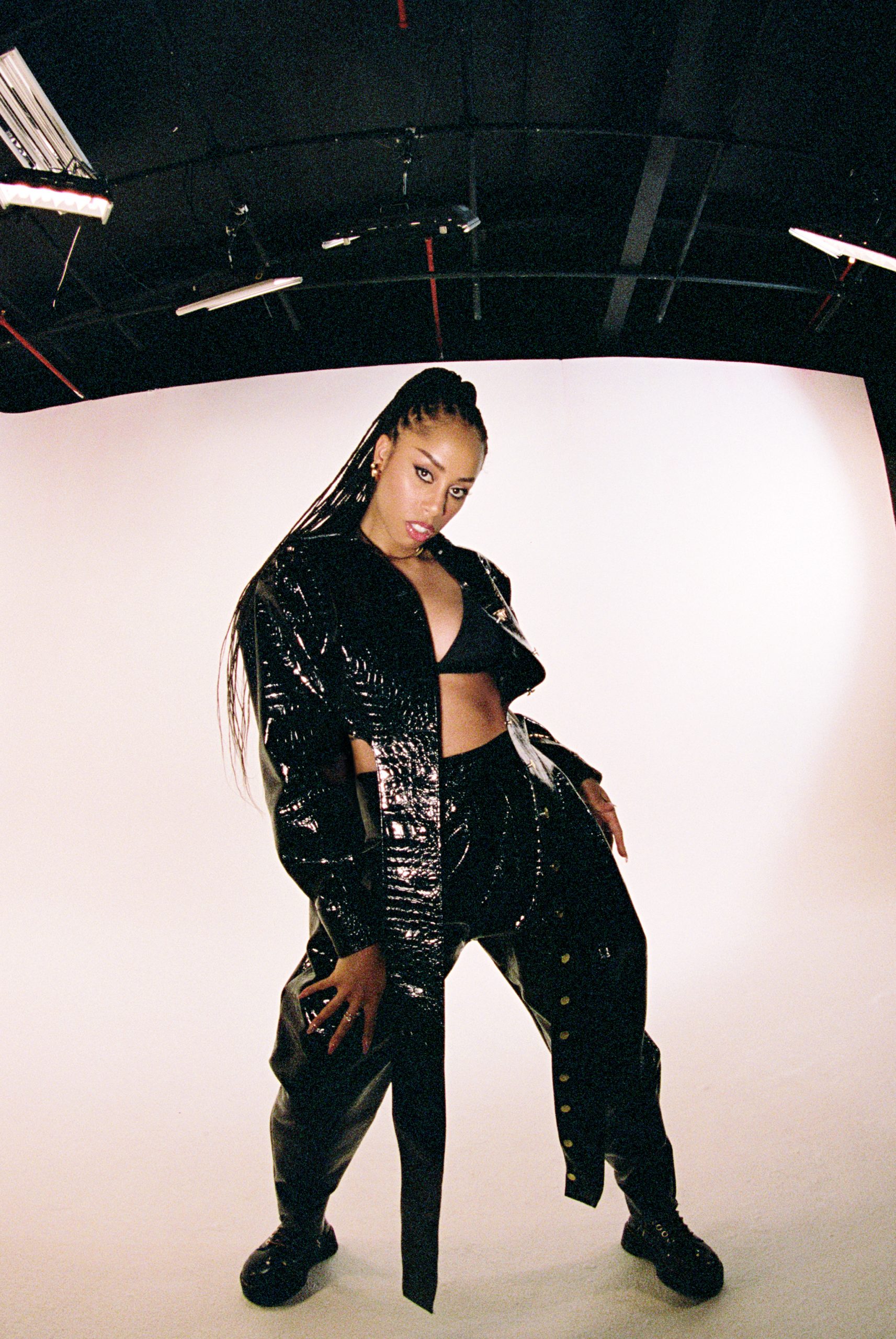 "SOMETHING"
"Something" was one of the first songs written for this project back in 2015. This was when I first began working with Machinedrum, which I was so excited about. He threw this beat at me off jump and it was a challenge I was so ready for when I heard it.
The changes in the music and the drive of this beat was so fresh to me that the words instantly came through for the chorus. Once that happened I knew exactly what this song was going to be about.
I'm just waiting for this pandemic to be over because this is the song I'm most excited about performing at a festival.
"DANCING ELEPHANTS"
I remember walking past KLSH while he was creating this beat at the studio. He had his headphones on humming this melody and I tapped him on the shoulder like, "Hey, what's that?!?" He then played the idea for me out loud with the verses already written. I then took his verse ideas, drove like a maniac back to my home studio where I record from and flushed out the rest of this song.
I was so in love with the idea of dancing around the elephant in the room as it's such a relatable topic especially in relationships. What I love the most about this track is that there is no positive conclusion. We just keep on dancing. That's how it goes sometimes.
"SITUATION"
"Situation" is another song with no conclusion, which I love. It's the acceptance that something is not right and simply existing in that knowing. This beat hit so hard and beautifully I just wanted to lightly float on it while telling a short form story of a situationship.