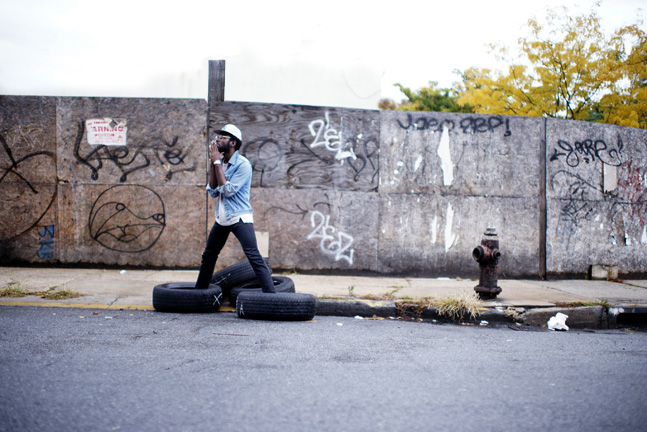 Words by Alan Del Rio Ortiz
It all started with Dev and I talking over the phone about what the video could be, and then we sent each other some references. From there, I wrote up a proper treatment and went out to find the locations. (Dev plays basketball at those courts all the time.) We kept referencing videos like 2Pac's "Brenda's Got A Baby" and LL Cool J's "I Need Love" because they are sentimental; but maybe also a little but funny, and the visual style is just incredible.
The song is a bit dark and amazing, so the trick was to take the video seriously and let that come across while still letting a little humor in. I decided to shoot with high quality equipment rather than using old technology because I knew it would look more sincere, but I also had the cast make these ridiculous gestures and dance around to keep it fun. All the choices we made were designed to ride that line. I think we ended up embracing the right clichés from that era of hip-hop while still keeping the video feeling genuine.
The shoot itself was really fun and surprisingly easy. Dev is an incredible performer, so we didn't have to do a ton of takes. It also helped that he is the least self-conscious artist I have ever worked with. I really respect someone who just throws themselves into it like he does. Everybody that showed up to be in the video was totally on board with it and I think everyone made a new friend that day. I don't think I have ever had such little resistance.
The References
–
Blood Orange's debut 7" is available now through Terrible Records. Expect an album from Dev Hynes' post-Lightspeed Champion guise later this year…if he doesn't go crazy from missing the mark on the final season of Lost first.