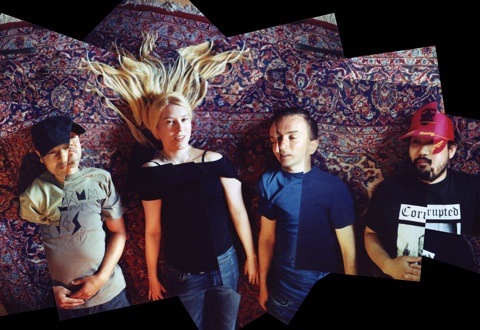 Warp Records have announced Seefeel's first new release in 15 years, an EP called Faults. Due out September 21 in 10" and digital formats, it features four tracks and two new members, bassist Shigeru Ishihara (a.k.a. DJ Scotch Egg) and former Boredoms drummer E-da Kazuhisa.
Singer/guitarist Sarah Peacock first alluded to the dream-pop band's proper return in April, promising an EP and an LP in the coming year. Guitarist Mark Clifford explained the reunion even further in a press release today, saying, "We always said that we wouldn't record a new Seefeel record unless we could present something that we felt was new. When [the cult classic] Quique was re-issued a couple of years back myself and Sarah did some interviews together and we talked about recording new material. We exchanged a few ideas which were OK and things slowly got into gear but it was being asked to do the Warp20 show in Paris that really forced us to step up a couple of notches and since then, with the addition of E-da and Shige, things have developed and grown…There is a real dynamic, creative process that's exciting. We are growing as a live band, adding elements of improvisation and looser structures unimaginable to us a few years back and with continued touring–I'm excited to see how we develop in that direction."
Check out "Faults" after the jump, and if you're lucky enough to live in London, Seefeel will headline the ICA on September 16, with future international dates planned for next year.