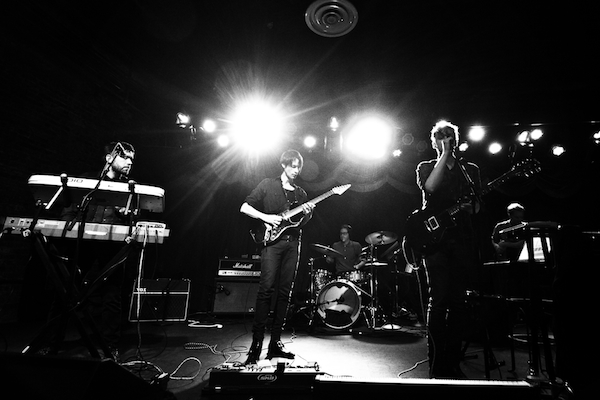 ArpLine won't be releasing their debut album–the Chris Coady-produced (see also: Grizzly Bear, TV on the Radio, Yeah Yeah Yeahs) Travel Book–until early next year, but that didn't stop us from steering frontman Sam Tyndall away from the studio for a special mix. This one's a tricky summer tape, as it includes dollops of Italo disco (Kano, Mr. Flagio) and choice cuts from DOM, the Chameleons, Light Asylum and Sparks. If that isn't enough of a glimpse into what may or may not be influencing ArpLine's own LP, Tyndall also snuck an exclusive song into his set (the Eno/Colin Newman/Grauzone-sampling "Ishvara").
The Brooklyn band sets the stage for Morning Teleportation at Mercury Lounge next Wednesday. And if that show's a little too late for you, they have a JellyNYC "Block Party" appearance on deck as well: Sunday, August 1, with details TBA.
Kano – "Cosmic Voyager"
Out of all the great Italo disco records, Kano's self-titled LP from 1980 is greater. The genre is known for its goofiness, but Kano always seems slightly somber. This song is also cool 'cause it kinda has a Kraut+Alan Parsons vibe.
Yellow Magic Orchestra – "Rydeen"
You can tell how psyched these guys are to be making this kind of music based on the gleeful enthusiasm every one of their tracks has. It's kind of demented. I wish I was present at this recording session. It would have been neat to see them solve music problems with technology. Also, every YMO song is best enjoyed by watching their videos on youtube.
Pylon – "Cool"
Pylon is the best band to ever come out of Athens. Period. This is their second best song, right after "Stop It."
ArpLine – "Ishvara"
A quick little song I made while mixing this thing. It's basically me singing over Colin Newman's "I've Waited Ages" with Brian Eno's "The True Wheel" and Grauzone's "Eisbaer" on top of it. It's like a mixtape easter egg.
DOM – "Living In America"
Solid summer single. You killed it guys.
Mr Flagio – "Take A Chance"
More Italo. Super hot synth bass line + vocoded main vocal + goofy female backup singers. I like that these guys are kinda trying to sound intense and serious about hooking up, but it all comes off silly as shit. Genius.
Sparks – "Just Because You Love Me"
IMHO an under-loved Sparks dance single. Maybe 'cause it's a little too light on jokes for the hardcore Sparks enthusiasts. Still rocks.
The Golden Filter – "Solid Gold"
Definitely a show to see if you get a chance. Golden Filter crushes it. I knew these guys were serious when they broke out the massive tom fills.
Genioh Yamashirogumi – "Kaneda"
Music from the movie AKIRA. The soundtrack is still way far out there. The group that made it has a few other really, really hard-to-find records. The Ecophony Rinne LP is basically like a primordial earlier version of the movie soundtrack, and is worth getting if you are as big a fan as I am. Mixed this in with the Golden Filter track–not that it needs improving. Aren't we clever?
Light Asylum – "A Certain Person"
Shannon [Funchess] is my favorite female front person operating today. Amazing voice. They opened for us a few months ago and we were like, "She sounds like the dude from Sisters of Mercy!" Light Asylum has some big time gems. The other awesome track to check out is "Dark Allies." They play all over the world constantly, so go check 'em out if you haven't had the pleasure.
The Chameleons – "Tomorrow Never Knows"
The Chameleons are a great band, and this is a great band covering a great song. You can tell they are kind of half-assing it in the studio. Phasers are lazily applied to the whole thing and cut off seemingly at random. The vocal is all over the place. They pretty much run out of ideas halfway through. Still, there is some magic going down here, and I wouldn't change a thing.