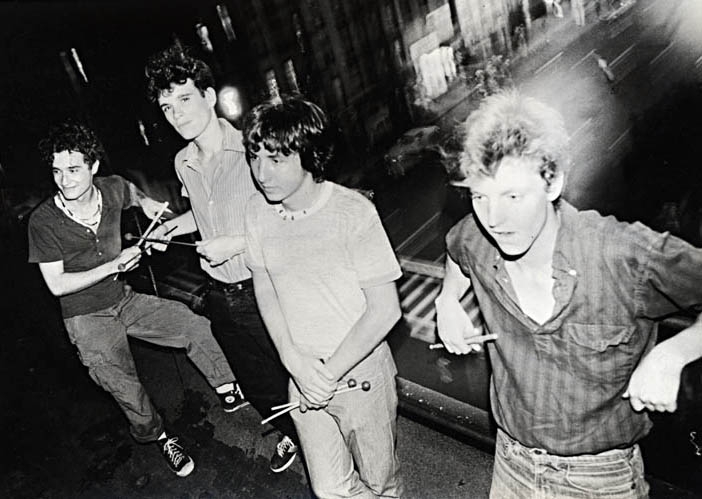 Secret DFA sessions, a DVD of unlocked live footage, and more collaborations than we could possibly keep up with–these are the details that Tussle's main knob twiddler, Nathan Burazer, managed to get out of Liquid Liquid in an exclusive self-titled interview with vocalist Salvatore Principato and his co-percussionist Dennis Young. While they're best known for one of the most important basslines in hip-hop history (Melle Mel's "White Lines," which swiped its low-end from Liquid Liquid's "Cavern" single), the pair recently reunited for their first London show ever in hopes of reminding people how much the Rapture, !!! and, well, Tussle, owe to their percussive workouts and disco-punk blueprints. Scroll down to see how you New York City folk can experience the same thing tonight at Santos Party House.
As for what Tussle's been up to lately, the quartet continues to support its "Burn It"-approved Cream Cuts LP with stellar singles, including a "Night of the Hunter" 12-inch that sports a Prins Thomas edit …
Nathan Burazer: How have you been? Are you guys as delighted with the turnout of the election as we are over here? There was actual boisterous singing of the national anthem here in San Francisco on election night. Could you hear it?
Salvatore Principato: Boisterous singing of the national anthem is always kinda scary, even if it is for a good reason. Damn skippy we're happy. The sense of relief is palpable; the sense of hope is relative.
Dennis Young: I am doing fine, thanks for asking. It was great to witness our democracy in action on election night as we welcomed our new president Barack Obama. I did not hear the national anthem sung that night but I did see his very moving acceptance speech.
How was your show at London's Barbican Theatre? Has it taken a while to get used to playing together again?

Sal: We were well practiced for the Barbican show, but one tends to forget the fog of performance.
So after five years of not performing together and finding ourselves on the big stage in front of the big audience, it was a bit of a shocker. But we persevered.
Dennis: The Barbican show was amazing! The venue was beautiful and the fans really enjoyed it. It was hard playing again at first, but once we had a few rehearsals everything came back very quickly. The four of us create a very unique sound so when we tap into what we call "Liquid Liquid" it has a life of its own.
As we get older, what gets easier and what gets harder in regards to playing in a band?
Sal: In many ways, it just gets easier. At this point anyway, because we still seem to have the energy we once did, only with a little more control and poise. The hardest thing is finding the time and motivation
for any given project.
Dennis: Nothing seems to get easier with playing this music. It is very demanding to play and the energy level can get very intense, but we still get a kick out of it somehow.
Dennis, for a long while now you have remained very active musically. In addition to Liquid Liquid, you have recorded your own solo projects, as well as collaborations with Hot Chip and Tussle. Does your creative well ever run dry?
Dennis: Once in while, it does run dry, but I have become very busy with a bunch of different music projects in the past few years. I have especially enjoyed recently working with Tussle, Padded Cell and Hot Chip.
When you have a musical idea, what do you do with it usually?
Dennis: It depends on the type of instrument I am playing at the time. If I am writing for acoustic guitar, the song and the lyrics may come together at the same time, as opposed to a drum machine or a keyboard where the song will usually take time to evolve. I just recently started working with my PC and different types of looped, sampled sounds. I am excited what the outcome might be.
Sal, I don't think I have seen you since New Years Eve a few years back, when you did a countdown at Tussle's Cake Shop show. What are up to this New Years Eve? Any resolutions?
Sal: I'll be in San Francisco this New Years Eve, spinning in more ways than one at the Edinburgh Castle on Geary. I'm still working on fulfilling my resolution from New Years 1974. Back then, I resolved to be a certain kind of person, who approaches work, art, life and people in a certain way. I've yet to fully realize that resolution.
I love Slip In and Out of Phenomenon (Domino, 2008). Any plans to record new material, or are you guys going to just play it by ear?
Sal: By the ear, for the ear, but also something for the eyes. A DVD of classic LL shows is coming soon on DFA.
Of the early '80s NYC music community, who would you say was the most overlooked and deserving of a revival/reissue?
Dennis: I can't think of anyone from NYC but there was a New Jersey band called Regressive Aid that seemed to be overlooked and deserving of a reissue.
Sal: Well, the NYC music and art community, circa 1980, has certainly garnished some attention as of latem but if I have to big up someone or something, I guess it'd be the no wave group DNA. That was some unique shit. It was like nothing else I had ever heard, but totally coherent artistically.
Tell me, are there any secret LL sessions sealed up in a vault some where, just waiting to see the light of day?
Dennis: The recording sessions we did for DFA back in 2003. I am not sure if & when they will see the light of day anytime soon.
Did you get a chance to see your old label mates ESG on their reunion tour? Did you guys ever jam together back in the day?
Sal: We were one self-contained unit back in the day, though we occasionally included people like Al Diaz (Basquiat's partner in SAMO), Shannon Dawson (Konk) and Richard Edson (Sonic Youth's first drummer and an actor in Stranger Than Paradise, Do the Right Thing and Platoon) in our live shows, as well as in the studio.
Are you surprised at the excitement about your shows/new releases or did you expect such a warm reception?
Sal: I'm amazed and bewildered.
Sal, I enjoyed your collaboration with Ectomorph, as Electric Skin. Do you have new collaborations coming up?
Sal: Well, [Electric Skin] has an EP in the can, but I'm waiting for it to see the light of day. I've been jamming, remixing and recording with other folk, too–Dennis, Brennan Green, Citizen Kane, DJ Kaos outta Berlin, and much more to come.
What is the funkiest thing you ever used for percussion?
Sal: The jawbone of an ass (donkey).
What instrument do you no longer possess and miss the most?
Dennis: I really miss my Rogers drum set that my parents bought for me when I was a teenager. It was in bad condition so I had to part ways with it a few years back.
Dennis, one last question, If a tree falls in the forest and no one hears it does it make a sound?
Dennis: Yes it does.