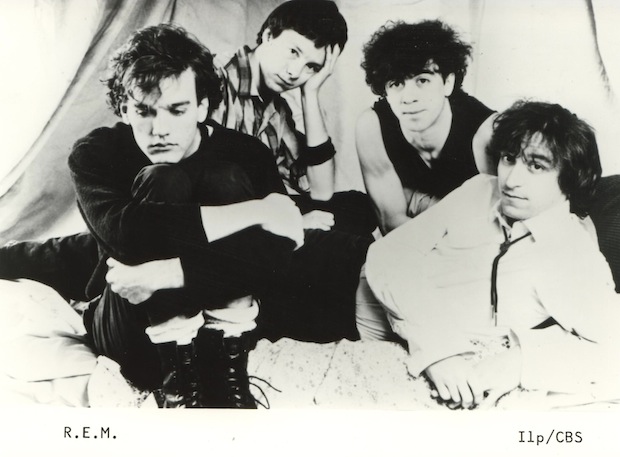 Words and Playlist by Arye Dworken
It's the end of the world as we know it. At least, the one that had R.E.M. in it. As you most likely heard by now, the band announced that the time had come to "call it a day." And a long, rich day it's been.
Michael Stipe, Peter Buck and Mike Mills leave behind an incredibly varied if inconsistent legacy. And while just about everyone knows the standards like "Losing My Religion," "Stand" and the song we alluded to in the first sentence, self-titled went ahead and compiled a special Spotify playlist of lesser-known tracks for you; ones that truly resonated with us despite the fact that they never moved as many units as, say, "Everybody Hurts."
Subscribe to it here, and follow future s/t mixes by typing "spotify:user:selftitledmag" into the program's search field. In case you don't have Spotify, we also went ahead and included YouTube clips of every song alongside a short track-by-track commentary below…
"Leave" (from New Adventures In Hi-Fi)
Michael Stipe at his most urgent, this track was taken from the road-tested album recorded on tour while promoting Monster. The above video is a live version of the track, but then again, so was the original recording.
–
"Fall On Me" (Life's Rich Pageant)
When Stipe introduced this song during the legendary 1991 MTV Unplugged performance, he said it was one of his favorite R.E.M. songs. We agree. It's simple, pretty and timeless, and it's also a song about acid rain. Which we find kind of hilarious.
–
"Find the River" (Automatic For The People)
If there were an appropriate song for the end credits of this band's career, it would be this elegiac track from R.E.M.'s finest album. A group of musicians rarely achieve a sentiment this poignant.
–
"These Days" (Life's Rich Pageant)
"We are young despite the years/ We are concern/ We are hope despite the times." There was a time when this band made anthems that summed up the way our generation felt. "These Days" was just one of the many.
–
"Let Me In" (Monster)
R.E.M. wrote and recorded "Let Me In" in homage to Kurt Cobain only months after his death. It's sloppy and dirty, and sonically unlike anything else from the band's back catalog which made it jarring but also extremely appropriate.
–
"Until the Day Is Done" (Accelerate)
Are you telling me that as recent as 2008 R.E.M. still made good music? Listen to the above song and make that call yourself.
–
"Belong" (Out of Time)
What a strange song. A spoken-word verse, and a wordless chorus, yet it all worked sublimely. Granted this album was R.E.M.'s breakthrough with hits like "Losing My Religion," "Shiny Happy People" and "Radio Song," but this is the track that still gives us the chills.
–
"Pilgrimage" (Murmur)
Anybody who tells you that Murmur isn't a perfect album deserves a hard slap in the face. The genius of this album is listening to an unassuming foursome from Athens, Georgia discover its own sound without any pretensions. It's hard to believe that they would eventually become contenders in the Biggest Band in the World contest, to only then squander the opportunity.
–
"Nightswimming" (Automatic For the People)
Arguably R.E.M.'s best song. At once, it captures the naivete of youth and the shame that goes along with realizing that it exists. With the last two albums of its career, the band would attempt at revisiting its youthful vigor with electric guitars and amps galore, but what it didn't realize is that R.E.M. was at it's most potent when it was unabashedly tender.
–
"I'll Take The Rain" (Reveal)
Knock this latter-day entry all you want, but "I'll Take The Rain" is old-school R.E.M. and would fit alongside "Fall On Me," "Perfect Circle" or just about any ballad from the band's early phase.
–
"Hope" and "Walk Unafraid" (UP)
Speaking of the albums you never listened to, we're still staunch defenders of UP. (We had to debate amongst ourselves in picking only one track from this album.) Granted it suffers from a case of Radiohead envy with its electronic flourishes and soundscape experiments, but "Hope," inspired by Leonard Cohen's "Suzanne," and "Walk Unafraid" are great songs despite the attempts to be trendy.
–
"Unseen Power of the Picket Fence" (No Alternative)
Our final song in this list isn't even by R.E.M. Rather, it's by Pavement and it was recorded by the band for the No Alternative charity compilation. But we can't think of a more appropriate way of saying goodbye to one of our favorite bands. That is, until they get back together for a reunion tour.