Photography SHAWN BRACKBILL
Alexis Georgopoulos' first Arp record since 2014—the Inversions tape, which drops on Geographic North today—actually stems from the very same year. Since the back story of its two central songs is much more complicated than their drone-on directives suggest, we asked the composer/singer/multi-instrumentalist to empty his memory banks a bit. Listen and learn….
"RAGA FOR MOOG & VIOLIN"
In 2009, Doug Aitken invited me to perform a live score to his film Migration at 303 Gallery in New York. It's a 20-minute film that takes place somewhere in the American West. The film takes animals—an owl, a cougar, a bison, a beaver, an eagle, to name a few—out of their natural context and places them inside a room in a roadside motel. The animals are separate, I should say—not together. The beaver is in the bathtub. The cougar tears a pillow on the bed. The bison stands there, stoic, maybe confused. The idea is so simple but the effect is quite moving and also disorienting, even funny at times. It's a bizarre, eerie, beautiful film.
At the time, I'd been wanting to do something with analog synths and violin. Texturally, that interested me. I'd been listening to a lot of Takehisa Kosugi and David Behrmann and Indian ragas. So the live score was just that; I played a Moog and tape delay, and invited Nicky Mao to play violin.
Inspired by the experience, and feeling that the music could expand, when I was invited to perform by the University of Berkeley Museum of Art, I invited Jefre Cantu-Ledesma and Marielle Jakobsen (of Date Palms), who lived in the Bay Area at the time, to join me. I asked Paul Clipson (an experimental filmmaker who's worked with Fennesz, Grouper and Cantu-Ledesma) to join me and he projected two films simultaneously side by side and we extended the raga to three times its original length.
A year or so, after that, I had an idea to record a version of the piece and to use it as a sound installation. The idea was to create a setting where visitors were inspired to dwell in the space for an extended period of time. I asked Clipson if he'd be open to taking part in a gallery show. Then I asked Matt Olsen, who ran a creative studio called RO/LU to take part. The collaborative result was the exhibit IN WAVES, which took place at Jack Hanley Gallery in New York City in September 2014, and the piece contracted back to its original structure and length.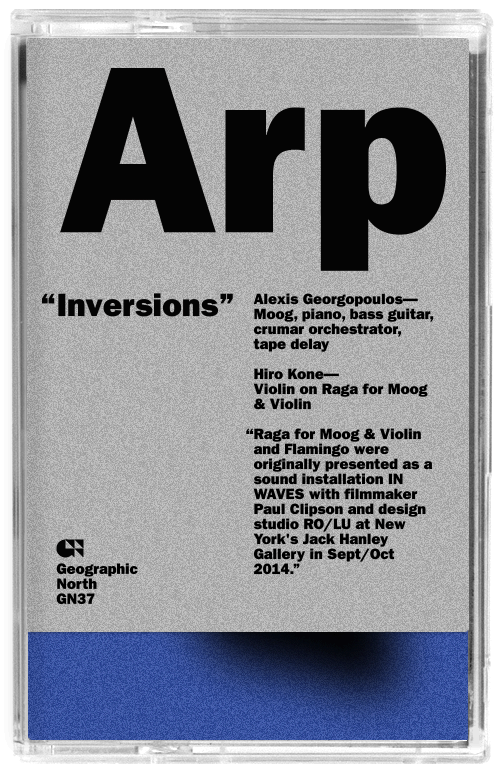 "FLAMINGO"
The flip side to "Raga for Moog & Violin" in almost every way. Both were composed in the same key: C minor Dorian. But the mood and atmosphere of each is quite different. "Raga" has no rhythmic center, and is a longford drone; "Flamingo" is driven by arpeggios and a kick drum. Yet they share this key. In that, they're inversions of one another.
I chose that particular key because it occurred to me that it could be listened to for great lengths of time without fatiguing, and because it has links both to various ancient cultures; Greece and India, for example.
The idea was to work with a mode allows the listener/visitor to focus on sound at times and plays a subliminal, sometimes barely perceptible role, at others. I'd been wanting to make some early digital computer funk, just super hypnotic stuff that also sounded like a computer malfunction. It all happened pretty fast and I fought the urge to work on it too much, to tailor the kick drum to a club sound system or make the arrangement too elaborate. I liked the immediacy of it.
Again, the idea was to create a context where visitors felt inclined to stay awhile, to take on a different sense of time, an extended sense of time. Where they might even forget that there was music actually propelling them along.
"EAST OF THE SUN, WEST OF THE MOON"
This was recorded in the same session, and with the installation in mind. In the end, though, even though I was happy with it, I felt it wasn't right for the gallery context. At least for IN WAVES. It wasn't subliminal enough. It seems to imply a narrative. It suggests too much. It's too moody. It's a very simple little piece, just a piano figure with some momentum, really, but it has a certain…. tension to it.