When Flying Lotus was still interning at Stones Throw, Elvin Estela (better known as Nobody and one-half of Blank Blue) was already a couple albums deep into becoming one of L.A.'s most consistent beat heads, a guy who can get away with covering the Flaming Lips and collaborating with members of Beachwood Sparks, the Postal Service and Mars Volta when he's not stringing together snippets of hip-hop, folk, psych and pop music, often in the span of one song. Or as the longtime Low End Theory resident admits in the commentary below, his latest LP (Vivid Green, available now through Alpha Pup) owes its multiple personalities to Boardwalk Empire, Digable Planets, A$AP Rocky, 10cc and trap in equal measure…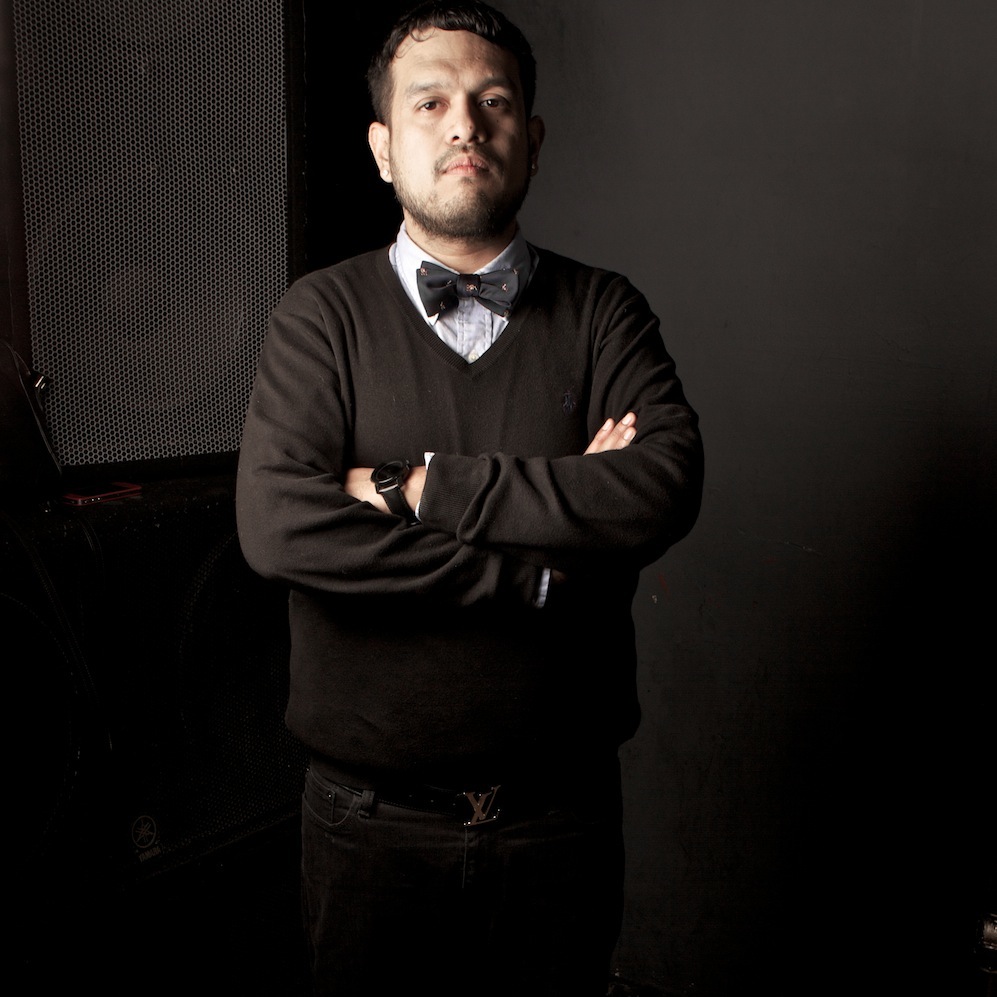 "Third Charm"
I had this one set to be the first song since the early stages of the album. Most of my records have these long, drawn-out intros, but with this one, I really just wanted to throw you in there, like sink or swim. Marcel Rodriguez-Lopez—a.k.a. Eureka the Butcher—is all over it on mellotron. I wanted to make a legit beat with solos like an old prog jam. Then name is just the working title and it stuck.
"Pentwater"
My friend Britt had this family house in Michigan in a little town called Pentwater. I had an amazing time there during a rough time in my life. I always loved that name so I used it for this song. This one is inspired by Rain Forest by Paul Hardcastle. I also wanted a drastic tempo and mood change at the end, which is why it does that!
"Our Last Dance"
Cedric [Bixler-Zavala] and I have been meaning to collaborate for years. I am glad that the universe made it so we waited to make this song. This beat was supposed to be instrumental, but Cedric picked it as the one he wanted to sing on. He originally had a different hook, but mentioned that he had another idea, so we tried it out and I knew that this was it. Probably my favorite song in my catalog now.
"Rhombus"
I wanted to do a few beats that were not in 4/4, as [my debut album] Soulmates had a few that were all over the place and I wanted to return to that. This is just a 5/4 groove that I imagine as the theme music to Boardwalk Empire because that theme song is a tragedy. This song features live strings by Paul Jacob Cartwright, who is the man!
"Flat Black"
One of many trap-influenced beats on the record. I just wanted to make something stark and minimal for Low End Theory. The middle section was inspired by Digable Planets.
"Sleeping Alone"
Teri Gender Bender and I met through Omar [Rodriguez Lopez] and I immediately fell in love with her voice. It's so fragile yet powerful, and dark yet pretty. I wanted to make the closest thing to a straight goth song as I could and this is the result.
"Ice Plants"
This is one of the first beats I made for the record. Same as "Flat Black"—just something banging for the club that's super dark and bass heavy.
"Rex"
Straight up, I was trying to recreate this beat by CVE—Chillin' Villain Empire—that I used to hear at the Good Life when I was younger. I just gave it a modern upgrade. Another one for Low End Theory. The end is supposed to be what's inside Rex's head, which is sad, because as menacing as he is, he's really just a simple dinosaur.
"Spliff!"
What can you say about Anna Wise? She is my favorite female singer in the world and I listen to her group Sonnymoon all the time! Addicted! I asked her to collab and she took it as an opportunity to have fun and talk about what was on her mind that week, which was spliffs and champagne!
"In Limbo"
This was my "purposely like Pacific Drift" song. I just wanted to make a pretty song in a waltz tempo. And I feel like I am in limbo most times. Always between experiences. Features Paul on live strings once again!.
"Vivid Green"
The title track! This is an old Blank Blue song that never went anywhere, so I took my parts and made bright club downer.
"Beaches"
This was originally just supposed to feature Baths, but the more I listened to it, the more I heard it as a rap song. Then one day that hook came to me and I did a demo of it to show Nocando. Nocando is amazing at taking a concept and taking it as far as he can go. He glues together that hook and the vibe of the track. Influenced by A$AP Rocky and 10cc.