Photography JAIME SALAZAR
As we head into the final stretch of this year's sad/cynical election cycle, a soundtrack to our collective frustration has risen from the ashes of Miami's underground music scene. Going by the name of Total Bust, the EP is the wildly experimental handiwork of Other Body, who describe the effort as "the sound of a wrecking ball demolishing what's left of 2016, a very shitty year for everyone involved."
Amen. Now here's the rest of the story, along with a track-by-track breakdown by frontman Andrew McLees, also of the local Art Basel alternative Look Alive Fest….
"IMPERIAL CLOUD"
Our first single, "Imperial Cloud," sees us experimenting with texture, groove, and dynamics in ways we'd previously never tried. Melvin's propulsive drum hits drive the track, while Jacob's serpentine bass slides fill in the sonic space. My guitar barely sounds like a guitar at some points. We joke about how the guitar seems to dance around the rhythm section.
A lot of the lyrics were written after tragedy struck earlier this year, which explains the heaviness. The "imperial cloud" is a cryptic visual; you can imagine this thing looming in the distance like Don DeLillo's airborne toxic event, or some kind of disruptive phenomenon that signals impending change.
"LOST"
"Lost" is a straightforward rock song, complete with a bluesy bridge and bludgeoning guitars. Here we're all alone, drifting aimlessly on a black ocean, reeling from some kind of recent abandonment. The heart is growing cold and heavy; the narrator vows "never again will I let myself love." Love is hard work, and when you lose someone you love, it's difficult to imagine loving another person the same way ever again.
"(LOSS)"
I've been experimenting with a lot of manipulated sounds sourced from the internet. I run these tracks through a ton of pedals and digital signal processors until they're indistinguishable from the original source material. That last line by the way—"can't blame a god who knows how to cry"—was lifted from a scrapbook I found online while researching Miami's art history which belonged to an artist from the '80s. It lends the song, which was intended as a transitional piece of sound art, an air of much-needed levity, and possibly even a human touch in an otherwise cold digital soundscape.
"CAVITY"
We debuted this song while opening for the renowned Miami sludge band, Cavity. At the time it didn't have a name, but the more we thought about it, the more it made sense that a song about powerlessness, and spiritual and social decay should be called "Cavity." Call it cosmic coincidence, but that show needed to happen for us to have that "a-ha" moment of clarity.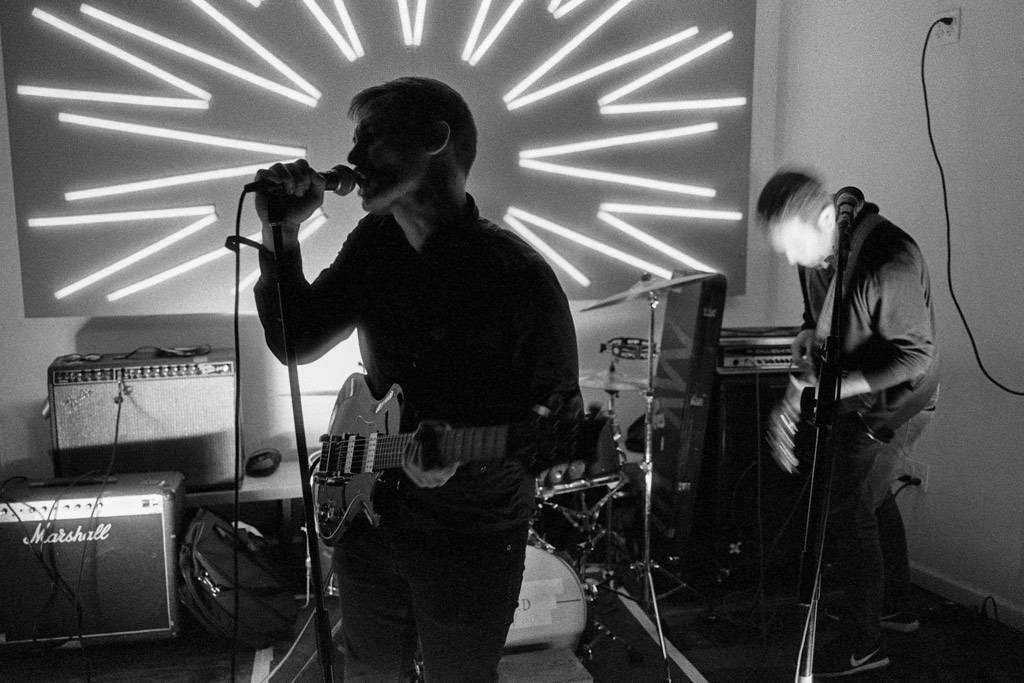 "(RATS)"
Rats throughout history have been viewed as harbingers of disease. We wanted to design a piece of sound art that mirrored the anguish of being ravaged by fleas, consumed by disease, and buckling under the weight of an impending illness, be it mental or physical. It's a cold digital hell.
"TOTAL BUST"
The lyrics find us at our most cynical and defeated. A lot has gone wrong. Everything's a mess. Toward the end, we begin to fight back a little, which turns into a full-on assault by the time we get to the final song, "Work." This one's also a blast to play live. On stage, "Total Bust" is much more raw and punishing than it is on record. The last five minutes feature this wavy industrial churn that envelops the listener in sound, and is best experienced over a hi-fi FOH club system.
"(IT'S IN THE AIR)"
The final sound art work on the album, "(it's in the air)" has a much different tone than the other tracks. There's a sense of childhood wonder present in the voice, while the tape loops suggest a lingering dread. The last lines are repeated in an effort to remind the listener that pain, loss, defeat, all of the ideas we discussed earlier in the album are all grounded in reality, and that leads us perfectly into the final track, "Work."
"WORK"
We've been finishing our sets with "Work" for about a year now. "Work" is a sonic assault on the ears, a song that really finds us at our best and most terrifying. "Work" is a call to "stop" and "pay attention" to the world around you, to resist letting everything get any worse than it already is. Oftentimes the pain devolves into this unproductive cycle of self-loathing, anger, and destructive behavior. At some point, it's important that you "make it better, make it work." Sometimes you need to be told to snap out of it, and that's what we're doing. That's what this song is about: snapping out of a manufactured complacency and rising above it.