As a longtime fan of Finders Keepers and—to quote one of our co-workers, "weird-ass blippity-bloop music"—we were psyched to see label founder Andy Votel launch his new Cacophonic label earlier this summer. A celebration of synth-y, button-mashing electronic music, gnarly noise and jilted free-jazz, it's basically Finders Keepers' estranged older brother, the one who went off his meds weeks ago and ain't going back on the stuff anytime soon.
Or as Votel told FACT recently, "Virtually all the records scheduled for Cacophonic are by artists that genuinely wanted to change how music was heard and made which is why a lot of them are specific to unique or homemade instruments which coincide with the introduction of electronic music before it went microscopic and less tangible. Many of these records are from a jazz background but veer in to other disciplines like ballet and fine art which were some of the most vibrant outlets for experimental music before the rise of rock and pop culture…Finders Keepers celebrates how pop failures become critical triumphs which is something very close to our hearts and translates well to DJing and cinematic applications. Cacophonic comes from a place before pop exists by artists who wanted to change the world and genuinely believed they could."
To give you a more general idea of what to expect from Cacophonic in the coming year, we recently commissioned Votel to cut an exclusive mixtape that incorporates the kind of mad-for-it music he hopes to celebrate through its compilations and lovingly packaged reissues. Presenting "Electro Who Cardio Fluxus: 14 Musical Re-Inventors Who Made/Played and Disobeyed Their Own UNstruments," a Cassette Store Day collaboration between Cacophonic, self-titled, and our favorite L.A. record store, Mount Analog. Here are Votel's liner notes and a streaming version of the handmade tape, 50 copies of which are available now through our Merch Table shop. The other half of the limited pressing will be available at Mount Analog's brick and mortar store, with any remaining copies going up on their Web store Sunday…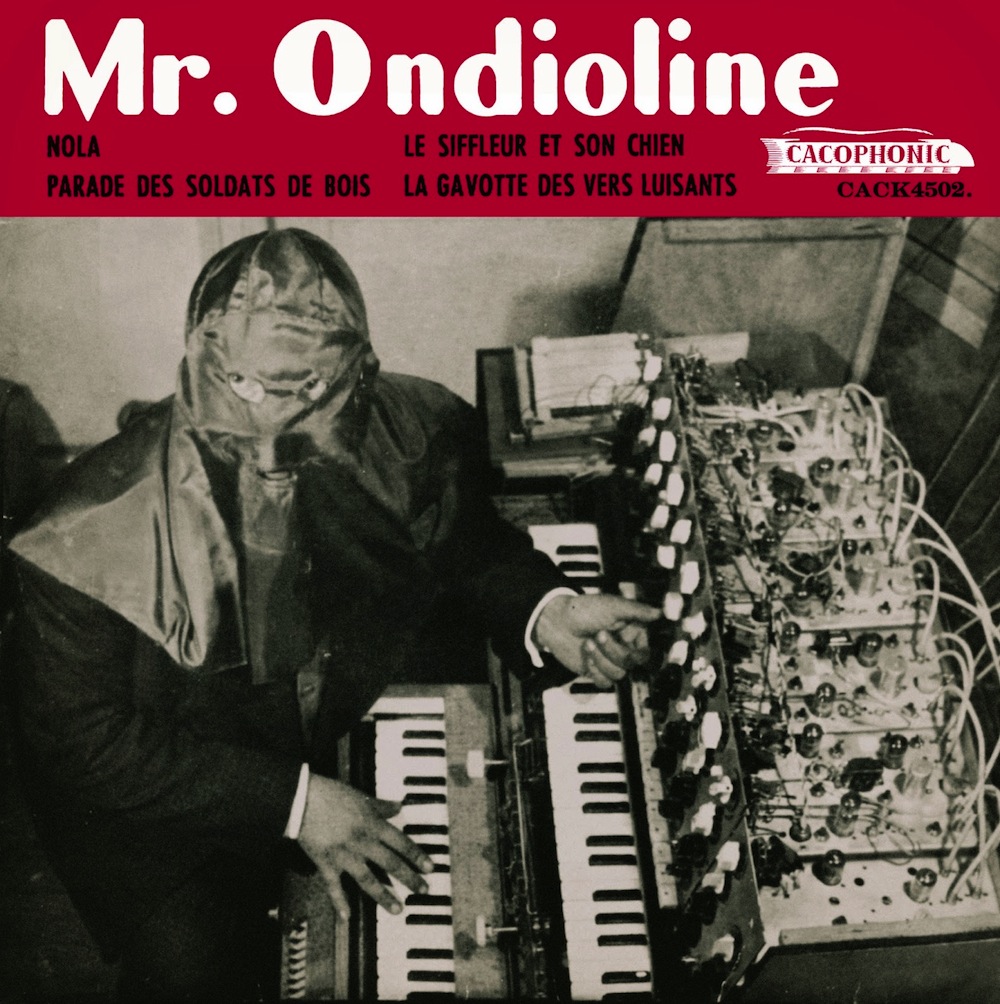 Mr. Ondioline, "Nola" (played on the Ondioline)
From the EP Mr. Ondioline (France, 1960)
This is the rare Incognito debut single from Jean-Jacques Perrey, the renowned French electronic composer who controversially, and painstakingly, brought melody to the art form known as musique concrète. As an early collaborator with electric keyboard inventor Georges Jenny, Perrey travelled the world showcasing the Ondioline contraption that professed to imitate any existing acoustic instrument, even appearing on live TV. Perrey would also go 'undercover' when he switched over to the fledgling Moog synthesiser where he would assume his female persona Pat Prilly using a model's photograph on the back of his LPs.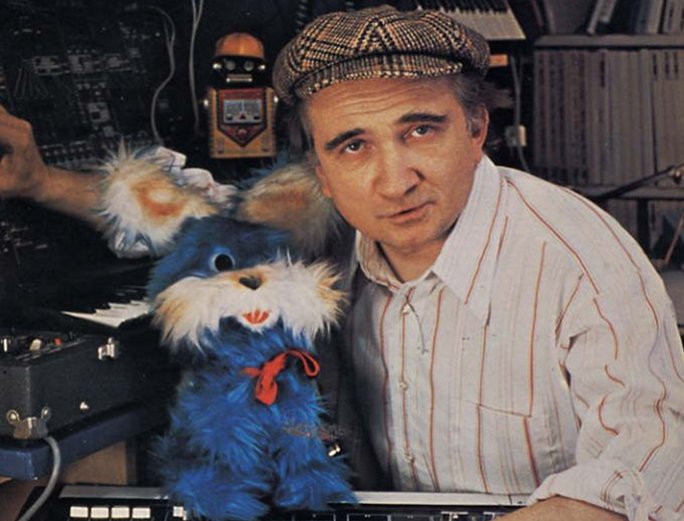 Michel Magne, "Mémoire D'un Trou" (played on the Cymbalum)
From the LP Musique Tachiste (France, 1959)
Taken from the debut conceptual LP from the experimental composer and soundtrack legend who went on to own and co-run one of the most important studios in Paris with synth wizard Dominique Blanc Franquart. This LP is an early early good-humoured reaction to the concrète movement where Magne uses traditional instruments, proudly celebrating the medieval Cymbalum, to emulate "…those progressive musicians messing around with their tapes." Using real mechanical and human noise amongst brooding orchestras, piano jazz and non-musical elements Magne draws valid comparisons with Harry Partch, Egisto Macchi and Jean-Claude Vannier. (The latter a future protege of the composer.)
T.R.A.S.E, "Trase Sketch 1" (played on the Chorosynth)
From the LP Tape Recorder And Synthesiser Ensemble (U.K., 1981)
The unfathomable achievements of a 15-year-old schoolboy, who, after reading an electronics magazine, built his own synthesiser, electronic drum unit and effects machine as part of his 1981 school woodwork and metalwork class. Forgoing music as an O-Level option Andy Popplewell's unfunded obsession with John Carpenter soundtracks and Tubeway Army pushed him to the extent of screen-printing his own circuit boards with metal paint to built a low-cost/no-cost home studio, where, under the name of T.R.A.S.E (Tape Recorder And Synthesiser Ensemble… F.F.S!!!) he recorded his only LP, direct to C60 cassette which until last year had been heard by less than four people.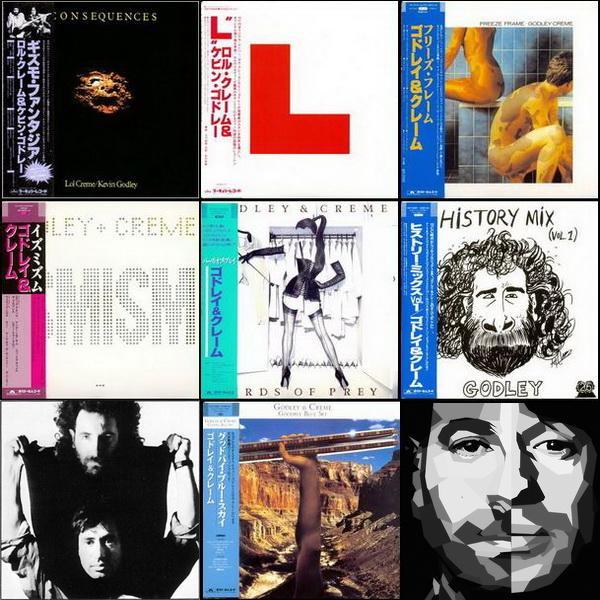 Godley & Creme, "The Wind" (played on the The Gizmotron)
From the LP Consequences (U.K., 1977)
Taken from this art-school pop group's elaborate triple concept album, composed solely to showcase the musical invention that basically split up their former band, 10cc. Based on a series of soft trundle wheels that massage, or grind, each guitar string this pre-E-bow continuous drone-clone emulated orchestral noises and provided all the "strings' and effects heard on this opening instrumental track. The LP was a commercial flop and the mass produced Gizmotron units are now a perishable collectors item complete with instruction booklet and flexi disc.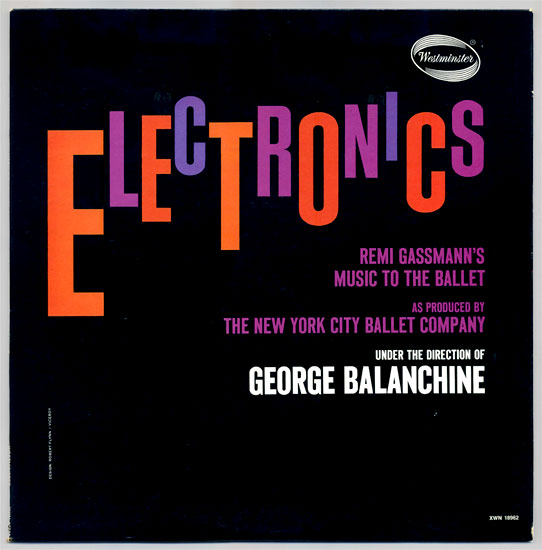 Remi Gassmann, "Scherzo and Largo" (played on the Trautonium)
From the ballet Electronics (U.S., 1961)
Originally Invented in 1929 using a resistor wire against a metal plate by Friedrich Trautwein, the electronic Trautonium would be modified and remodelled by one of its original converts Mr. Oscar Sala who by 1959 had perfected the "Studio Trautonium" which he presented to Ballet composer Remy Gassman. Gassman created this electronic music for a futuristic Violette Verdy and Jacques d'Amboise ballet devised by Georges Balanchine which was well received in the U.S. leading to a legendary cinematic commission where Gassman and Sala would use the Trautonium to create synthetic Bird noises for Hitchcock's ornithophobiac's nightmare masterpiece.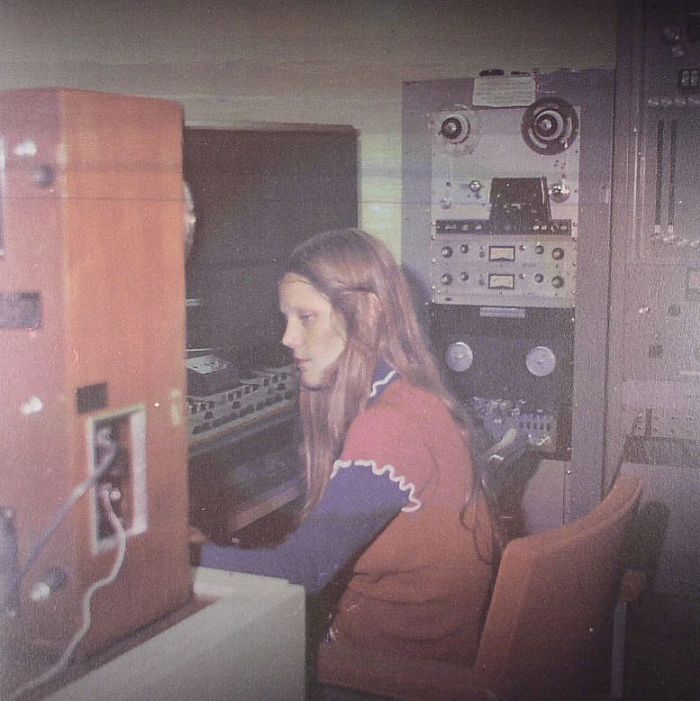 Kat Epple and Bob Stohl, "Sanctus Spiritus" (played on the Lyricon)
From the LP Sanctus Spiritus (U.S., 1982)
This husband and wife duo bridged the gap between the end of progressive rock and the early New Age movement with their only vinyl release—Dragon Wings and Wizards Tails—under the name Emerald Web. With 18 months of their debut release the use of any organic and acoustic elements had moved aside in favour of more synths and a series of self-pressed instrumental cassettes of synthesised space-music and meditative soundscapes. Having initially bonded over a mutual love for playing the flute the timely invention of Bill Bernardi's Lyricon wind-synth opened up new avenues for the group without compromising the cosmic future-sounds which won them repeat performance requests at planetariums and other celestial shin-digs before Bobs untimely death at a young age after a swimming accident.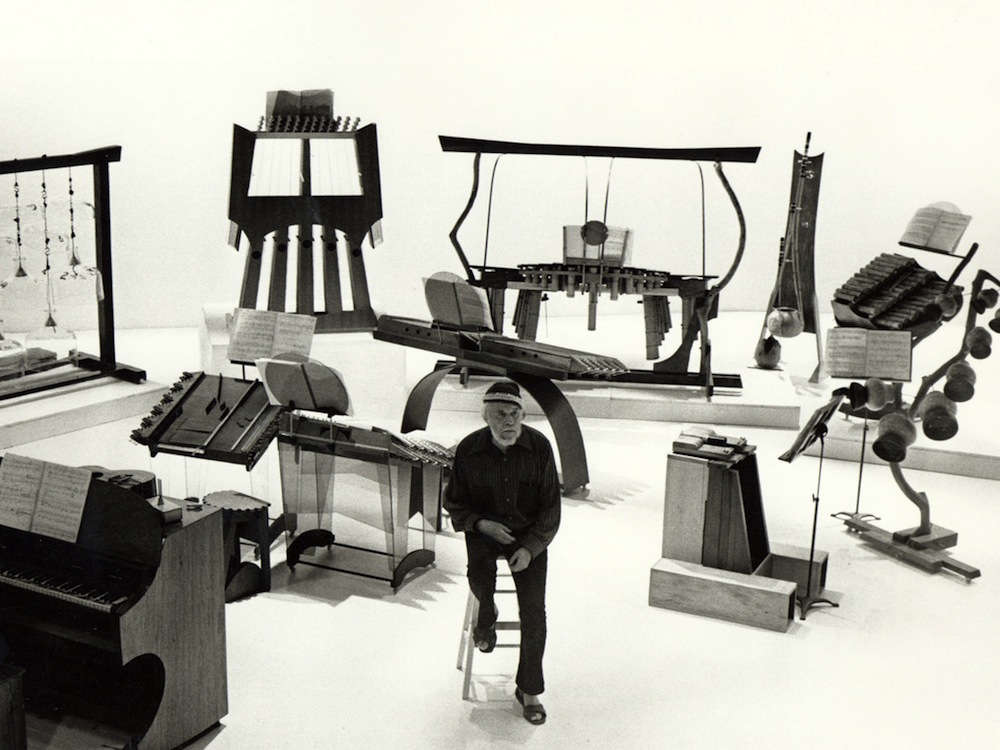 Harry Partch, "The Romancing Of A Pathological Liar Comes To An Inspired End" (played on the Cloud Chamber Bowls and Chromelodian)
From the LP The Bewitched (U.S. 1958)
Fast approaching the status of a household name in experimental music circles, this true American maverick tried to literally rewrite the composers rule book by inventing new structures, new chords and a range of self-designed and handmade instruments constructed from wood, glass, metal and ceramic in order to push the boundaries of man-made music. Often working in dance and theatrical settings Partch's dedicated "Chorus of Lost Musicians" and his self-funded label Gate 5 provided an alternative music industry to promote his non-conventional ideas resulting in plays such as Bewitched with its strong rhythmical elements and occult aesthetic.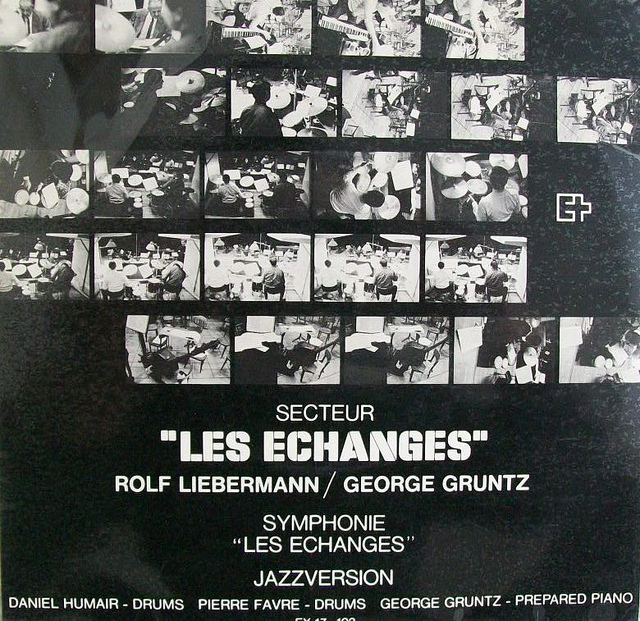 Rolf Liebermann, "Les Echanges" (played on 16 typewriters, 18 calculators, 12 office perforators, 10 cash registers, eight humidifiers, two metronomes, four bells, two entrance door gongs, 10 electric horns, 16 telephones, 40 experimental signal receptors, a fork lift, a duplicator and an elevator)
From the single "Les Echanges" (Switzerland, 1964)
Cited by legendary electronic jazz composer Bruno Spoerri as the biggest single influence to his career, this composition/installation by fellow Swiss musician Rolf Liebermann was originally showcased for the Swiss Expo national Exhibition in 1964. Devised by Liebermann using the rhythmical characteristics of a wide range of domestic and industrial non-instruments the "concert'" was arranged in an auditorium like any normal orchestra. Rolf could also derive musical charts from the performance which were then passed to drummer George Gruntz, who played the same rhythmical piece using regular jazz instruments for use on the B-side of the record, its hard to say which side is the most extraordinary.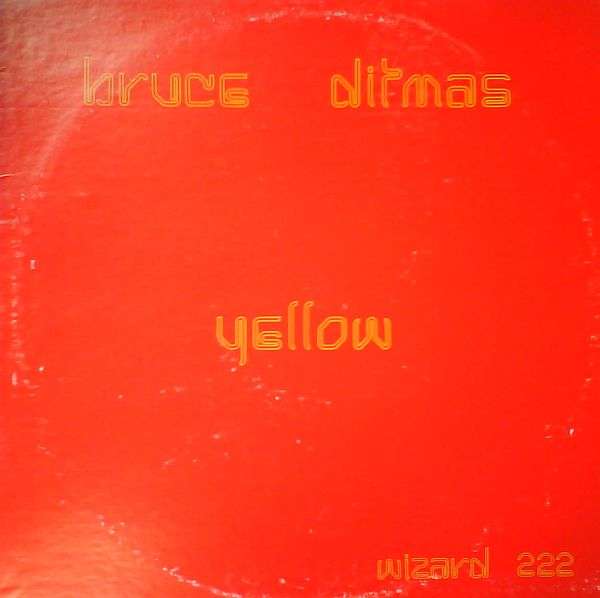 Bruce Ditmas, "L'Unita" (played on the Moog Drum)
From the LP Yellow (U.S., 1977)
Another relatively behind-the-scenes jazz drummer whose two astounding and criminally under exposed electronic LPs from the mid 1970s utilize Bob Moog's new "Moog Drum" console to deft effect alongside collaborations from Enrico Rava on trumpet and adventurous vocalist Joan La Barbara (wife of famed Buchla synthesist Morton Subotnick). This proto-techno/acid-house track is taken from the album Yellow, pressed on the obscure Wizard record label from 1977.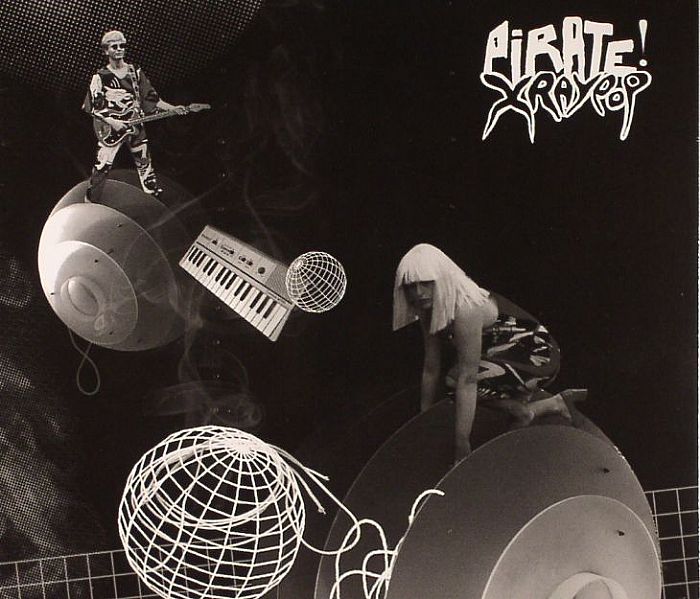 X-Ray Pop, "L'Amazone" (alternate version, played on the Casiotone keyboard)
From the LP Pirate! The Dark Side of the X! (France, 1985)
Reconstituted from three interchangeable French DIY groups, this futuristic, femme-fronted pocket-punk electro-funk combo first unleashed their unique brand of domestic-synth driven micro-wave pop in to the private-press and tape-swap arena in early 1984. With atomic results their inimitable mutant strain of 4-track fuzz spread beyond controllable parameters resonating from the Tours based nucleus that would become the family home of husband and wife Didier Pilot (a.k.a. Doc, a trained microbiologist) and Isabelle de Saint Loup (a.k.a. Zouka Dzaza) as they exercised their dutiful daily commitment to making, breaking, repairing and sharing the best private-pressed pop music of the Casiotone era.
Struggling to merge seemingly incompatible inspirations from France (Magma, Gainsbourg), the UK (Brain Eno, Robert Wyatt) and Germany (Can, Kraftwerk), Didier looked to post-punk bands like Devo, the Residents and the Cramps as a practical framework and adopted their minimal funk-punk rhythms to form a backbone to his self-penned songs. The Doc would soon realise that his words were best served from the feminine perspective creating a role for Zouka that resembled Bardot's Comic Strip Pow-Pop-Wizz delivery (which would be further emphasised in a cover version of Serge and Brigitte's "Contact" as part of their live show) set against off-the-shelf catalogue keyboards, cheap musical toys and and drum machines marking the birth of the X-Ray Pop Freaks Army.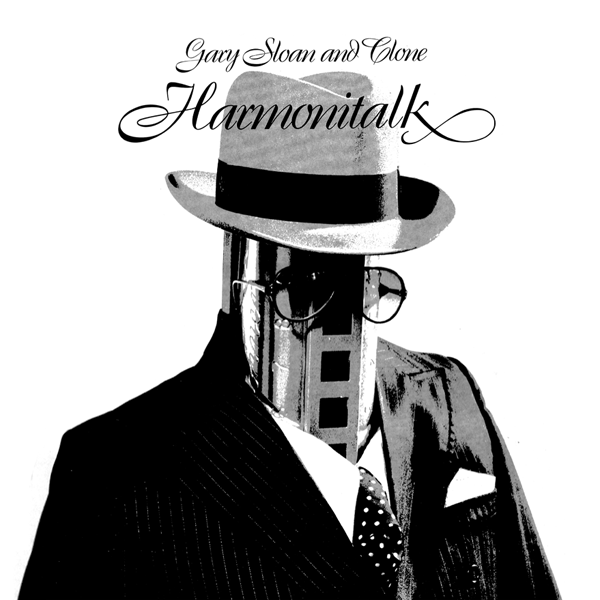 Gary Sloan and Clone, "Clone Jam / Harpbirds" (played on the Electronic Harmonica)
Previously unreleased (U.S., 1980)
Alaska, 1980. The robotic harmonica and his Clones have landed on glacier planes. Meet mutant commander Gary Sloan; this is the dawn of Harmonitalk! Less than 1000 copies of the privately pressed Alaskan electronic harmonica album by this tight-knit synth trio called Clone actually survived the journey out of their Anchorage base camp, leaving an explosive trail of unidentified synth pop, New Age, lo-fi blues, techno, vocoded folk funk and prog rock blazing behind them. See what happens when a homespun innocent blues collective become possessed by the souls of Vangelis, Klaus Schulze and Suzanne Ciani on the frost-bitten film set of John Carpenter's The Thing. Over 30 years later, Cache Cache and Finders Keepers Records resurrected Harmonitalk's original black box and found more lost transmissions, like this track, in the process.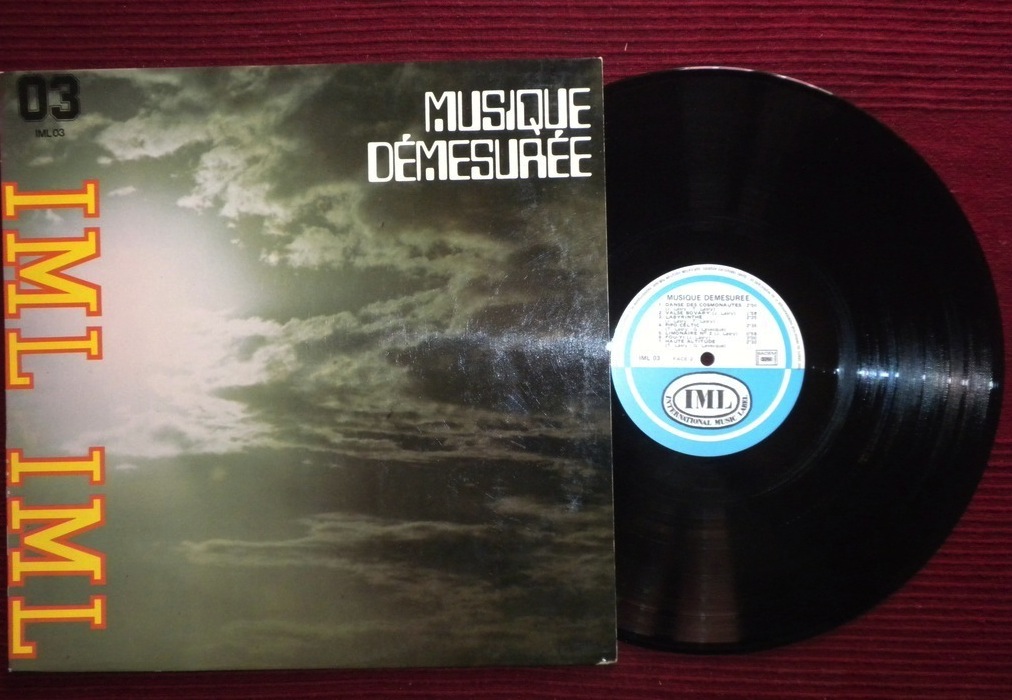 Structures Sonores Lasry-Baschet, "Danse Des Cosmonautes" (played on the Cristal Baschet)
From the LP Musique Demesuree (France, 1972)
Largely recognised in audible form for their uncredited music to the 1970's children's TV compendium Picture Box, the Lasry-Baschet group comprised the Lasry family of composers (Jacques, Yvonne, and later Teddy, of Magma fame) and two artists/engineers called the Baschet brothers, who made the unique sonic sculptures. Their most recognisable sound is the indescribable but coldly comforting Cristal Baschet, which can be heard on both the aforementioned Picture Box theme (entitled "Manège") and this track, which was written and recorded by the father and son team (Jacques and Teddy) for a rare French library LP in 1972.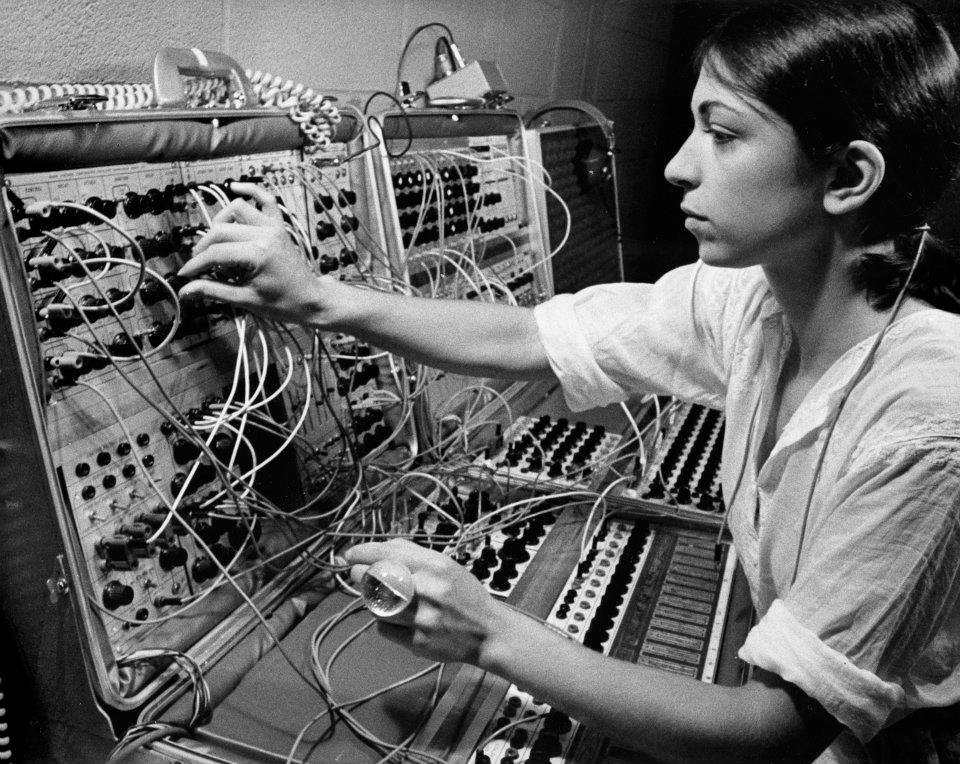 Suzanne Ciani, Buchla concert 1975 (played on the Buchla)
Previously unreleased (U.S., 1975)
Initially fueled by an unusual teenage love for Chopin and Bartok, the talented young pianist Suzanne Ciani was dumfounded by a school demonstration of how an early electronic instrument could emulate the sound of a violin. Over 10 years later, having studied serious classical composition, including tape music and technology, Ciani was introduced by a collaborating visual artist to synth inventor Don Buchla who, in turn, introduced Ciani to one of his first "Buchla" Modular synthesisers. It was from this point that the smitten Suzanne would dedicate her time, money and wholehearted passion to a genuine belief that the instrument would completely change the way music was made and heard forever more.
As one of the few musicians in the world to own the expensive machine—while working part time for Buchla's company—Suzanne travelled to New York to pursue a one-off Buchla concert and some potential advertising and recording avenues. The irony of sleeping on floors (belonging to Ornette Coleman and Philip Glass, amongst others) with no money lying alongside one of the most desirable and expensive musical instruments in the world illustrates the strong commitment to the "warm pulsating breathing machine" in a relationship that Ciani herself now compares to a marriage. Suzanne's commitment finally paid off as she became recognised as a friendly, enthusiastic and non-pretentious ambassador of the synth medium teaching well-known film composers and jazz musicians how to programme synths while adding her own sound effects to disco LPs, Coca-Cola adverts and sci-fi thrillers, all emanating from her Ciani Musica studio and offices. After releasing her first solo LP for a Japanese label, followed by an American release by Ilhan Mimaroglu's Finnidar label Ciani went on to record a wide discography eventually pulling away from the Buchla and electronic music to which she was quite simply obsessed and addicted. Suzanne is now a very successful concert pianist, but still an encyclopaedic synth expert.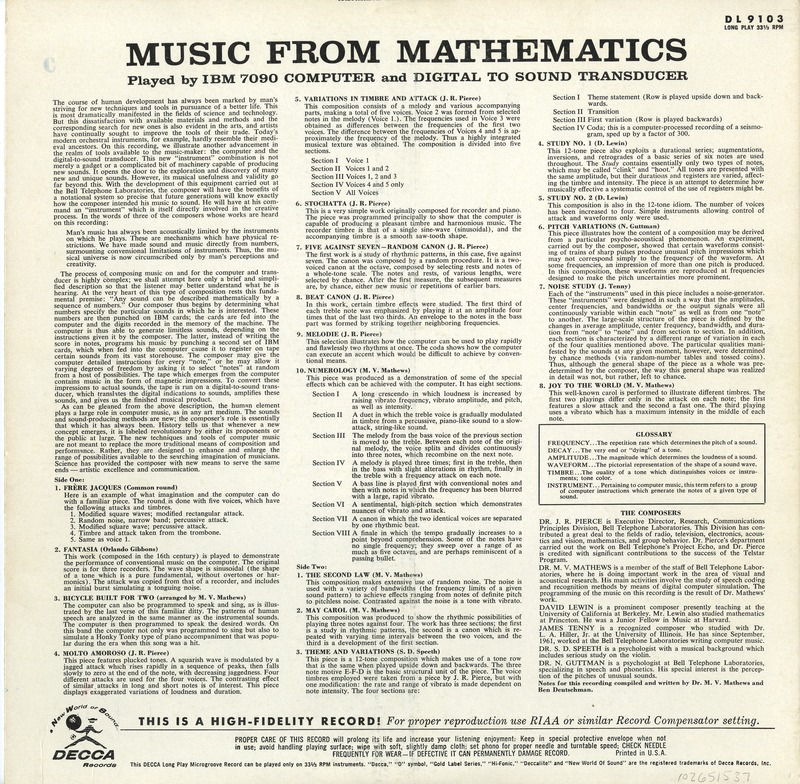 Max Mathews, "The Second Law" (played on the Computer)
From the LP Music From Mathematics (U.S. 1962)
As a tutor to many experimental electronic composers who studied at Stanford's Artificial Intelligence labs (including Suzanne Ciani) and as an inspiration to many generations that followed the original electronic music boom, professor Max Mathews' legacy began with the birth of computer composing and re-programming music which was showcased amongst other performers on the seminal Music From Mathematics records co-funded by IBM and Decca in 1962. His other most notable public persona stems from the usage of his robotic version of "Bicycle Made For Two," which was licensed for Stanley Kubrick's 2001, leading to a further commission to consult on the voice synthesis for the films unnerving Hal anti-character. For a man with as many proteges as personal electronic music achievements, Mathews maintained a behind the scenes role but the work of a vast portion of modern musicians can undeniably be attributed to his achievements , not least due to the fact that the visual programming language found in music production software known as "Max" now stands as a testimony to his legacy.