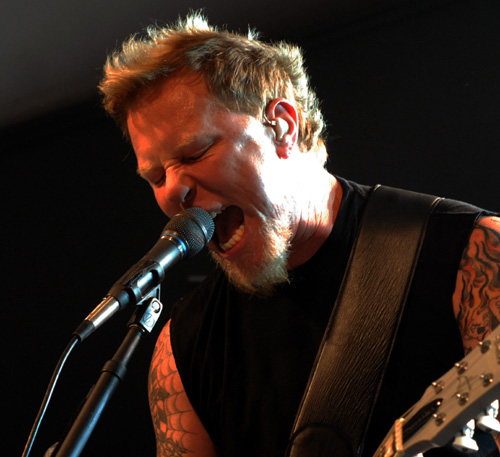 Photos/Text by Lizz Kannenberg

Friday is always the Day of Day Parties at SXSW, with heavy hitters like SPIN, Pitchfork and The Onion all hosting their events at the week's halfway point. SPIN definitely had the best (and most) swag–I didn't get 10 feet inside the gate at Stubb's before I had two keychains, a shampoo sample and a tiny vile of cologne in my hands. Either I look forgetful and smell bad, or the SXSW marketing machine is still in full swing. Either way, I caught Passion Pit's early set of high-energy dance rock and a delicious slab of BBQ brisket before walking down Red River to the Pitchfork party at Emo's.
While the larger, outdoor stage is far preferable to the dank, sweaty dumpiness of the indoor area, super buzzy trio School of Seven Bells were in the latter so I had to sharpen my elbows and bust through the crowd to the front. While it seems safe to say that there are more chicks in bands this year than in any previous SXSW I've experienced, cute twin chicks in bands are still a rarity. The novelty of pretty gals with pretty voices singing over the decided maleness of drony shoegaze wasn't lost on me, but the low ceilings and concrete floors of Emo's Jr. made SOSB's considerable cache of programmed tracks overshadow the delicate harmonies.
I was itching to get outside again after spending my entire time at the Pitchfork party stuffed under a large man's armpit in the crowd, so I headed back to Stubb's to catch Glasvegas at the SPIN event.  I must have not drank the Kool-Aid on these guys, because I saw a bunch of aging regular guys who looked like they'd copied their schtick from an '80s Clash documentary and a gal who appeared to have learned how to drum by playing Rock Band. Passable Brit-ish rock, but it's SXSW and you can pass on 'passable.'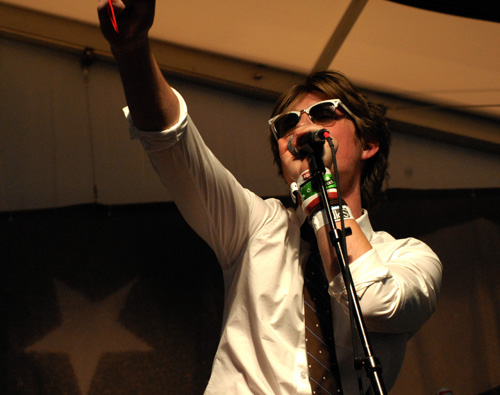 I should have stayed at Stubb's because my trek across downtown to get a front row spot at the Levi's Fader Fort for the spectacle of James Iha/Adam Schlesinger/Taylor Hanson/Bun E. Carlos in a band together was not worth it even for the laugh value. I don't even want to know how this monster was born, but I was stuck up front for 30 minutes of bland, lame-o pop rock that recalled the worst moments of all three's careers. Give me "MMMBop" any day. BTW, has anyone else noticed that James Iha looks more and more like Yoko Ono every day?
Once I fought my way out of the Fort and back into a reality where I could pretend Tinted Windows didn't exist, it was already time to file through the press check-in line for Metallica's worst-kept-secret set at Stubb's. Once we were in, we were in and I couldn't leave for a Best Wurst hot dog, but I survived mainly because Silversun Pickups delivered a scorching set that had even the front row metal heads pumping their fists. Clearly giddy to be opening  for Metallica, the Pickups almost stole the show with sheer exuberance.
Almost–because Metallica's wailing wall of muscular metal made my pores vibrate. I may never hear again, but it was worth it to see the world's biggest rock band deliver a relatively intimate set to what seemed like a crowd of lifelong fans. James Hetfield is still a mountain of man with a volcano of a voice, and though the diminutive Lars Ulrich is always dwarfed by his huge kit, his double kick drums almost threw off my heartbeat. Kirk Hammet looks (and slays) the same as he did when he joined Metallica, and even though Rob Trujillo stalks around the stage with his bass between his legs like a nu-metal goon crapping his pants, he is a badass bass player. After a set crammed full of hits like "For Whom the Bell Tolls" and "Master of Puppets," I was so beat that I had to call it a night. Goodbye, Friday.