Whether he's delivering spectral trails of dub alongside Kiko Hitomi and Roger Robinson in King Midas Sound or pushing the breaking point of the sturdiest speakers in town as The Bug, Kevin Martin has long been a sterling example of how you can be heavier than a Satan-cosigned metal band with nothing but a sampler and a sequencer. (And that's not even counting his many former projects with Justin Broadrick, including GOD, Ice, and Techno Animal, which did the whole post-apocalyptic hip-hop thing a decade before Death Grips.)
With King Midas Sound's first album in six years hitting shops this week—Edition 1 (Ninja Tune), a Fennesz feature that's the first in a series of four collaborative full-lengths—we thought it'd be a perfect time to catch up with one of our favorite producers and talk about his first love: records…
[youlist pid="PLlxVAExh_bYZQ6m0FCrE9RfFNCOyHjOqu" width="620″ height="349″]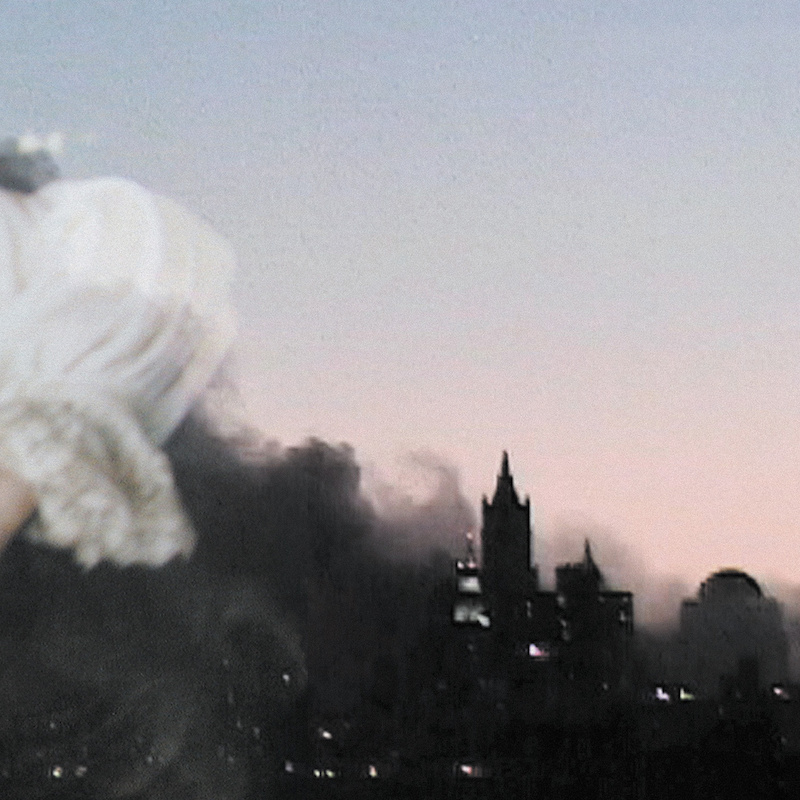 THE RECORD EVERYONE SHOULD OWN
William Basinski, The Disintegration Loops (2062, 2002)
This record kills me every time. Dedicated to the victims of the Twin Towers, I was immediately sucked into its slowly evolving ambience. The balletic flow of its repetitive, circular loops and the reverb-drenched stillness created maximum atmospheric impact. It mirrors the transcendental ambience of records I love by Alice Coltrane and The Necks, and the eerie drones of Thomas Köner. This is music that works on many levels, and isn't just being made as a throwaway gesture. It avoids the coffee table ambient trap, and gets stronger with every listen. It really feels like a total experience and encourages total immersion. (Coincidentally, it also echoes the work I had previously done with Justin Broadrick on disc two of Techno Animal's Re-entry, where we tried to evoke lost spirits on tracks like "Cape Canaveral," so it seemed familiar and haunting, but so so beautiful.)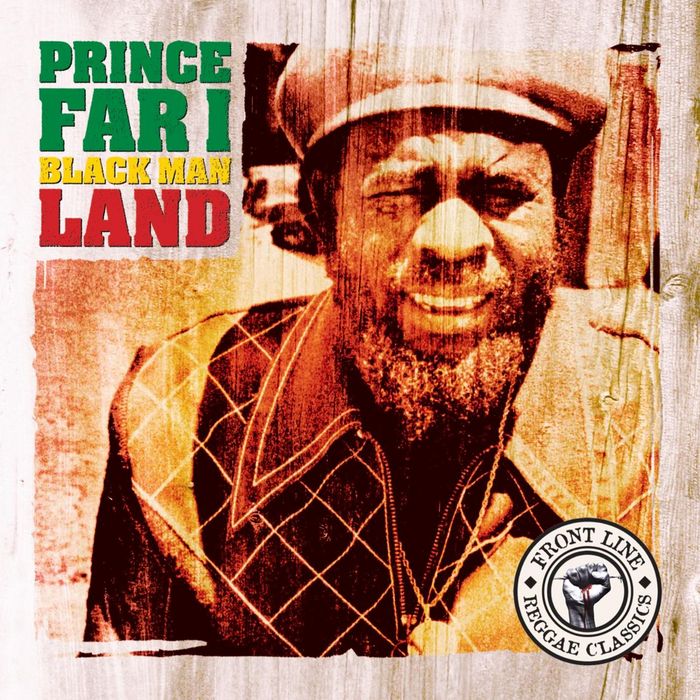 THE RECORD THAT MADE ME REALIZE THERE'S MORE TO REGGAE THAN MARLEY AND TOSH
Prince Far I, Black Man Land (Virgin, 1990)
I remember hearing "Foggy Road" from this record at my best friend's sociology lecturer's flat, and thinking it was like a transmission from some alien planet. Possessing a voice so deep 'n' low, Far I sounded like he was an ancient pharaoh delivering a sermon of inescapable doom. Beyond dread, his tone and aura was fueled on prophecies of Armageddon, and sounded so utterly intense and uncompromising that I found the atmospheric pressure he conjured irresistible. Adding to the vocal resonance, the pounding basslines and heavyweight drum patterns hit me like combination punches from Cassius Clay. It seemed like a fearsome antidote to the worst Bob Marley's tracks, which were being played endlessly at student parties.
THE RECORD PEOPLE WOULD BE SURPRISED I OWN (AND LOVE)
Vincent Gallo, When (Warp, 2001)
Considering Gallo has tried so hard to shock with so many attention-seeking, bigoted statements, lifted his vocal style from Chet Baker, and I deeply mistrust people who make a living from 'acting', I find it hard to understand why I like this album so much myself. But it is a deeply beautiful, extremely fragile selection that balances extreme intimacy and palpable loss with an audiophile's ear for sonic precision and glacial melodies. I guess I'm drawn to the work of artistic freaks, and Vincent fits the bill perfectly. Slow, melancholy and obsessively crafted, the minimalism and simplicity of a song like "Yes, I'm Lonely," is both deceptive and incredibly attractive. I didn't wanna like When, but I ended up loving it.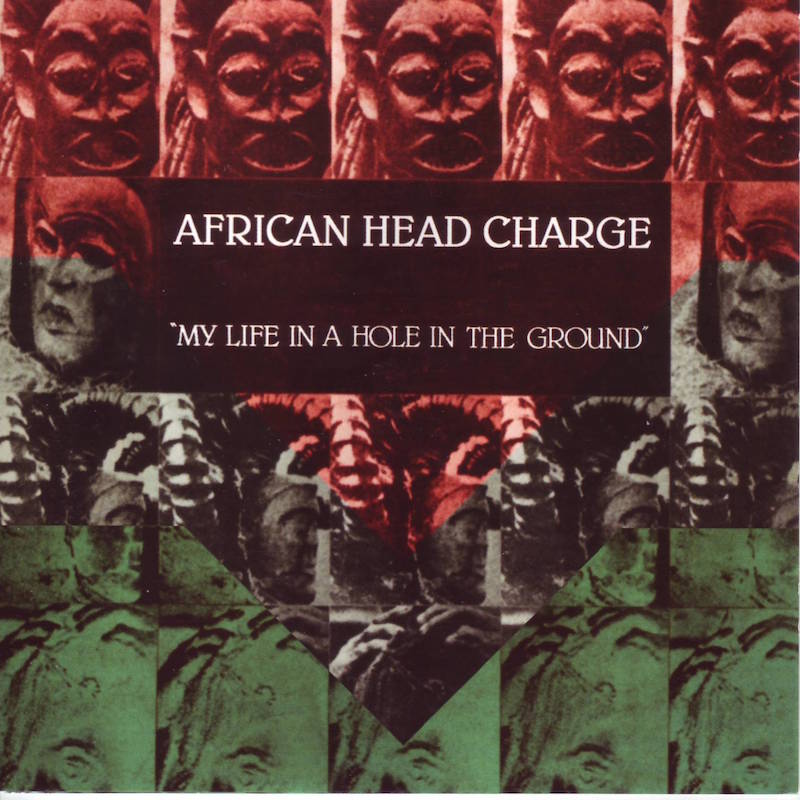 THE RECORD THAT FREAKED ME OUT THE FIRST TIME I HEARD IT
African Head Charge, My Life in a Hole in the Ground (On-U Sound, 1981)
The first time a friend played me this record, I had to literally run from his flat, as I had just taken a large hit from his bong and the chainsaw effects and head-shredding psychedelic layering proved too much for me. Adrian Sherwood's masterpiece was inspired by Brian Eno and led dub into a sinister, urban voodoo zone, away from the genre's pastoral Jamaican roots. Everything about this album was so disorientating—even years later, after I stopped smoking the herb!—and administered pure future shock with its studio wizardry. From the album's mysterious players ('Prisoner', 'Crocodile', 'Deadly', etc.) to its Lee-Perry-on-bad-acid production techniques, there's a parallel heart of darkness to reggae's popular image here. I quickly found out PiL, The Slits and an amazing array of freakish free jazz players had been collaborating with Sherwood's On-U-Sound label, and was magnetized to the sonic deconstructions being produced from its East London base. WIthout On-U Sound, there would have been no Razor X Productions.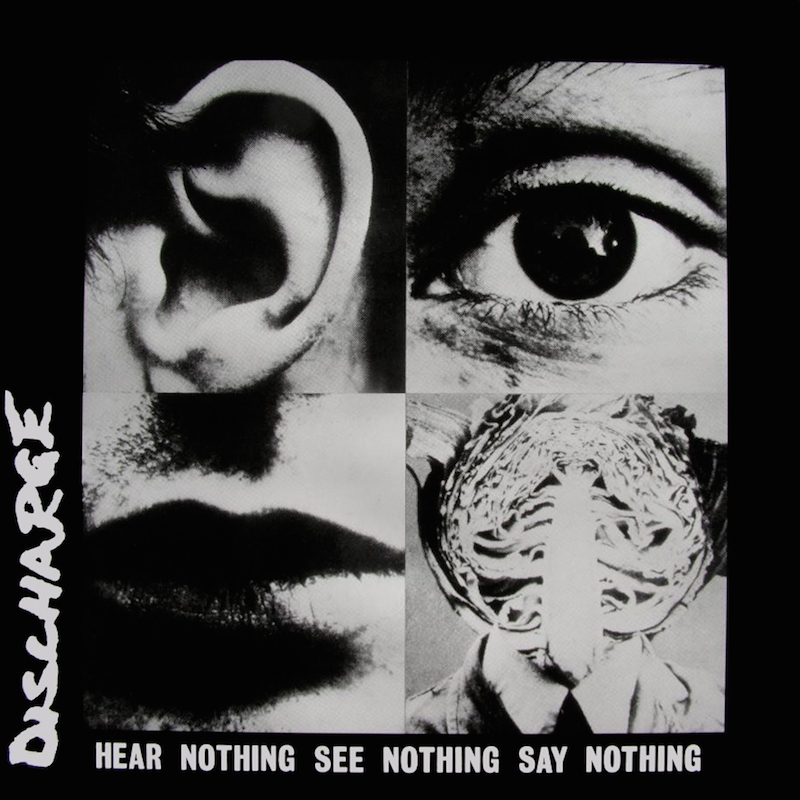 THE RECORD I PLAYED TO PISS OFF MY PARENTS
Discharge, Hear Nothing See Nothing Say Nothing (Clay, 1982)
I guess it's a toss up between this and Stations of the Crass—my passports to the post-punk universe of experimentation, deviance and craziness. I remember as a kid, I would lie on the floor of my room and put the speakers from my stereo on either side of my ears and blast the title track at top volume to block out the sounds of my parents' incessant fighting. I did it as an escape, and in the hope that the volume would stop them from beating the shit out of each other. Funnily enough, I remember during a Godflesh/GOD UK tour, we were stranded in Newcastle for a couple of days and this was the only record me and Justin liked that the flat owner possessed, so we mashed it constantly for 48 hours and pissed everyone else off in the process.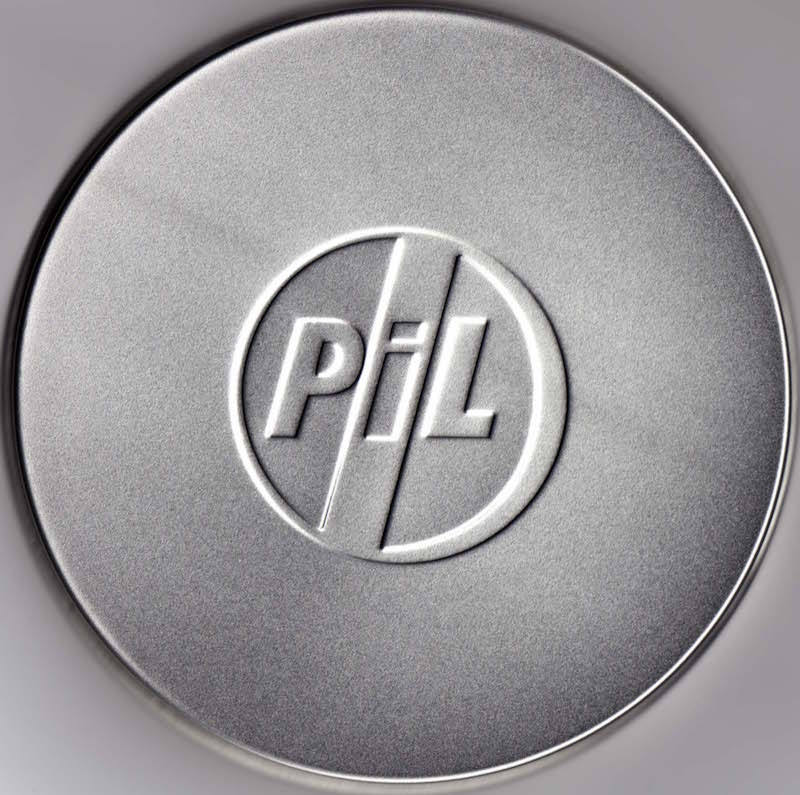 THE RECORD THAT REEKS OF DREAD AS MUCH AS KING MIDAS SOUND DOES
Public Image Ltd., Metal Box (Virgin, 1979)
A phenomenal album drowning in paranoia and fueled on dystopian dub, John Lydon's negative vision of life seemed so full of impending doom and unresolved anger that it's like getting sucked into an emotional black hole when you sit thru this album in one sitting. With Waiting For You, we attempted to musically mirror the feeling of a lover having been ghosted away—a heavy sense of emotional loss we share with Metal Box. But it feels like Lydon was railing against the world, not just an ex-lover. An incredibly original record that outgrew its major influences (reggae/Krautrock/art-rock), it still sounds incredibly fresh and absolutely terrifying to me today.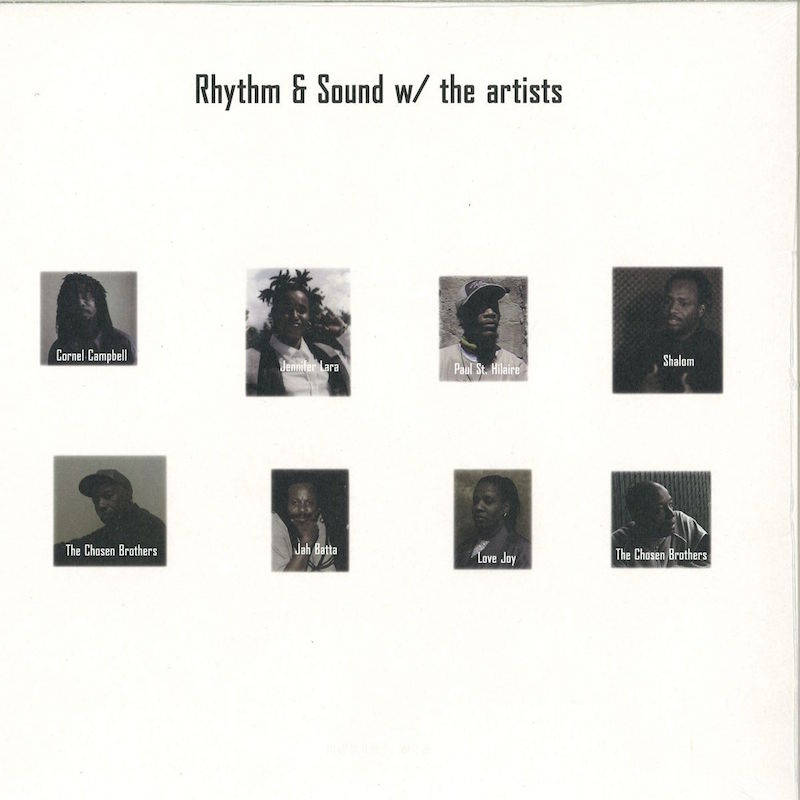 THE RECORD I WISH I'D WRITTEN
Rhythm & Sound, w/ the Artists (Burial Mix, 2003)
The way Mark Ernestus and Moritz von Oswald managed to channel Jamaica's past through their Basic Channel(ed) techno filter felt like a major achievement to me. Their deeply analogue sound, with its infinite dub-tech pulsations, contained the warmth of King Tubby's finest productions, combined with the hypno-repetitions of the sweetest house music. And they always seemed to get the best from the singers they worked with, which for me as a producer is always a major challenge. Their spine-tingling collaboration with legendary reggae vocalist Cornel Campbell ranks as one of my favorite reggae tracks of all time, and this album contains so many fantastic vocal performances. Also, it's so difficult to develop your own, instantly recognizable voice within electronic music by nature of the equipment you work with, but that is exactly what they did with this record.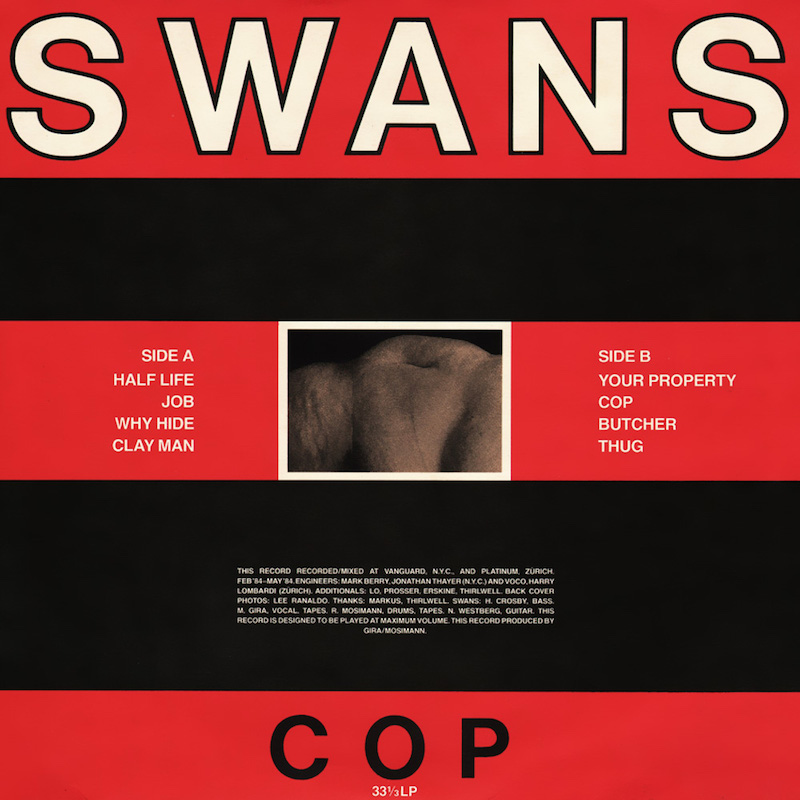 THE RECORD THAT REDEFINED MY NOTION OF 'HEAVINESS'
Swans, Cop (K.422, 1984)
I saw Swans play the ICA in London in 1986 and was literally deaf for a week afterwards. I hadn't heard anything by them prior to the show, and was in no way prepared for the sonic abuse and psychological terror they inflicted upon me that night. After the show I immediately wanted to find their new record—Greed at the time—only to find disappointment, because I felt it's studio layering and 'musicality' didn't match the sheer, stripped-down thuggery and white light intensity of their live show. Luckily, I soon found the brutality I craved on their previous album Cop, with its lyrical nihilism, and Stooges on Mogadons, death crawl riffing. Michael Gira managed to strip all the cheese away from heavy metal/rock whilst exploring a lyrical S&M aesthetic which fed on brute violence and carnality, like a Lower East Side-dwelling misanthropist summoning the spirit of DeSade. For sheer intensity, this record still crushes me.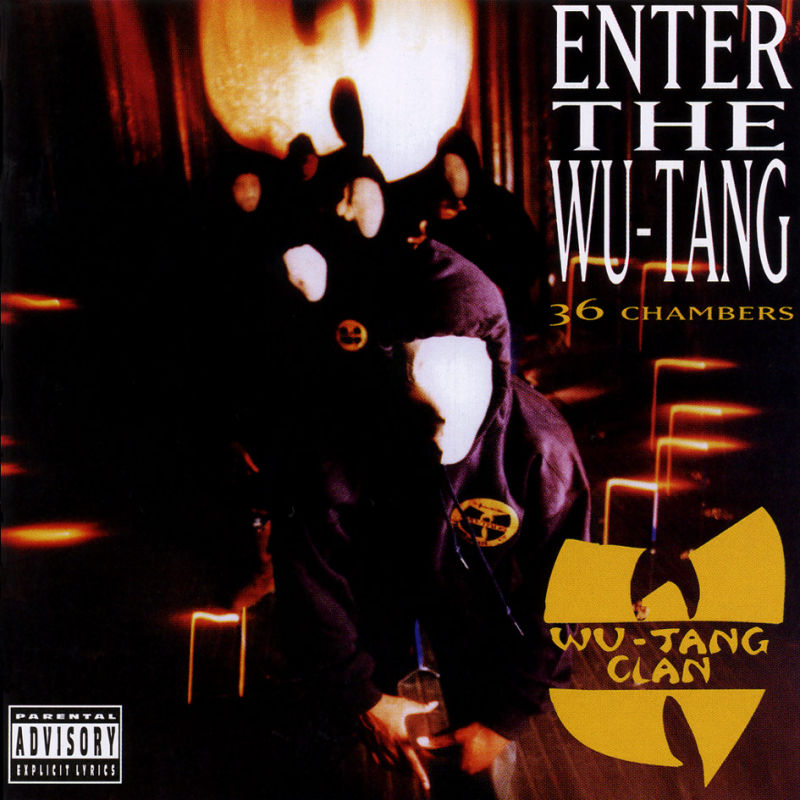 THE RECORD THAT'S PUNK AS FUCK WITHOUT ACTUALLY SOUNDING LIKE PUNK
Wu-Tang Clan, Enter the Wu-Tang (36 Chambers) (Loud, 1993)
I fell in love with this record when it first came out and became a bonafide Wu junkie, fiending for all the subsequent RZA-produced solo albums dropped by ODB, GZA, Method Man, Raekwon, Ghostface, etc. I loved the way they bum-rushed the music industry with a blatant disregard for everyone in their path. Masterminded by the genius that is the RZA. I was blown by his mix of lo-fi, crunchy sampling, martial arts pilfering and off-kilter melodies. And considering they had their own Sid Vicious in ODB, Howard Devoto in the GZA and Genesis P-Orridge in the RZA, they had collected an extraordinary mc collection of mighty mavericks, misfits and madmen. It seemed like they were gleefully revolting against a bloated hip-hop structure, winning the game against all the odds with an independent mindset. Respect, as I hadn't been so utterly mind-fucked by an album since the first Public Enemy LP.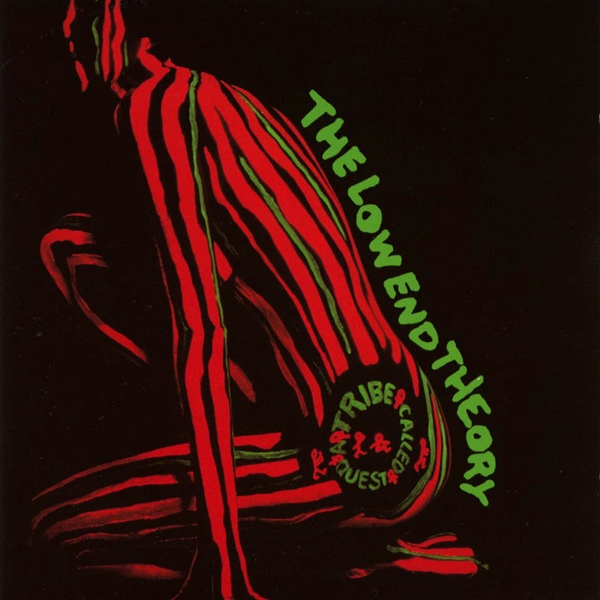 THE RECORD I RELY ON EVERY TIME LIFE GETS ROUGH
A Tribe Called Quest, Low End Theory (Jive, 1991)
"Beats that are hard, beats that are funky, they can get you hooked like a crackhead junkie…"
I remember my ex-girlfriend laughing every time I played this record because she knew that whenever I couldn't decide which disc to put on from my stupidly large collection, this would be the one I would always reach for. I can't even rationalize why that was the case, but there's something so right about the album, from the incredible, honey-tongued flow of Q-Tip's rapping—which has always seemed like pure, musical medication to me—to the irresistible swing of the perfectly crafted beats, this is the finest hip-hop, seducing me nonchalantly and narcotically. There is nothing revolutionary displayed here, just complete, perfectly executed craftsmanship, with the added bonus of jazz legend Ron Carter plucking some of the most memorable hip shaking double basslines you could ever hear.