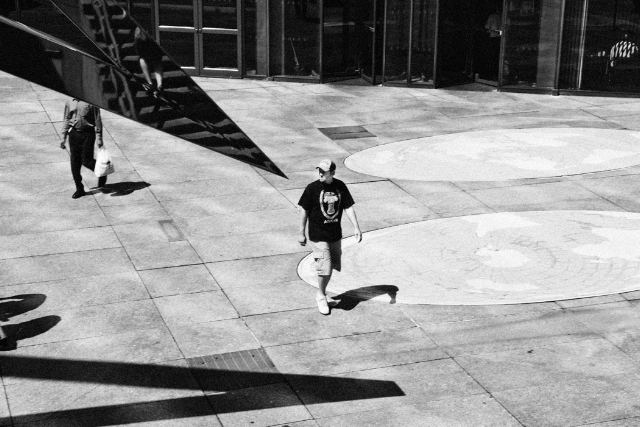 Photos by Jimmy Fontaine
Words by Andrew Parks
A sealed box of demos and cassettes sits in the corner of DJ Shadow's tour bus. The 39-year-old producer recently hit Calgary's Recordland shop for an after-hours dig and hauled in everything from guy-with-a-guitar throwaways to alt-rock casualties that sound a lot like the Red Hot Chili Peppers. Questionable taste aside, the tapes are building blocks, the stuff sampledelic masterpieces are made of–like Shadow's own seminal Endtroducing… LP.
"It's just a personal preference," says Shadow, born Josh Davis, of his antiquated method for consuming music. "When I download music, I don't feel compelled to judge it on any other basis than 'Is this the greatest thing I've ever heard or not?' When I listen to one of these tapes, it's like, 'Wow, this is a total left turn,' or 'Who were these guys?'"
It's telling that the first record he ever purchased, three decades ago, was "The Adventures of Grandmaster Flash on the Wheels of Steel," a single that drops Blondie, Chic and Queen amid block-party breaks and a seven-minute live mix. Each Shadow album since Endtroducing… has been both thrilling and baffling–whether it's the divisive bits of Bay Area rap on The Outsider or the brash modern-rock bait of "Warning Call" (featuring Tom Vek) from the producer's long-awaited new LP, The Less You Know, the Better.
"All of the music I've ever been drawn to has been really immediate and raw," he explains. "At the same time, it's usually well-arranged and conceived. That doesn't mean hiring a 50-piece orchestra and all of that pretentious shit. It could be one person and a guitar and amazing in the same way."
In the following rare interview–an extended version of the one in our enhanced iPad/Web edition–Shadow helps us make sense of it all, from his painstaking creative process to the one record you won't believe he owns (and loves)…
self-titled: So what was the timeline on this record? Some of the songs go as far back as The Outsider right?
I'd say I started listening to records and getting samples together in March of '09. Then I worked on it on and off between shows and some of that DJ Hero stuff. I was working on it seriously all the way up until May of last year, then I toured from June until November. So I'd say I worked on it off and on for a little over two years, but solidly for about a year and a half.
How far along was it last fall?
It was about 40-percent there.
And at that point you didn't want to have vocals right?
Right.
So when did it reach a point where you felt like some tracks needed vocals?
Well, I always start off with pretty stringent rules because it helps guide the music to some cohesiveness. Except for The Outsider, where the rule was me wanting extremes. But yeah, what happened was I really wanted that texture on "Warning Call." I thought it was fine as a piece of music, and I tried a bunch of different options with vocals, but none of them worked out. Tom Vek had reached out about a remix but I couldn't do it because I was wrapped up with my own work. So I asked him if he could help out.
That's one of the ballsiest songs on the record. It basically sounds like a Killers song–like a straight-up band playing.
Yeah man. Thanks. That's definitely one of the things I'm working towards. My methodology when it comes to sampling is distilling all these disparate elements into something that's:in some cases, it's a lot of fun to show your sampling prowess and have all of these fancy beat tricks, but in other cases it's nice where people can't even tell [what's a sample].
Is there any live playing on this record like the last one?
Not really. Håkan Wirenstrand played keyboards on the Little Dragon track ("Circular Logic").
That one stands out a lot too. It sounds like TLC.
TLC? For real?
Sure. Like classic '90s R&B. That's not a bad thing–TLC sold a lot of records.
[Laughs] Well, that's TLC, but yeah. Hopefully you can tell why I had to make some exceptions [about vocals] on those tracks. It's weird though. Because I could sit here and say that I wanted the album to be instrumental, but I kinda knew last year that I wanted to have a rap track that was almost a throwback. Although I don't like that term.
Well you don't want to suggest that the golden age of hip-hop is over.
Exactly. But at the same time, I found myself missing some of the sentiments of '90s rap. Posdnuous and I were talking about that–the phrase "maintain," how rap lyrics used to be all about overcoming a daily struggle.
About being hungry right?
Yeah. And ["Stay the Course"] is not a track I would have necessarily made six years ago. I feel like it's a bit of an alternative now that the underground hip-hop scene in California has completely vanished, for all intents and purposes.
Well that vibe is in the lyrics, but the production doesn't necessarily scream '90s hip-hop.
No, exactly. I'm still trying to do things that are progressive. I just thought that beat was interesting, although I don't usually make beats that are that straight up.