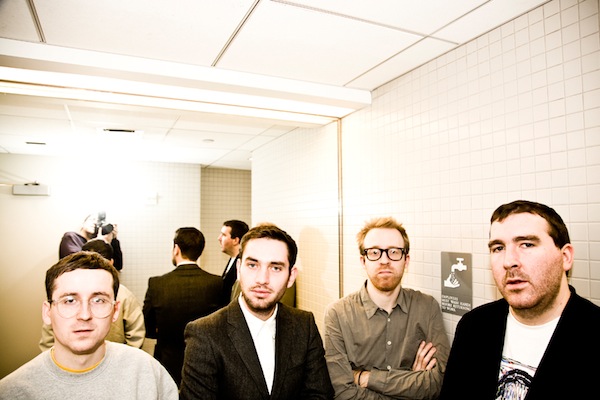 [Photo by Travis Huggett]
By Arye Dworken

Hot Chip is ostensibly the electronic equivalent of The Revenge of the Nerds. Frontman Alexis Taylor, gawky and slight, sits across from us wearing over-sized spectacles, while his partner in harmony, Joe Goddard is zaftig and unkempt and shows off to us a newly purchased John Coltrane T-shirt. Along with Al Doyle, Owen Clarke, and Felix Martin, Hot Chip will never be confused for, let's say, Kings of Leon or the Strokes in their partying heyday. These gents are married and having children. They are "settled down" (Taylor even admits later that he finds going out to be jarring in contrast to his domestic routine).
Nevertheless, Hot Chip has made the best album of their career. And that record is also impossibly cool. One Life Stand is the London quartet's revenge: the perfect and uncompromising amalgamation of winking humor and unabashed sincerity. The band has finally found the confidence to include references to X-Box and Wheel of Fortune, and a nearly seven-minute doo-wop inspired track which actually includes the refrain "humunnah-humunnah" (critical Wire Magazine reviews, be damned!).
Hot Chip was in New York City to promote their fourth release and while in town, they also performed at Brooklyn's Music Hall of Williamsburg. The crowd was full of very attractive people dancing carefreely to synth hit after steel drum-infused synth hit. The intimate show's attendees were at their coolest in their tight skinny jeans, and flannel/ gingham shirts, pogoing throughout the whole night's set. It was the perfect revenge.
Let's reminisce about the good ole days. I remember in Austin when you all performed a showcase with M.I.A. and LCD Soundsystem. You weren't even signed yet.
Joe Goddard: At that point, we went to SXSW because Stephen Bass (of label Moshi Moshi) convinced us to come.
Al Doyle: I remember getting so drunk. It was a chaotic night.
Alexis Taylor: I don't even remember playing it.
AD: We all took our shoes off. Paul Epworth was the doing the sound that night.
JG: We had just met the DFA guys and that was a turning point for us. As soon as James [Murphy] had gotten interested in us, all the labels came running after us. They could have signed us beforehand for like, two pence, but once they came around, we asked for me.
There's a weird duality of humor and sincerity in Hot Chip's cataloge. How do you juggle both in the content?
AT: There's no real decision about being funny or being sincere. It's expressing how you're feeling, and I guess we're a mixture of having a sense of humor and feeling real about things. A lot of people don't think there's a place for that in music and they're taken aback when we attempt to do that.
With the new record, it's not so easy to discern when you're joking though and when you're being forthright. "Brothers" could be a paean to the band and to the concept of brotherhood, but it could also be meta- and ironic.
JG: I put a line in there:" I can play Xbox to be free." It's a funny line that sounds funny. But my brother does in fact play a lot of Xbox and I find it rather depressing. It is sincere, but I like to have these moments where the narrator says something that may seem stupid. It can be both.
"Wrestlers" is another song that stands out in the cataloge. You reference wrestling maneuvers like Half Nelson and Full Nelson, but also slip in "Willie Nelson."
AT: That kind of made sense to me though. It felt right that Willie Nelson should be in a song about wrestling. It would feel like he would be sitting by the sidelines watching the match like celebrities watch basketball.
Well, Hot Chip is like hip-hop in that regard; The random associations but they're all somewhat related if not by word similarities alone.
JG: One of my favorite rappers is MF Doom. A crazy random rapper but the lyrics all sounded so right to me. I guess I've also been influenced by my childhood. I was obsessed with hip-hop when I was 11, or 12:House of Pain, Cypress Hill, EPMD, Souls of Mischief, De La Soul. Alex and I were very into De La Soul and we bonded over that. I don't listen to hip-hop much any more. I don't really have the time for it.
My favorite song on the new record right now is "Take It In." It's been on repeat. Where did that stellar chorus come from?
JG: It does reference a lot of 80's house music. In my mind, melodically, it's inspired by a few different things: "Promised Land" By Joe Smooth. There was this song "Set It Off" also that inspired us. But we wanted this song to sound like a church choir–no distinctive vocals but merge them all together so that it would sound classic. Al and I talked about "Everywhere" by Fleetwood Mac and how the voices all come together.
I didn't know this at the time, but the song goes from minor chords to major. That helps in letting the chorus stand out more in contrast.
AT: On this album, we used that trick a bunch of times. "One Life Stand" does that. The thing about the ending of "Take It In" is that there's a piano, my only real contribution to that song, are those piano chords that are never plays beforehand in the song. It makes it stand out from the chorus.
AD: Alexis suggested we put it as the last song on the record.
AT: And of course the label wanted it to be the first song on the record.
Made In The Dark came out less than two years ago. Why are you working so hard?
AT: This is our job.
JG: I think we're kind of ambitious.
"Slush" from the new record is a strange song for you guys. Doo-wop vocals? Really?
AT: I can't remember why I started doing that "humanah-humanah" vocal but it just came into my head. It was one of those very simple melodies you think somebody has already written and recorded already. The song had a strange quality to it, and the chorus and the end section all happened in a few minutes. It all happened quite naturally.
JG: It's the longest song on the record.
AT: I started recording it at home and it was an 11-minute version originally and I had to cut it down until we got to about 6-minutes. I was quite influenced by a couple of songs:we've done some ballads on the last record:but none of them have been treated this pop. I was thinking about George Michael's "A Different Corner," and I wanted to allow ourselves to make a big ballad. The other production influence was Swamp Dogg's "God Bless America."
Do you feel yourselves gravitating to mellowness and moving away from out and out-dance?
AT: I think sometimes we're a bit exhausted by dance music. We DJ and we play dance music quite often. I think at one point Joe said I don't ever want to listen to techno again. But you get back into it. You move toward the mellow stuff and then you miss the techno stuff.
You mentioned that you guys DJ often, and I was wondering what you guys prefer to DJ.
AT: "I Was Drunk" by Riva Starr is a standard.
AD: Really good gypsy techno. At the moment, I'm listening to a lot of techno. But the only bad thing about techno is that sometimes it goes for a really long time and it sounds a bit alike. I remember in Ibiza…hearing a song that played seamlessly well into another. We the realized accidentally that it was the same song. We played it twice in a row without realizing. [Laughter]
JG: We've started to get this network around the world where people are sending us really interesting, and inspiring stuff. I'm listening to a lot of new garage stuff now. There's a new generation of producers interested in bringing garage back. It'll never become popular here but there's a newfound energy in the scene.
Do you guys still get a chance to go out?
AT: I just had a baby so I only go out when I DJ. Which is kind of strange because when I go out now everyone around me wants to have a massive night out. I don't know how to do that any more.
So I should say that I much prefer Hot Chip's sincere side. My favorites are "One Pure Thought," "Boy From School," "Take It In:"
AT: I gravitate toward melancholy quite often. I mean, but one of my favorite films is also "Raising Arizona." But this idea of questioning our sincerity, which I've read in a lot of interviews:this bothers me. It's hard for me to understand how people cannot believe what we're saying. Like if I break my hand by punching a wall, how is that not believable? Would you question that? The hand is broken. We're being as upfront as possible yet why is it so easy to misunderstand it? For a long time, a lot of people were very resistant to the idea that we're capable of both, even within the same line, why is that so hard to understand? Smog does it all the time.
Being that your all respectively fans of pop music, are there any aspirations to collaborate or mingle with the mainstream world? I heard there was an Alicia Keys remix?
AD: It wasn't very good. [Laughs]
So it won't leak.
AD: I don't think that would be wise of us to allow that.
AT: I think Shakira would be a lot of fun to work with.
JG: I don't know. The more you get into that world, the more people and opinions you find yourself surrounded by. Right now, we're comfortable. Most of us are in loving relationships, we don't make a ton of money but we make enough. We're friends and business partners. A lot of bands struggle to have a career and have to jump through a lot of hoops to get what they want and we're lucky not to have to do that.