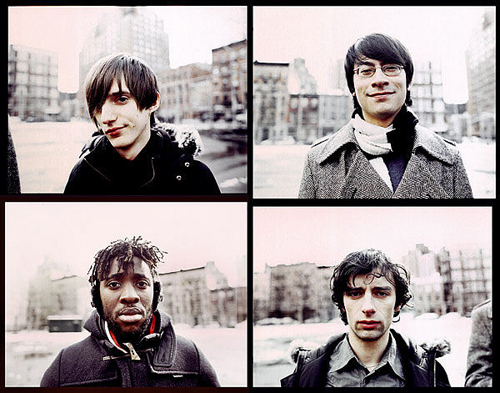 Yep, you read that right. In what likely won't be the last final-hour full-length announcement of 2008, Bloc Party has announced the August 21 release of their third album, Intimacy. The band revealed all this excitement  today during their first-ever Web chat with fans.
According to a press release, Intimacy is the product of two sessions: one with Paul Epworth (Silent Alarm) in Kent and one with Jacknife Lee (A Weekend in the City) in London. Apparently, "Some songs are Bloc Party at their most wildly experimental, while other tracks are simply classic Bloc Party, fitting in seamlessly amongst fan-favorites 'Helicopter', 'Banquet' and 'So Here We Are'." We're hoping for more of the latter considering the trip-hop-you-don't-stop clumsiness of BP's current single, "Mercury."
Anyone interested in purchasing Intimacy can pre-order the CD pressing at www.blocparty.com. It'll arrive on October 27 and feature bonus cuts that won't be on this week's digital version.
Check the tracklisting after the jump …
Intimacy:
1. Ares
2. Mercury
3. Halo
4. Biko
5. Trojan Horse
6. Signs
7. One Month Off
8. Zephyrus
9. Better Than Heaven
10. Ion Square