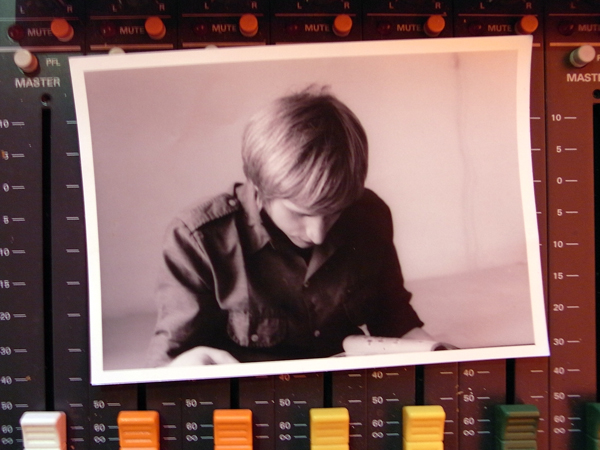 [Photos courtesy of Kompakt]
Interview by Ilirjana Alushaj
"It's finally done!" is the first thing Aksel Schaufler says as he sits down to discuss Superpitcher's long-awaited second album, Kilimanjaro (out May 17 on Kompakt). Which is bit of an understatement, really, given that it's taken four years of sporadic studio work to finish.
"A long time, yes," admits Schaufler, "although the process of layering the ideas and recordings from this period has been  more intensive over the past eight or nine months."
The producer's recent rush of ideas–captured at his Cologne studio, and wrapped up just last week–came after a successful Supermayer run with his Kompakt mate Michael Mayer. Schaufler discusses the future of that project after the jump along with why Superpitcher's looking more like a band these days…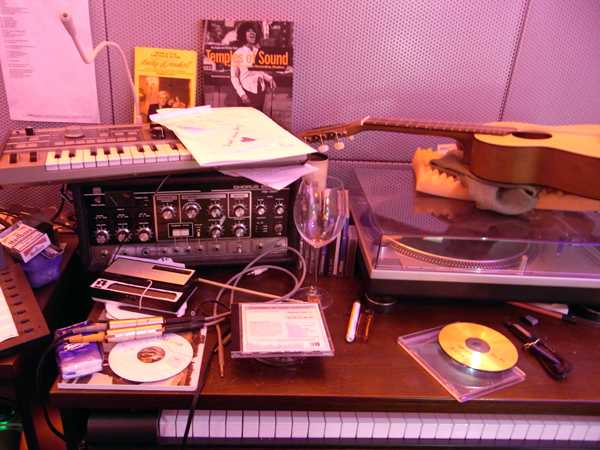 self-titled: Does Kilimanjaro have a similar theme to Here Comes Love?
People thought my last album was very conceptual, so maybe they will see this one in a similar way? It isn't a 'concept' album in a literal sense, though. I'm not mad about that sort of thing…I suppose the title relates to a place I've found–comfort in solitude…There are themes I've always had, too, like breakups, heartbreaks, get-overs and get-togethers.
The songs on Kilimanjaro are in different directions musically. Everything fits together, but it still sounds varied. There's a lot more live instruments…and singing.
Oh, singing?
Yes, lots of singing.
Are there any guest performers on this album?
My guests are my friends. We spent a lot of time setting up my studio for this album, which was so much fun. I really opened the door to [outside collaborators] with this album more than any other.
Here Comes Love was very sparse, minimal and solitary.
Yes, definitely. It needed to be. This album is more open because I did let people come into my space. There aren't any 'special guests'…well maybe one, but everyone on it is special.
With more people working on this album, are you planning on performing it live?
Yes. I want to, and am thinking about how to do this. That is if I don't get too paranoid.
Are you nervous that you'd be the obvious frontman then?
No, because that's what I like! [Laughs] DJing can be the same way, as it's you alone on the stage with all these people looking. It's funny–the first few times I went to Japan, maybe 7 years ago, they didn't really even dance. Everyone just stood around watching me DJ. It was so weird but cute.
Are you still DJing a lot? You don't seem to be touring much lately.
It slowed down during the making of the album, to give myself weekends off to concentrate. It was definitely healthy for my brain and better for my album that I had some space from touring and DJing. Now I want to think about performing live also.
I can see your music being performed in a band context…
So can I! Everyone always asked me about performing Here Comes Love live, but I wasn't ready and obviously would need a band which I didn't have. I couldn't do it with just me. Having me and a laptop wouldn't work for my music.
Do you have people in mind already?
I have one person so far. I am looking for geniuses! I need people to get behind the music, as they need feeling and understanding of it.
Any live electronic acts that'd be a good model for what you want to do? Maybe Simian Mobile Disco or M83?
I haven't seen either of those bands.
Really? That's surprising considering you did a remix for M83…
I know! I need to! The Field is a good example of someone who I think took the 'band idea' to another level. (Ed. Note: Here's a clip of them live last year.) When he used to perform alone, it was really dark and gloomy, but with a band it's really amazing. I also really like Circlesquare's stuff, so he's someone I would like to see.
Unlike many other projects, I want Superpitcher to be a proper live act. I have always envisioned it as a traditional band. With Kilimanjaro, I feel that I've come closer to this without losing the essence of what people know my music for.
Speaking of other projects, is Supermayer on hiatus?
Yes…Supermayer are having an extended vacation with Luzie far away from the Planet Of The Sick. Working on Supermayer tracks was certainly a great starting point for us to take advantage of our studio as we have the ability to record as a band there. [Some of those] ideas I eventually took to Superpitcher.
Finally, if you could summarize this album for anyone who's never heard your music before, what would you say?
Give me my heart back.
–
Some more studio shots…