PHARRELL WILLIAMS @ The Fader Fort, SxSW 2008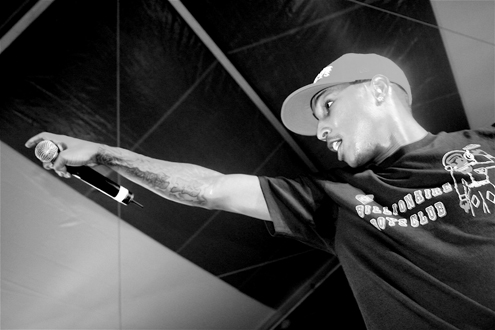 [Photo by Andrew Parks]
By Arye Dworken
Eight songs from Weezer's forthcoming "Red Album" leaked all over the Internet this week. The most surprising thing about them? They don't all completely suck. "The Greatest Man That Ever Lived (Variations on a Shaker Hymn)" is an epic Queen-like arena rocker that features Rivers' falsetto and a marching choir chanting lines like "I'm the baddest of the bad, I'm the best that you ever had." The song is presumably about the singer himself which is kind of endearing when you consider he's like, 5-foot-6. Maybe album No. 6 will be good enough to make up for "Beverly Hills" after all.
And incidentally, the genius of this band is that no one is sure anymore what is ironic and what is not.
N.E.R.D. is so confident about their third release Seeing Sounds out in under a month that they're okay with the band's official website still promoting 2004's Fly or Die. But surely they have an official blog with frequent updates? Yeah, but it hasn't been updated since March 21st. But the single must be blowing up, right? I mean, these guys are the Neptunes–they make songs like, err, "Google Me?" On second thought, what the Pharrell is going on here? Anyway, the first single from Seeing Sounds is about coke and it's called "Everybody Nose." Gettit?
Maybe pretending this album isn't coming out isn't such a bad strategy.
Death Cab For Cutie released Narrow Stairs today and it's exactly what you would expect from Ben Gibbard and co. But Aaron already hit on that. However, I will tell you this: it's boring in a good way. The perfect soundtrack for updating your blog.
Canadian awesomeband Sloan announced last week that they're dropping their ninth studio album Parallel Play on June 10, just a year after it released Never Hear The End Of It. It is important for this band to exist and provide the burgeoning alt-rock scene in Canada some unpretentiousness. And as it has proven in the past, Sloan will continue to do so with or without your support. They are like power-pop cockroaches performing out-of-fashion rock gold well into the apocalypse. You will be roaming this charred earth of ours with a melted face but Sloan will be still performing in the ruins of the Bowery Ballroom. Yep Roc is streaming the full album here.