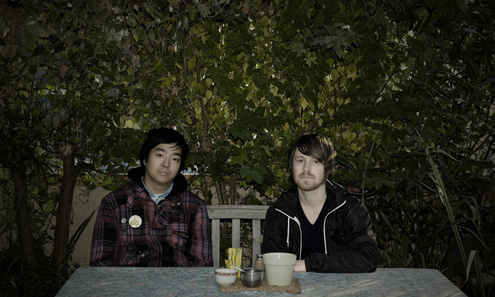 Interview by Arye Dworken
Live Photos by Andrew Parks
There's something incredibly calming/life-affirming about Fuck Button's ATP debut (Street Horrrsing, out now) despite the fact that it often sounds like a chase scene through a blizzard, as led by the "I want your soulllll" demon from Aphex Twin's "Come to Daddy." Yep, it's creepy, but it's also transcendent to the point where you might actually believe that all noise/knob-twiddling music isn't bullshit after all. Nowhere is this more apparent than in a live setting, as evidenced by the photos below. While they don't come prepackaged with the wave of distortion bliss we witnessed down in SxSW, we can safely tell you they are one of the most exciting acts self-titled's seen in the past year.
Curious as to how these songs actually come together, we asked Andrew Hung for a track-by-track breakdown of their first full-length.
ANDREW HUNG of FUCK BUTTONS @ SxSW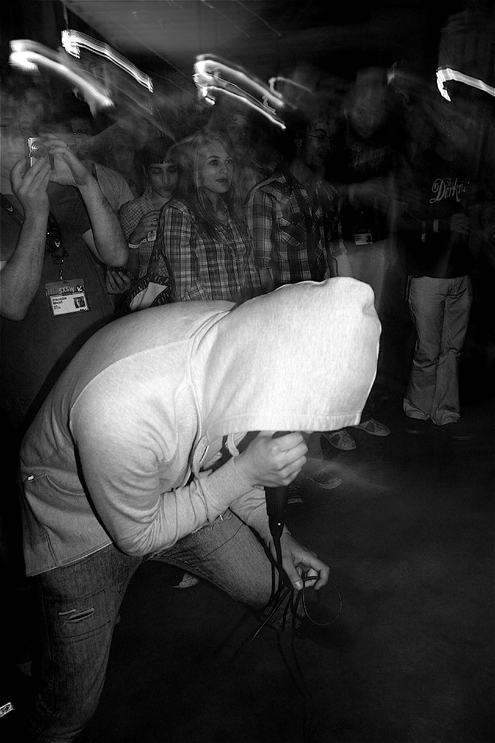 "Bright Tomorrow"
The first part of that song that we discovered–I say "discovered" because we technically discover the songs–was the stuttering synth sound. But over time, that song has had a significant metamorphosis. See, the songs change shape often after we hear them live. Most of the time, we practice our songs softly in our flat and the first time we truly hear them as they're meant to be heard is during a live show. That's when we really internalize them. And originally, when we heard "Bright Tomorrow" live, we thought it was crap. We went back to the drawing board and introduced the beat to it. Then it sounded great and we added the distortion. When we played it the first time in the state its in now in Oxford, it sounded amazing. It was a fantastic experience where people starting surrounding us and really getting into it. From then on, I had a real faith in metamorphosis.

"Ribs Out"
I think we had to walk away from this song because we didn't want to overdo it. We thought minimalism would work in this case. We recorded it with contact mics and I was playing with a delayed pedal on the vocals. And that's all we did. When we finished these small parts, we knew that that was it. We didn't need to add anything more. This is my favorite bit to do live because it gives me the opportunity to leave the stage, jump into the crowd and get into it with them.
BENJAMIN JOHN POWER on the Speak & Spell, ladies and gentlemen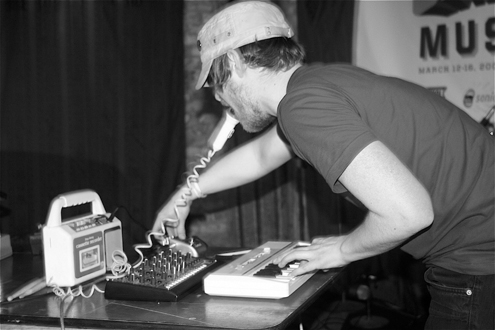 "Sweet Love For Planet Earth"
We started the album with this song because, well, this was the first song with true melody in it. We also tried to keep the record very similar to a live experience and since "Sweet Love" felt like a great opener for the live set–it has a genuine flourish and it eases you into the music–it should start the album. Personally, this song is the most impactful to me right now. The whole record is very special to me but this is the one I'm feeling at the moment.
"Okay, Let's Talk About Magic"
I can't remember recording this one that well. I think we recorded it live … but you know, it took us two days to record the whole album. It was the actual mixing that took a little more time. It's not like we have a huge arsenal of instruments to pick over. We have our vintage instruments and we play the ones that work. It's been easy to find them at boot sales [flea markets] and they're all vintage Casios. They give us this fuzzy, warm sound that we're familiar with and we connect a lot of distortion pedals. On this track I used a Casio FA-5 which has a few sound options. You have your electric keyboard button, your violin, synth, cello, electric synth–it's all very tacky.
"Bright Tomorrow"
[youtube=http://www.youtube.com/watch?v=cMRhTMLHBLU]
"Race You to the Bedroom–Spirit Rise"
This was one of the first songs we first wrote which was originally [a] drone [track] for the first 15-minutes. In fact, when we played it live during our second performance, one venue shut us off because it was going on and on. They shut the sound completely off. And so later on, we introduced a melody to that song during the recording process. I guess we wanted to insure venues would let us continue playing.
"Spirit Rise" was the second half of a completely separate song but we joined it to "Race." It just felt right because the album isn't a collection of songs but parts. Why couldn't we combine two random songs to make one?
"Colours Move"
I use the cello sound for this one. It's the comedown song because we see our record as journey and I was listening to this song today and it really takes you places. It's a song that came to us in a pretty relaxed jam session. Live, this one is also really fun. When we played this song at the end of our set, we would culminate in a wall of noise and then shut it off completely and abruptly. To hear that jarring juxtaposition between noise and silence was quite thrilling actually. It's like, Eddie Izzard used to walk out on stage and start his set with "and that's the end of my show" and walk off-stage. I thought that was brilliant because it totally caught you off guard. I thought it would work really well if we were able to create that same jarringness. And we did.