Photography K. HOLMES
When Randy Reimann wrapped punk shows with Massappeal in the late '80s, he didn't keep listening to hardcore records on the way home. The singer would head straight for warehouse parties around Sydney's underground scene and dial back on his adrenaline with house and techno.
Shades of those days popped up in his solo project Wolf Shield a few years ago, but they started influencing the band Tralala Blip much earlier. Reimann founded the outsider pop outfit in 2008, partly out of frustration over Australian programs for musicians with disabilities.
"At the time, [they] usually meant a singalong situation with a facilitator strumming their guitar," he explained in a Crawlspace interview, "while others sung along or banged a tambourine. When I witnessed this, I just got angry. It seemed lazy, patronizing and was obviously boring for the people who were participating."
To help address this problem, Reimann began encouraging a "loose collective" in Lismore to write and perform their own songs on his electronic gear. Over time, these loose sessions evolved into a concrete group and several proper records, including an early cassette (Submarine Love Songs) that was released on Lawrence English's A Guide To Saints imprint.
"I've known Tralala Blip almost since the band started out," says English. "They remain one of the most inspirational group of musicians I have had the pleasure to spent time with. Their mixed-abilities have allowed them a chance to open up a whole other way of thinking about how to create music together. It's in difference they have found a very special kind of unity."
This week's Eat My Codes If Your Light Falls album can actually be traced back to the time period around My Radio Heart, a theater show English and Tralala Blip collaborated on five years ago. (He ended up producing their new LP.)
"During those weeks we had a lot of detailed conversations about how the band was growing and changing," he explains. "From there we started slowly moving towards undertaking this record. It took sometime to interrogate the future sound, and what I think is captured on this record is the first chapter in a next songbook for Tralala Blip."
In the following exclusive feature, Tralala Band shares Eat My Codes If Your Light Falls a few days before its official Room40 release, along with a track-by-track commentary that gets to the heart of its therapeutic dance hooks….
"PUB TALK"
Lydian Dunbar:
I have Down syndrome but my voice isn't static between stations. Your eyes can be still if your mind stops jumping like a busy fly. Don't tune me out. You look away restless searching for futures that wont come. You will miss me.
Randy Reimann: Lydian came to the studio one morning after a rough night at our local, The Bangalow Hotel. He expressed how sometimes it's frustrating as people would not have the patience to listen to him. We got writing on the first song for Eat My Codes If Your Light Falls.
A local friend from Mullumbimby had recently had Lydian and I over to his place to borrow some of his vintage Roland gear. We had his TR-808 synced up to our Synthstrom Deluge and Elektron Digitakt that morning. In the Digitakt were sounds from a community radio station in Taree. My mother was in hospital dying and I spent the long nights beside her sampling noises between the Taree radio stations as she slept. Those radio noises are the high hats of "Pub Talk". Other elements to that song are the 808, a Casio VL1, and a Roland JU-06.
"VOODOO PINS"
Phoebe Rose: That sick feeling clawing at your insides, climbing slowly towards your "irrational mind". We all know it. This modern world has us all spinning, small town whispers and big city misses. Our anxiety is our only constant friend. It blinds us yet keeps us warm. It's time we found our space and gave that bitch a face. Let's take them to the dance floor. No more time for flight; stand with me and fight.
"FACING MONSTERS"
Randy: Some monsters, as horrible as they may be, are so very hard to let go of. Addiction is a beast with many faces. We used a Roland SH-101, DSI Tempest, Elektron Digitone, Roland D-05 and the Synthstrom Deluge to fight off this monster. Oh, and a bit of random Make Noise Wogglebug action to throw it off guard. Phoebe and Zac worked together on the lyrics while Zac was in lockdown dealing with substance withdrawals.
Like a lot of tough subjects, we find it best to exorcise our demons on the dance floor. The D-05 has that unmistakable '80s sound and we really couldn't fight that machine's stubborn presets that are like vapour trails against a fuchsia sunset. The perfect soundtrack to a hard month of rehab.
"STAR OF HOPE"
Zac Mifsud: Who said love exists beyond space and time? My girlfriend lived 1,907.0 kilometres away in Adelaide. We met at an artists residency in Bundanon and fell in love. Our families did not want us to be together. My heart was broken and I was so angry with our parents. I could not get from Lismore to Adelaide. It was too hard for me alone. But then Tralala Blip got asked to perform at Unsound in Adelaide and we promised to see each other after the show. We hugged and kissed in the carpark. It was the last time we were together. Hope was as far as a star away.
"VOLTAGE FLOWERS"
Randy: Composed on our battery-powered love machine the Synthstrom Deluge. The Deluge is such a versatile tool for us; it communicates nicely with our old kit, like the MC-202, SH-101, and our Eurorack/modular stuff. Then it plays nicely with our more modern MIDI-based stuff like the Elektron boxes, the Tempest and Polyend/Dreadbox Medusa. We usually sample all of the above into the Deluge and then we are free to go anywhere!
We took it to Byron Bay for the afternoon. Actually, we take it down to Byron all the time. When Lydian and I go for our weekly surf, the Deluge is usually waiting back in the van with some headphones in case inspiration should hit. In the case of this song, it was a rainy day, the surf was big, and the air was fizzing with energy. Both Lydian and I took beatings in the surf on this day. Back in the van while drinking coffee and hot chocolate, we started this tune. That night after a gig in Brisbane, we lost the keys to the van. The next week Mat and I started working on the lyrics, falling codes of the night, mirror ball longings, peaceful computers, lost van keys, raindrops falling on our Deluge by the sea. You know how it can be.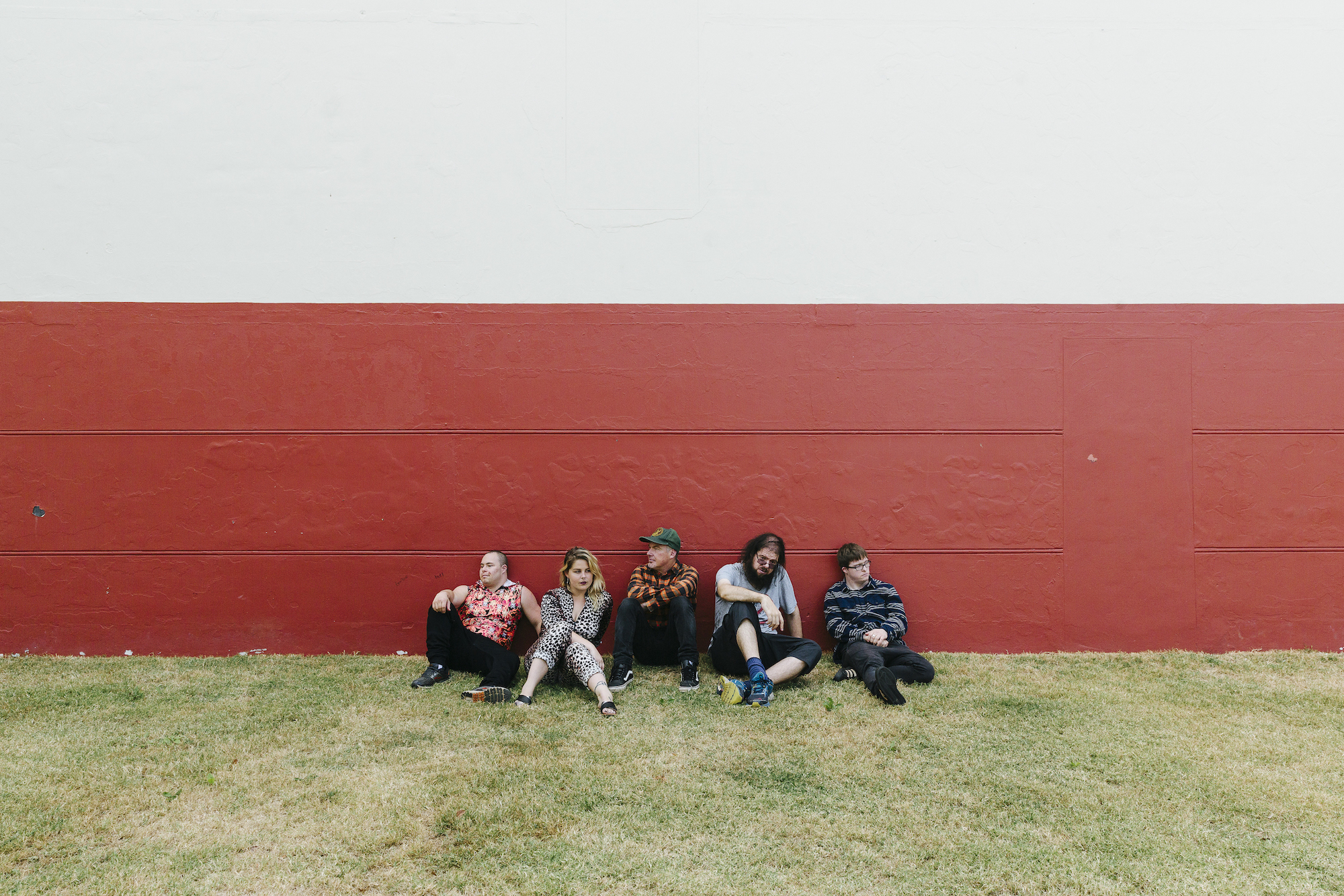 "NIGHTMARE LANDS WELCOME YOU TO"
Randy: While doing a residency in a cell of the Old Dubbo Gaol, we recorded the loaded silence of empty gaol corridors at dusk onto endless cassettes sourced from old telephone answer machines. On this residency we were collecting sounds for another project that most members of Tralala Blip are in called The Useless Assembly. But it was inevitable that the strange energy of this old space would seep into and haunt many a creative crevice. Back in Lismore some time later, something from the old gaol corridors found its way into this song by Mathew Daymond.
"DEAR FORMLESS"
Randy: It is often on the dance floor — with lush synthesized strings swirling above — that I will silently gush love for my formless loved ones. I don't walk onto the dance floor with that intention, but if the tunes are working and certain elements fall into alignment, those olden day throwaway pop melodies and the button pushed beats are like eternal conduits that my love travels upon. Both Lydian and myself acknowledge our formless loved ones to each other. We acknowledge how important they have been throughout our lives. We don't treat it lightly. Like disco, you should never treat it lightly.
"THE CANYON"
Randy: This song started out on the Synthstrom Deluge beside a stream in Oak Creek Canyon Sedona, AZ. It made its way back to Bangalow, NSW where it joined the rest of these songs. As it came to life by a stream and a campfire I could only hear melodies that were sung in rounds. In a warehouse in Lismore we sang this simple tune and we howled like coyotes or wolves.
FURTHER LISTENING