DIPLO ON SANTOGOLD: 'She's the Cocteau Twins of krunk'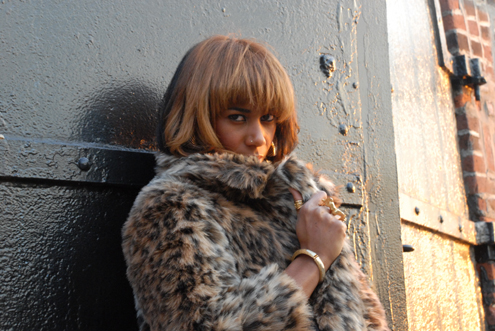 The following is the first in an ongoing series of "Vintage S/T" interviews, where we revisit an artist's state of mind before the hype machine truly hit. Classic Q&A's with some true icons will also appear from time to time …

Interview by Andrew Parks
Between Santogold's recent onslaught of press appearances–everything from New York magazine to Rolling Stone–and licensing deals (Bud Light Lime, an oven-fresh Strokes/Neptunes collab for Converse), it's easy to forget that Santi White's already been funneled through, and spit out of, the music industry's grinder before. Not just as the frontwoman of Stiffed; White's also acted as an A&R agent for Epic and a writer/producer for Res' How Do I. In a telling review of the sorely-overlooked 2001 LP, Rolling Stone 's Touré wrote, "How I Do does that rare thing: It provides an original direction. It's an album born from multicultural influences for those who don't let the trends dictate what they wear and don't let MTV decide what they listen to."
Sure enough, the praise behind Santogold's own self-titled debut has followed the same line of thought: the girl's unstoppable because she refuses to sit still. Yes, "Creator" sounds like M.I.A.–a likely reason for its inclusion on that Bud commercial–but it's the only track on White's album that falls straight into that preordained fold. Which is made all the more surprising by the fact that M.I.A.'s producer, Switch, spent so much time working on White's album.
"I thought Switch needed to mess with her cause she's got it and is one of the hypest voices out there right now," explained Diplo when we asked him about White a year ago. "She's like the Cocteau Twins of krunk."
We originally spoke to White in May of 2007–right in the heat of her never-ending solo sessions and a European tour. She had also officially broken Stiffed up just a few months earlier …
"L.E.S. Artistes"
[youtube=http://www.youtube.com/watch?v=Y9JI0GXkARQ]
self-titled: How's your Europe trip going? Are listeners and critics being more receptive to the early Santogold tracks than they have been in the U.S. thus far?
I'm having a great trip, though it's been a bit hectic. I had two Santogold shows, three shows with Mark Ronson, and two writing sessions crammed into a pretty short trip, so I'm kind of burnt. I'm on a farm right now in Northern England, though, with sheep and horses, so it's all good.
I wouldn't say people are more receptive to my project in the UK than the U.S. I've had a good response on both sides, but a lot of the people I've been working with are from here, and have a name here, so more people know about it in the UK so far I think. London has got a lot more interesting music happening right now than the U.S I think. So as a musician, if you want to be creative, it's a great place to start out, and the U.S will usually catch on a bit later.
Now that you've had some time to reflect on Stiffed, why did you decide to split the band up and pursue this new Santogold project? Did you feel stifled creatively, or simply want to do something different than a band for a bit?
I did feel a bit stifled creatively. I don't think all the band members were equally committed, and it was a struggle to carry dead weight a lot of the time. Half the band lived in Philly, and half in NY, so it was a pain and always on the brink of falling apart. Which is pretty much what happened in the end. It just fell apart–no hard feelings. I think everyone in Stiffed was a brilliant musician and really fun, but I was relieved when it was over. It was definitely time to try something else.
I don't want to get too personal but did the sudden death of your father (in 2004) have something to do with it too? Only asking because trying personal events like that can often change people's perspectives on life and their work.
No, it didn't really. Not directly anyway. As a matter of fact, Stiffed was a really good outlet for me throughout the whole ordeal. I would walk right out of the hospital and go do a show around the corner, and have so much fun. It was the only outside world connection I kept during that time.
When did you move from Philly to Brooklyn and why?
I moved back to Brooklyn in April of '05. I had been commuting back and forth to NY about two or three times a week for years, and I was tired of the drive and my body was falling apart because of it. Everything I needed to do, everyone I worked with and most of my friends were in NY. Plus I felt disgust for Philadelphia at the time–the politics of the city and the general apathy of the community made me depressed. Of course I was already depressed so it didn't take much. After my dad died, I bailed.
Is the song "L.E.S. Artistes" meant to address this move to some degree, as it's all about change and giving some things up to gain others?
Yes. It's about moving back to New York to gain anonymity in order to find a part of yourself that's been lost somehow. It's also about feeling vulnerable and not wanting to deal with the other side of living in NY as an artist–the see-and-be-seen mentality of all the scenesters/'artists' who swoop in on you like little culture vultures.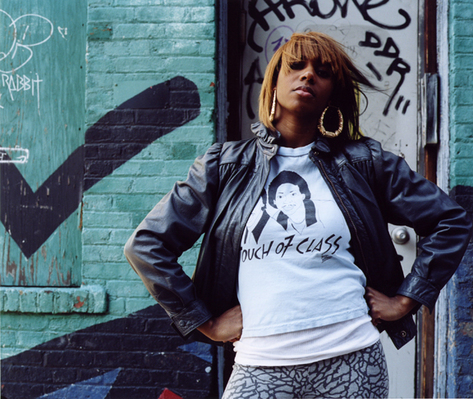 How quick has the songwriting process been for Santogold? Has it been easier than it was for Stiffed because you're excited to explore some different sounds and work with new producers?
It was a relatively quick process. I wrote most of the record with John Hill, who was the bass player in Stiffed for a while. We were both really excited to try out some new approaches and collaborate with new people, plus it was the first time I had felt like I could create anything in so long, it was really cathartic. Stiffed was always a quick process as well. I don't usually have a hard time writing music that I'm excited about. Sometimes I'll get stuck on a chorus or something, and then I'll put the song away for a while and come back to it. But usually, something in the music taps into somewhere, and the song just pours right out–always melody first, words later. Though some of the words usually come with the melody.
Tell me a little bit about your work with Res: How you met her, how you approached writing for another artist, etc. Do you see yourself producing/writing for an outside project like that again or do you want to focus on Santogold for now?
I met Res when I was really young because our dads were friends, though I didnt know her very well. She reached out to me when I was working at Sony to see if I knew any producers that could work on a demo with her, so I signed her to a demo deal. I didn't know any writers at the time who could write the kind of stuff we had in mind, so I wrote it myself. I had been writing rap lyrics since I was a kid and had just started writing proper melodic songs, so it was perfect timing.
I don't see myself being that involved with the development of a new act again. You know, having to put that much of myself into someone else's work. But I will definitely write for other artists occasionally. I collaborated with Mark Ronson and Lily Allen on her song "Littlest Things," and it was very easy process. I'm up for stuff like that.
What's Ronson like?
Mark and I have been friends for several years. We actually met on a photo shoot for Urb. We have a mutual respect for each other's work and have a lot of fun together in the studio, so he asked me to cover a punk song by a band called The Jam for his project. He wanted it to be a sort of sing-a-long style, so I just basically jumped all around the room yelling/singing like a little kid. It was really fun. We'll definitely be working together more.
How's working with Switch, Spank Rock and FreQNasty different than working with Stiffed? Have they brought some surprising things out in your singing or songwriting?
Switch is a genius. He has one of the oddest perceptions of sound that I've encountered. Diplo introduced me to him and FreQ Nasty at a party in NY and told us to work together, so we set up a day, and I showed up and they asked me if I rapped. Then they played me one of the most interesting tracks I've ever heard, so I lied and said yes. They both have a totally different perception of sound than anyone I've ever worked with– coming from the breakbeat and house music scenes–so it was really exciting to work with them because it gave me an opportunity to approach songwriting from a different angle. Plus I hadn't written to beats in ages. Same with working with Spank Rock. It's fun because it allows me to go into another zone, I get to say all kinds of crazy shit. Plus Naeem's one of my favorite people I've met in a long time.
Were you surprised when Martin Heath showed so much interest in Santogold? Were you wary of signing with Lizard King at first? If so, did that hesitance disappear as you got to know Martin better?
Ha ha! Hmmm. Careful here. No comment.
How did you manage to convince the label and Martin that you need to have full control of Santogold? Or did it not take much convincing why they started to believe in the project and your vision more?
John and I just dirtied up the mixes on the songs after the other producer had finished his versions. It wasn't until we made them sound how we envisioned them that Martin got the response he was looking for when he played them for people. So after that they left us alone.
Some M.I.A. comparisons are inevitable as Santogold reaches a wider audience, due to the cutting edge producers you both use and some of the similarities in your flow. Help me strike down those comparisons early by telling me in a sentence what sets you apart from her and other solo club/indie dance music today.
My record isn't really a dance or club record. I think most of those comparisons are based on the Switch track and the more digital tracks on my MySpace, but my record goes all over the place. It's mostly live, and has a lot of punk and new-wave influence still, especially vocally, as well as a dub theme that sort of weaves its way through the whole project. People are always going to make comparisons to stuff they know. Just like the Gwen Stefani comparisons with Stiffed. It is what it is. I'm not worried. My music stands on its own.
Tell me a little about your love of dub and how you tried to apply it to Santogold.
I grew up listening to a lot of reggae. It was the Saturday morning cleaning music in my house–incense, Steel Pulse, and a dust mop. Then my sister turned me on to dub: Augustus Pablo, Ras Michael and the Sons of Negus, Lee Perry. I like the music because it's tough and sensual at the same time. It's hard and minimal like punk rock, but has the deep bass that's missing in rock. I used to go to Jamaica every year when I was younger and just watch how people moved to the music and I'd get butterflies in my stomach. I feel very connected to it, and wanted to try blending some of its elements with a more modern approach.
You mention breaking the rules in the lyrics to "Creator." What specific rules do you try to rage against?
Just the stupid industry formula. You know, like, Black girl = R&B + rap
What was it like seeing your music used in a Stella McCartney show?
Oh, it was exciting! I love fashion and I thought it was especially cool that they played a song like (Spank Rock's) "Lindsey Lohan's Revenge" as the opener of the show. It was very ballsy of Stella, and I like balls.