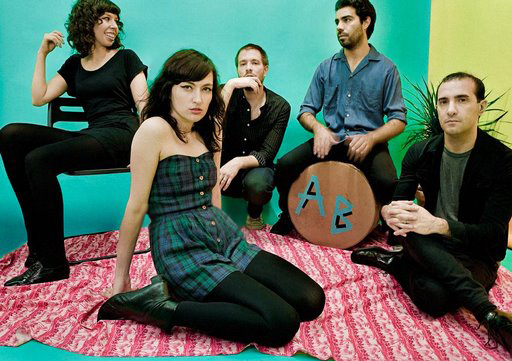 [Photo by Mike Vorassi]
By Andrew Parks
When self-titled first saw Apache Beat's simple but scintillating video for "Tropics," we were intrigued enough to ask the unsigned act about its impending album (pegged for a winter release at the time) and potential s/t parties down the road. While the latter's happening tonight, Brooklyn's latest band of Next Big Things is still tweaking the final mixes of its full-length debut, Last Chants (now set for late summer).
"Everything has been hectic lately," says singer Ilirjana Alushaj, alluding to the meetings, rehearsals and photo shoots that have marked their mounting work schedule in the past few months. "So we are sorting exactly what we need to do to improve, if anything, in the next week."
With that in mind, Alushaj shared a slew of almost-there cuts with us, including two clear standouts (the galloping, ghoulish grooves of "Your Powers Are Magic"; the synth-draped nocturnal emissions of "Walking On Fire") and an extended version of "Tropics." She describes them in detail below, along with what it was like working with two generations of true Lower East Side icons.
Oh, yeah–the following remix is an exclusive as well…
[audio:http://www.self-titledmag.com/wp-content/uploads/audio5/Tropics%20(CFCF%20Remix).mp3]
Apache Beat, "Tropics (CFCF Remix)"
self-titled: So the timeline of this record is a little unclear. When did you do most of the pre-production work for it, before heading into the studio with Martin Bisi?
We started writing and demoing seriously for the album in 2008. Since we are all busy [with other projects and commitments], it took us a while to figure out the direction and sound we wanted. We aren't the type of band where someone goes away and writes the album, then comes back and everyone else figures out where they fit in. We tend to start with parts and then work on each song as a band.
We didn't demo everything, so some songs were developed in the studio. Since he's such a chill dude, Bisi was great with making sure we didn't go crazy. He knew what we wanted and helped direct us a bit more. We tried to get a few [outside] opinions, too, as recording can be very insular.
Did he seem to see any similarities between you and past projects of his, like Sonic Youth or Swans?
Hmmm…he is not that type of guy. He looks at each project individually. If anything, he would say something like, "Well I did this with Sonic Youth. We should try it." Or if I was having a bad vocal day, he would say, "Oh you know Lydia [Lunch's] husband had to ring in notes as she is tone deaf, so this is nothing." He would then tell us Eno and Madonna stories. It was a relatively good vibe with him. We were his last project.
He's giving up producing?
Yeah, he wanted to concentrate on his own stuff. He has been [producing] since he was 16.
You have to tell an Eno story now…
Well, you know Eno bought Bisi his studio, yeah?
The studio you were using?
Yeah.
He's had the same studio all this time?
Yeah. Eno basically saw him doing sound at CBGB's, got him to do an album, and left him the studio because he was very supportive of the New York scene at the time.
So recording there happened between 2008 and early this year?
Yes.
When did it stop and move to the mixing phase elsewhere?
I forget. We did most of it at another studio with a friend. But I think we are doing some more remixing before the album release. We had some time to hear it and would like to make it a little better.
What songs are going to get the most remixing?
This is what we are deciding. I mean, they don't have to be perfect, but they need to have everything as good we can get them.
So this has been a solid year of work, off and on?
Yeah it has.
There are a few key guests on the record, right? Like Nick [Zinner], Gabe [Andruzzi of the Rapture] and Lightspeed Champion?
Yeah we had some friends play on it. Brian Chase [of Yeah Yeah Yeahs] drums on a track. Gabe plays sax and Lightspeed Champion filters his guitar magic throughout a few tracks. Nick Zinner has been very supportive with answering questions and helping out in general, as has Aaron [Pfenning] and Patrick [Wimberly] from Chairlift. Patrick plays on a track that we haven't finished yet…
The Patrick cut won't be on this album then?
No. It isn't done.
"It's like anger, intensity, pain, anger, love–sounds a bit lame when I say it like that, but you know what i mean."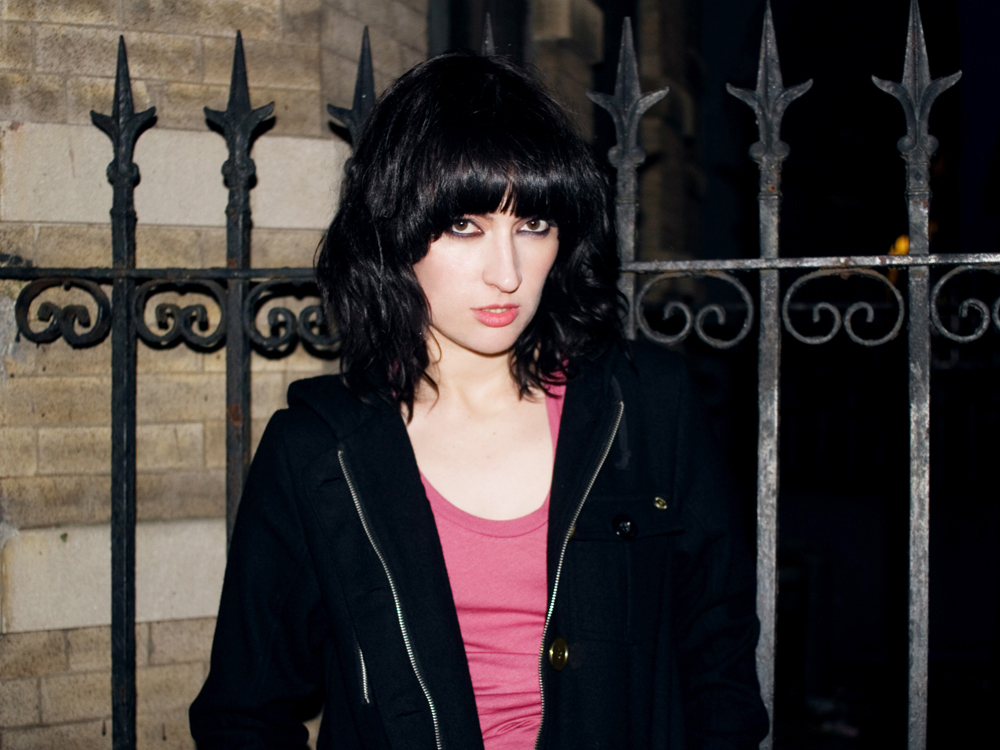 Let's get into some of the new tracks you played for us, starting with "Walking On Fire"…
I basically have a video in mind [while writing lyrics] for every song. With this one, I was watching the Twin Peaks movie one night and a light went off in my head. I rushed home from a friend's house totally inspired to finish the lyrics, hence the title I guess.
Is it safe to assume that it's more inspired by the feelings Lynch evokes than any particular plot points?
Yes. He is very apt at making the viewer feel scared and loved at the same time–material so dark you can see some light at the same time. I like that idea…
Well, if he'll work with Moby, maybe you guys are next.
[Laughs] Right?
You've said before that a lot of your lyrics are about relationships. As a writer and editor (for The Pop Manifesto, which Alushaj co-founded), do you ever worry about sounding cliched when using such a familiar song topic?
Not really. I mean, how many topics can you write about that most people can relate to? If I said I was writing them in a certain style because I wanted it to sound like so-and-so, then that would be lame.
We were just listening to "Your Powers Are Magic" in the office. What's up with the waltz?
I had visions of a room of people dancing, so I tried to make the vocals flow with the guitar and keys.
Ah, I can see that…if the people dancing were dead.
[Laughs] Exactly.
Another point to note here: I hear bongos and they don't seem inappropriate for once.
Yeah, sticks and bongos. You don't need to always have standard rock 4/4, right? Even if you are in an 'indie rock' band.
You also just proved that bongos don't have to mean ripping off Paul Simon…
[Laughs] Sorry Paul, but you know…I think we think of things in more of a jazz style.
"Tropics" has been out for a while now. What's up with the alternate version on the album?
Well, we basically we wrote an instrumental intro that we thought sounded great…
This was written after the video was made and everything?
At the same time. It is basically the same song, but we designed the intro so ["A Break In the Light"] segues into "Tropics." If anything, you get some sax at the beginning.
Is Gabe playing the sax?
Not on that track. Gabe plays on "Nightwaters."
Shall we shift to "Nightwaters" then?
Sure…
Actually, one more thing about "Tropics": where's the chorus?
It was written in a way where you have no room to breath, as in the music and vocals don't really let up. It is meant to be intense throughout, like the way you feel when a relationship hits a wall. It's like anger, intensity, pain, anger, love–sounds a bit lame when I say it like that, but you know what I mean.
Indeed. Soooo, "Nightwaters"…
…is our slower song–like the calm after the storm.
After which storm? The "Tropics"-al one?
[Laughs] Yeah, you could secretly match them up to make one proper relationship, like a Weezer album or something…But yeah, this is about the realization. Or "The Realization."
This is your lighter song then?
Yeah, it is a song you ride, then get hit by.
Sounds dangerous.
[Laughs] Everything should be dangerous. Otherwise why do it?