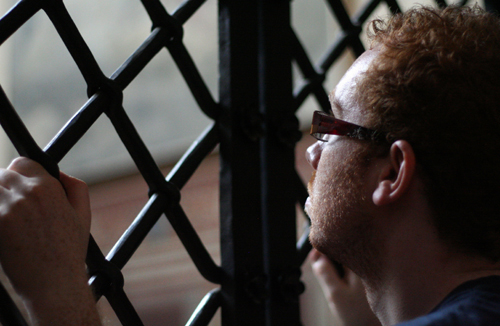 Let's be real here: What's more frightening than Christianity? John Twells (better known as Xela) poses this very question with his latest series of soundscapes, In Boccas Al Lupo (translation: "Into the Mouth of the Wolf"). Finding common ground between the giallo films of Dario Argento and the creeping drone tones of Sunn O))), the Type Records co-owner channels distant church bells, creaky floorboards and tribal beats in a four-part attempt to make us feel uncomfortable. Not to mention a little entranced.
self-titled asked Twells two questions in the "Are you afraid of the dark?" department.
[audio:http://www.self-titledmag.com/wp-content/uploads/audio4/01%20Ut%20Nos%20Vivicaret.mp3]
1. What makes something truly terrifying?
True fear is a little deeper than the usual phobias. I rather like spiders, and blood has never worried me, so in my opinion it's what you don't see that actually has the power to scare. The imagination is a powerful tool, and leaving things open for the mind to explore is possibly the most dangerous use of fear. We will always expect the worst, and our minds will create something far more frightening than pictures, words or sounds might. The unknown is truly frightening. When you're afraid of a person, it's usually because of what they might do–the fact that you don't know what the outcome of a situation might be. Our minds are always the most powerful tool when it comes to what frightens us, and they shouldn't be undermined.
2. What childhood fears do you still struggle with?
When I was very young, film and television characters would "scare" me, but I grew out of this quickly. [My] longest-running fear, surprisingly enough, is a fear of being on my own, and yet at the same time I have a fear of busy social centers. These fears have been with me for as long as I can remember and send shivers down my spine much quicker than a few creepy crawlies or poisonous lizards. I suppose social fear is common among the hordes of isolated experimental producers, but it's something you get used to living with.
Xela makes a trio of rare stateside appearances over the next month, the first two of which feature ambient architect Ezekiel Honig.  The pair performs at Le Poisson Rouge next Thursday and at Monkey Town on Sunday, February 15. Xela will then host back-to-back Type showcases (with Helios and Zelienople) at Monkey Town on Saturday, March 15.