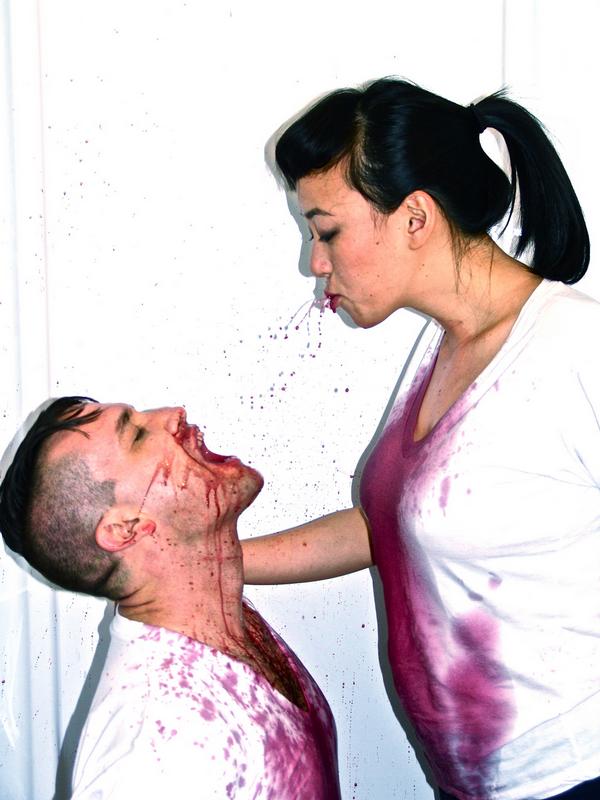 Xiu Xiu and Deerhoof have agreed to cover Unknown Pleasures at Austria's Donaufestival. The longtime friends/collaborators will cannibalize "She's Lost Control," "New Dawn Fades" and eight other Joy Division classics on Thursday, April 29. Here's an explanation, via a press release:
It's funny Xiu Xiu should ask Deerhoof to perform Joy Division's Unknown Pleasures with them. Just a short time before this, Deerhoof received a MySpace comment containing a Joy Division video and the words "COVER THIS"; and then a Facebook message asking when there would be a full-on collaboration between Deerhoof and Xiu Xiu. Add to this the sheer coincidence that Ian Curtis committed suicide on May 18, Greg Saunier's birthday, and the conclusion seemed inevitable.
Indeed. Xiu Xiu's latest album, Dear God, I Hate Myself, is due out on February 23 through Kill Rock Stars. The duo's North American tour starts on March 5 in Greensboro, NC, and wraps up on April 17 in Detroit. After that, we just might hear the Graveface debut of Blue Water, White Death, a Jaws-referencing side project that features frontman Jamie Stewart and Shearwater's  Jonathan Meiburg. The pair's Gail LP was recently cut by John Congelton of The Paper Chase and such killer records as All of a Sudden I Miss Everyone (Explosions in the Sky) and In the Future (Black Mountain).
Check out all of Xiu Xiu's dates–including stops with Zola Jesus and tUnE-YarDs–after the jump, along with a collection of classic clips and YouTube transfers from Joy Division's Unknown Pleasures era.
Xiu Xiu live:
2/20 Dublin, IE – Whelans
2/21 Glasgow, UK – NiceNSleazy
2/22 Edinburgh, UK – Electric Circus
2/23 Manchester, UK – Islington Mill
2/24 Sheffield, UK – The Harley
2/25 Cardiff, UK – Cardiff Arts Institute
2/26 London, UK – The Luminaire
2/27 Brighton, UK – Freebutt
2/28 Coventry, UK – Taylor John's House
3/5 Greensboro, NC – Guilford College
3/6 Atlanta, GA – Drunken Unicorn (w/ Noveller, Girl in a Coma)
3/7 Birmingham, AL – The Bottletree (w/ Noveller, Girl in a Coma)
3/9 Little Rock, AR – Sticky Fingerz Chicken Shack (w/ Noveller, Girl in a Coma)
3/10 Norman, OK – Opolis Productions (w/ Noveller, Girl in a Coma)
3/11 Dallas, TX – The Cavern (w/ Noveller, Girl in a Coma)
3/12 Houston, TX – The Studio at Warehouse Live (w/ Noveller)
3/13 Austin, TX – Red 7 (w/ Noveller, Jonathan Mieberg of Shearwater)
3/15 Tempe, AZ – Sail Inn (w/ Noveller)
3/16 Tucson, AZ – Solar Culture (w/ Extra Life, Noveller)
3/17 San Diego, CA – The Casbah (w/ Tune-Yards, Noveller)
3/18 Los Angeles, CA – Echo (w/ Tune-Yards, Noveller)
3/19 Santa Cruz, CA – The Crepe Place (w/ Tune-Yards, Noveller)
3/20 San Francisco, CA – Bottom of the Hill (w/ Tune-Yards, Noveller)
3/23 Olympia, WA – Northern (w/ Tune-Yards)
3/24 Portland, OR – Holocene (w/ Tune-Yards)
3/25 Boise, ID – Neurolux (w/ Tune-Yards, Scout Niblett)
3/26 Salt Lake City, UT – Urban Lounge (w/ Tune-Yards, Talk Normal)
3/27 Denver, CO – Hi-Dive (w/ Tune-Yards, Talk Normal)
3/29 Lawrence, KS – Jackpot Saloon (w/ Tune-Yards, Talk Normal)
3/30 St. Louis, MO – Lemp Neighborhood Arts Center (w/ Tune-Yards, Talk Norma, Br'erl)
3/31 Iowa City, IA – The Picador (w/ Tune-Yards, Talk Normal)
4/1 Northfield, MN – The Cave at Carleton College (w/ Tune-Yards, Talk Normal)
4/2 Minneapolis, MN – 7th Street Entry (w/ Tune-Yards, Talk Normal)
4/3 Chicago, IL – Lincoln Hall (w/ Tune-Yards, Talk Normal, Zola Jesus)
4/5 Oberlin, OH – The Dionysus Discotheque (w/ Tune-Yards, Talk Normal)
4/7 Cleveland, OH – The Spot (w/ Tune-Yards, Talk Normal)
4/8 Buffalo, NY – Mohawk Place (w/ Tune-Yards)
4/9 New York, NY – Bowery Ballroom (w/ Tune-Yards, Zola Jesus)
4/10 Cambridge, MA – Middle East Downstairs (w/ Tune-Yards)
4/12 Amherst, MA – Hampshire College Red Barn
4/13 Philadelphia, PA – First Unitarian Church (w/ Tune-Yards)
4/14 Washington, DC – Rock and Roll Hotel (w/ Tune-Yards)
4/15 Chapel Hill, NC – Local 506 (w/ Tune-Yards)
4/17 Detroit, MI – Museum of Contemporary Art Detroit (w/ TBD)