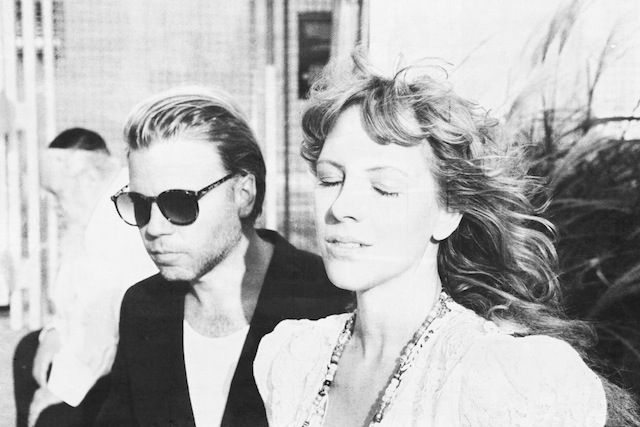 Since self-titled is the product of three very different voices, we asked managing editor Arye Dworken for a second opinion on the South by Southwest guide we shared yesterday.
Here's what he came up with…
1. Cold Specks
With a voice that sounds road-worn and weary, 23-year-old Al Spx from Etobicoke, Canada, channels the woe-is-me sentiments of early '00s–as in the 1900s–Deep South folk. So indelibly haunting it could almost fit right into an Alan Lomax compilation.
–
2. Lower Dens
"Brains" is already a contender for my zombie-fied song of the year, and the forthcoming record from which it's taken (Nootropics) is atmospheric, moody and subtle. If you're able to score a decent bag of weed down in Austin–good luck!– this is the show you should be saving it for.
–
3. Computer Magic
Computer Magic, also known as Danielle Johnson, recently released a video in which she walks through Time Square, goes down a playground slide and climbs on some city rooftops. All while dressed in a complete astronaut's uniform. This is kind of what her music sounds like.
–
4. JMSN
If you're still obsessing over the Weeknd, then make JMSN your weekday. Sure, Christian Berishaj will inevitably come to resent the comparison, but if it brings him some notoriety, then ride them coattails, son. Since Timberlake's retired from making music, we can use all the bedroom music we can get. Or can we just call it "bedcore?"
–
5. Mr. Dream
Two of these guys were once music journalists, but don't hold that against them. It just means that they've been exposed to plenty of indie rock, made note of the beefiest reference points and then whipped us up a smoothie of punk rock juice. Tastes freshly squeezed.
–
6. NIki & The Dove
Like their fellow ampersand abuser Florence & the Machine, this Swedish duo graduated from the Kate Bush School of Quirky Pop Music, but while the former landed on a Julia Roberts soundtrack, the latter could wind up being the next Knife. Incidentally, no one in the band is named Niki. Or the Dove, for that matter.
–
7. Purity Ring
Corin Roddick, one half of the Purity Ring, cites Soulja Boy as an influence. Thankfully, Megan James, his better half, doesn't. Her hauntingly lithe voice is a strange match to Roddick's glitchy backdrops but it works in a weirdly accessible way. Melted, balmy and warped, it's like pop music left for too long in a hot car with the windows shut.
–
8. New Build
Hot Chip's Al Doyle and Felix Martin now have a carefree side project that could actually upstage their full-time job. Having heard Hot Chip's new one, I'll just leave it at that.
–
9. Fort Lean
At a time when most bands are so stylistically fractured that their genres come equipped with at least three hyphens, Brooklyn's Fort Lean is a real deal rock group. This is not an attempt to belittle, but rather to praise them for their simple yet soulful sound. Frontman Keenan Mitchell also boasts a head of hair that'd rival Sammy Hagar.
–
10. Friends
Hundreds of blog-buzz bands come and go on a weekly basis through the taste making revolving door, but Hipster Runoff only chooses to pick on the ones really worth talking about. In this instance, Carles gets his, shall we say, inspiration, from Friends' cute factor–singer Samantha Urbani, and bassist Lesley Hann–but this Brooklyn band has the songs to back it up. Actually, make that two songs, but they're both great. And the live show is pretty fantastic–think of the Tom Tom Club.