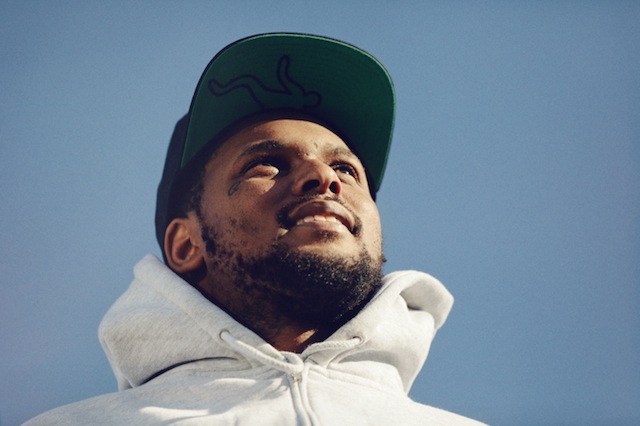 Photo by Bryan Sheffield
Here are some artists we're psyched to see at South By Southwest this year: Charli XCX, Oneohtrix Point Never, the War On Drugs, Matthew Dear, Youth Lagoon, Nicolas Jaar, Thee Oh Sees, Machinedrum, Light Asylum, Torche, Chelsea Wolfe, Blondes, Cloud Nothings, G-Side, King Tuff, Peaking Lights, Hudson Mohawke, Daedelus, Flying Lotus, Apparat, Coliseum, the Men, Nicolas Jaar, the Twilight Sad, Dax Riggs, and at least 20 others we forgot to mention.
Not to mention the 10 acts below, a mix of new and old artists that err on the not-so-damn-obvious side of things. Be sure to watch this space and our special Austin-centric Twitter account throughout the week for our complete SXSW coverage, including photo galleries, artist spotlights and show picks…
The Artist/Their Latest Record: Bleached, Searching Through the Past 7" (Suicide Squeeze, 2011)
Why They're Worth Watching: The Clavin sisters–Jennifer and Jessie–whipped up one hell of a whiplash-inducing racket in their last band, the dearly missed Mika Miko, and while Bleached only break out the buzz saws occasionally, the duo's attack is as refined and keep-it-simple-stupid as a Ramones record these days.
–
The Artist/Their Latest Record: Blouse, Blouse (Captured Tracks, 2011)
Why They're Worth Watching: Unlike most acts that go the not-quite-new-wave route, Blouse places an emphasis on their propulsive bass parts (provided by Unknown Mortal Orchestra's Jacob Portrait) and lean synth lines. Their music sounds considerably richer as a result, like a TV with its contrast levels cranked up.
–
The Artist/Their Latest Record: Ceremony, Zoo (Matador, 2012)
Why They're Worth Watching: While Trash Talk and OFF! have hardcore's blunt trauma sound down, Ceremony lets you catch your breath long enough to knock the wind right back out of you repeatedly. This guy = is dead wrong about Zoo not being a punk record. He's really goddamn funny, but he's wrong.
–
The Artist/Their Latest Record: Coldcut, Sound Mirrors (Ninja Tune, 2006)
So Coldcut's not exactly new; the Ninja Tune co-founders are living legends who started splicing samples and blending beats back when Girl Talk was a toddler. They haven't released a new record in six years and rarely show up to spin a DJ set in the states, so that–combined with the fact that they're responsible for one of history's greatest DJ mixes–should be more than enough to warrant 40 minutes of your time on Friday night. And if you don't believe us, have a listen to the sprawling Radio 1 session above.
–
The Artist/Their Latest Record: Exitmusic, Passages (Secretly Canadian, May 22nd)
The Vibe: Don't let Aleksa Palladino's diminutive stature fool you into expecting a singing voice as soft-spoken or subtle as the character she played on Boardwalk Empire (Jimmy Darmody's wife Angela). No matter how high the sheets of noise are piled on Exitmusic's first proper album, Palladino plows every last electrical storm over with a booming voice that sounds like Beach House's Victoria Legrand…if she were on fire. Not surprisingly, Palladino's mother is a respected opera singer, and she's found the perfect foil in her husband Devon Church, a guitarist that coats her murky melodies in cauterized power chords and dollops of distortion.
–
The Artist/Their Latest Record: FIDLAR, DIYDUI 7" (White Iris)
Why They're Worth Watching: Like the Black Lips at their piss-taking peak, FIDLAR don't bother with filler or formalities. The Cali-based quartet cares about the usual instead: cheap weed, skate park afternoons, late-night Del Taco runs, and garage rock with just the right amount of grime.
–
The Artist/Their Latest Record: Led Er Est, May EP (Captured Tracks, 2011)
Why They're Worth Watching: Yep, it's another band from Brooklyn that sounds like they've studied Minimal Wave's entire catalog. The difference here being the bite that Led Er Est brings to their performances, which are steely and standoffish in equal measure. Expect a Sacred Bones album from them very soon.
–
The Artist/Their Most Recent Record: ScHoolboy Q, Habits & Contradictions (TDE, 2012)
Why He's Worth Watching: The dark horse of the Dre-endorsed Black Hippy collective holds nothing back, indulging his id in nearly every bar and leaving nothing to our imagination. About as gritty and genuine as hardcore hip-hop gets these days.
–
The Artist/Their Latest Record: Teengirl Fantasy, 7AM (True Panther Sounds, 2010)
Why They're Worth Watching: Remember these guys? Now relocated to Brooklyn like their Oberlin mates Blondes, Teengirl Fantasy is one of the first live acts to be signed to the second wave of R&S Records. That'd be the one-time home of Aphex Twin that's played host to crucial singles and EPs from James Blake, Pariah and many other rising UK underground acts in recent years. We hear the house-leaning duo will unveil their second long player in the late spring/early summer, so here's to an early look sometime this week.
–
The Artist/Their Latest Record: Trust, TRST (Arts & Crafts, 2012)
Why They're Worth Watching If you can make it past the fact that their singer sounds like Bill Hader fronting an evilllllllll synth-pop band on SNL, the halogen hooks on Trust's debut album are too huge to deny.