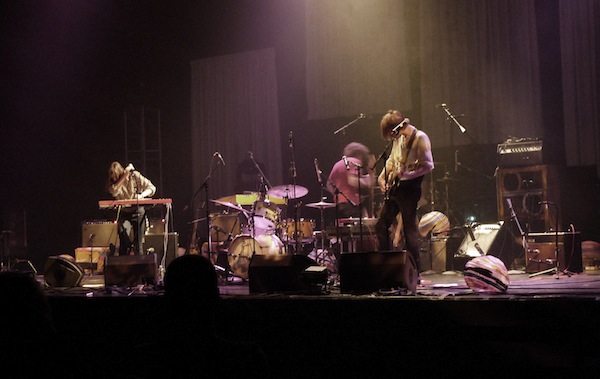 Words and Contraband Chairlift Photo by Aaron Richter
We've never been much for dwelling on the negative. So…big sigh…Brooklyn Academy of Music, you tried your best to ruin our night. But all is forgiven thanks to a kind nudge from newbie champs Chairlift and a big hug from nearly forgotten favorites Clap Your Hands Say Yeah. After the jump, 10 things that kept us from punching BAM in its stupid fascist face.
1. The awesome gal at the press will call
Thanks for giving us a ticket despite not finding our name on the guestlist. You rule!
2. Chairlift singer Caroline Polachek
Gorgeous! Her stage presence is captivating and arrestingly sexual.
3. "Planet Health"
The best song on the group's album Does You Inspire You and one of the finest of 2008 closed their set with warm retro-futurism.
4. Jeans on girls
Specifically Polachek's (on her).
5. Hearing Clap Your Hands Say Yeah frontman Alec Ounsworth's voice for the first time in more than a year
To be perfectly honest, we haven't had much desire to listen to CYHSY since the group dropped its dud of a second record, Some Loud Thunder. But hearing Ounsworth's lamb-like bleat and Dylan-esque cadence sent delightful chills down our spine.
6. The invitation for everyone to come down front
As if he sensed the venue's stuffy, sterile vibe, Ounswerth told everyone in the crowd to fill up the wide space in front between the seating and the stage. As people poured fourth, security scattered nervously. God forbid anyone should break protocol.
7. "You look like David Bowie."
Such a terrific line. Kills us every time.
8. Ounsworth's striped pants
Seeing the band's early performances, we'd always found the singer a bit too nervous and skittish. But tonight, aided in part by a quirky stage outfit, he (as well as the rest of the group) seemed to have developed a new comfort and maturity, particularly when reworking older material.
9. "Satan Said Dance"
We'd all but forgotten about this live favorite thanks to the neutered album version.
10. The crowd dancing to "The Skin of My Yellow Country Teeth"
Big roar once everyone recognized its organ intro, and immediate mass pogo-ing began, which always looks amazing when it occurs in synch.