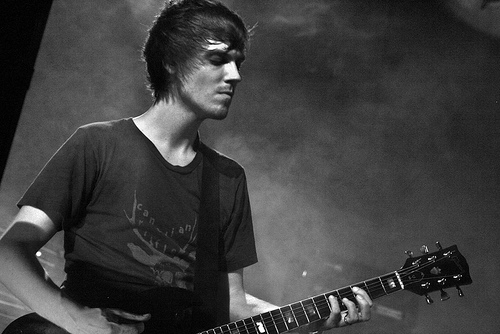 [Photo by Andrew Parks]
Instead of going on and on about our top picks of 2009 and the past 10 years–we'll do that in the coming week–self-titled asked some of our favorite '09 artists to share their favorite records. The following post is brought to you by Pelican and the controlled chaos of Sweet Cobra: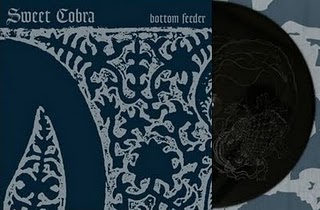 Sweet Cobra, Bottom Feeder EP (Seventh Rule Recordings)
Sadly, 2009 will most likely go down as the year of death. It seems like a week didn't pass without a news story detailing the demise of one public figure or another, from the cult underground (Jack Rose) to the extreme mainstream (Michael Jackson). Without a doubt, the death that affected me deeply was that of local [Chicago] musician and fellow riff-slinger Matthew Arluck of the woefully underrated Chicago outfit Sweet Cobra. Succumbing to a long battle with cancer at the age of 39, Mat stayed positive until the end and continued recording and playing with his many bands as long as he could. We are fortunate, then, that Mat contributed to two final Sweet Cobra recordings before his passing: this year's Bottom Feeder EP and a forthcoming full-length.
Comprised of three songs recorded for 2007's Forever LP–but deemed to not fit the vibe of that release–Bottom Feeder's material gathered dust until Seventh Rule Recordings urged the band to release them as a limited three-song 12" this past fall. The music showcases the group's punchy, crusty hybrid of metal, hardcore and noise rock, while bassist/vocalist Botchy Vasquez's tortured cries paint a picture of deep emotional turmoil. The band is propelled with a bent toward maximum urgency by Jason Gagovski's relentless drumming, tirelessly shifting tempos as the songs veer in unpredictable directions, somehow never sacrificing the strong groove that is their anchor. The real backbone of these songs, however, is the guitar work of Arluck and fellow guitarist Robert Ludlam, who steer the EP through its multiple movements, harnessing riffs that are intoxicatingly aggressive while retaining a melodic underpinning that ties the work together.
Greg Norman's paint peeling production strips everything inessential, leaving the listener with the sense that they could be in the room with the band themselves. "Toe Cutter" is a blistering hardcore marathon that melts in its final moments into midtempo pummeler "Holster Bone", which willfully confuses with its myriad of passages that seem never to repeat. Both songs are catchy in their own right, but by far the winner here (and one of my favorite songs of the year, which warranted this release as my pick) is the anthemic, barnstorming title track. Opening with a disembodied drumbeat that rolls over into a ridiculously down-tuned melodic verse, the groove is immediate and subsuming. Arluck and Ludlam bounce melodic figures back and forth as Gagovski finds every opportunity to flip the beat backwards and forwards, with an intensity that seems to increase by the bar. Following a mathy noiserock break, the beat opens up into a wide dénouement, as Vasquez repeats "and then the rain came down to kill us all / all we could do is watch it fall," an aching reminder that fate is sometimes stronger than our determination to resist it. – Trevor de Brauw
–
RELATED READING:
FURTHER LISTENING: