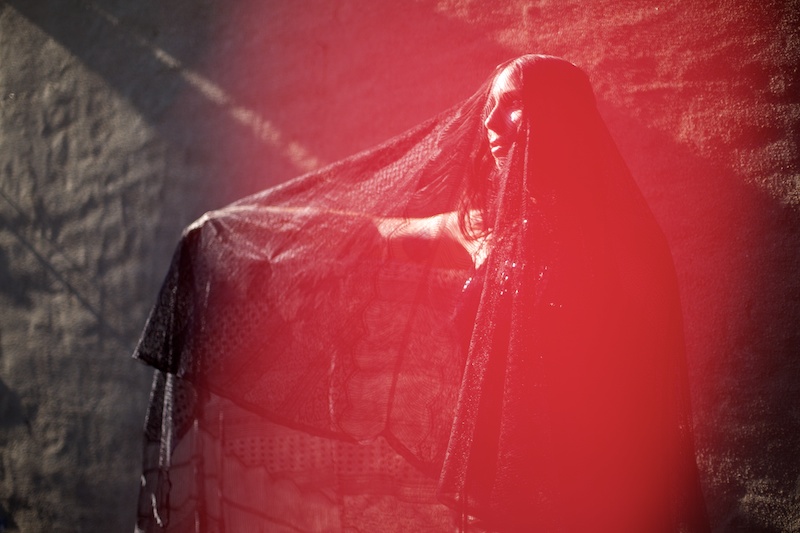 Photo by Samantha Casolari
As we continue to look back at the year that was, we'd like to take a moment to memorialize 40 records we haven't already highlighted in our editors' lists (available here, here and here) or album spotlights, starting with a stunner that soothed our caffeine-wracked nerves every time we had to deliver an issue on deadline…
Julianna Barwick, The Magic Place (Asthmatic Kitty)
A spiritual awakening we can all relate to.
—
Josh T. Pearson, Last of the Country Gentlemen (Mute)
The discomforting return of a cult favorite, featuring songs that seem to go on forever, twisting the knife deeper and deeper.
—
Chelsea Wolfe, Apokalypsis (Pendu Sound)
Miss the old Zola Jesus—the moody sprite that seemed to emerge out of some faraway forest with jet black hair and years of classical training and cultish record collecting under her belt? Chelsea Wolfe is here to fill that void now that Zola's gotten brighter and blonder, as she howls and harmonizes her way through a waking nightmare that's bewildering and beautiful.
—
Austra, Feel It Break (Domino)
It's no surprise that Katie Stelmanis shared her love of Nine Inch Nails with us earlier this year. Listen to the singer's debut album closely and you'll hear hints of Reznor's intricate programming and pure melodrama. Not to mention one of our favorite singles of the year ("The Beat and the Pulse," an end of days dance song that fully embraces Stelmanis' sorely overlooked star power).
—
Kode9 & The Spaceape, Black Sun (Hyperdub)
One of dubstep's reluctant dons gets dystopian amid skittish breaks and flame-licked samples. And the Spaceape's as sinister as ever, of course.
—
Tim Hecker, Ravedeath, 1972 (Kranky)
The latest in a long line of Tim Hecker LPs that sound like snow blind journeys into the unknown. And to make things extra apocalyptic this time around, Ben Frost helped Hecker record the entire pipe organ-infused album in an old Icelandic church.
—
Maria Minerva, Cabaret Cixous (Not Not Fun)
Ladies and gentlemen, we're floating in space.
—
Laurel Halo, Hour Logic (Hippos In Tanks)
Techno that doesn't belong to any time or place; nothing on this astral plane at least.
—
Blanck Mass, Blanck Mass (Rock Action)
One-half of Fuck Buttons (Benjamin John Power) goes beat-less and delivers a deep set of selected ambient works.
—
Patten, GLAQJO XAACSSO (No Pain In Pop)
As seems to be the case with most young electronic producers these days, Patten hasn't divulged too many details about his personal life or creative process, although this excellent DUMMY interview certainly tried. All you need to know is that GLAQJO XAACSSO's code-spewing title is there for a reason–because Patten could pass for an Autechre side project, albeit one that's human after all.
—
Andy Stott, Passed Me By (Modern Love)
Making up for lost time, Andy Stott finally delivered a proper follow-up to his five-year-old debut, Merciless. The first of two mini-LPs, Passed Me By set the barely lit stage for Stott's new sound–a tidal wave of smudged samples, catatonic rhythms and liquified loops that seem to be under the same blackened spell as Modern Love's other MVPs, Demdike Stare.
—
Leyland Kirby, Eager To Tear Apart the Stars (History Always Favours the Winners)
As if Leyland Kirby wasn't already busy with two Caretaker albums (An Empty Bliss Beyond This World, the soon-to-be-released Patience score) and a boundless white label series (Intrigue & Stuff), the producer/composer presented a logical extension to his Sadly, the Future Is No Longer What It Was trilogy. Synth washes and contemplative keys make for one hell of a partly cloudy combination–decidedly sad yet set to stun.
—
The Weeknd, House of Balloons (self-released)
Earlier this month, Abel Tesfaye shared the following on Twitter: "drums… louder drums…. strings…. more fucking strings… anxiety, pain, more fucking pain…" As scripted as that may look on a computer screen, the singer has a point–one of the reasons the Weeknd has courted indie kids and child actor Canadians is his devotion to being more decadent and melodramatic with each passing chapter of his mixtape trilogy. House of Balloons is where it all began, a drug-gobbling middle ground between bloodletting R&B and left field loops like Beach House and Siouxsie and the Banshees.
—
Rustie, Glass Swords (Warp)
Remember when Justice said their second album was going to be all proggy? Too bad it doesn't sound like this—maximalist beats that have been blasted with shattered LCD screens.
—
Pinch & Shackleton, Pinch & Shackleton (Honest Jon's)
A welcome return to Shackleton's Skull Disco roots, with Pinch's dizzying drum programming meeting the producer's menacing melodies halfway down a highway to hell.
—
Belong, Common Era (Kranky)
This entire album sounds like it was recorded in a cumulonimbus cloud, then drowned in a tank of ice water. And yet, we can't help but plunge ourselves into said tank every time it's on.
—
Thee Oh Sees, Castlemania (In the Red)
John Dwyer's prismatic version of a pop album—a bloody duel between woodwinds, strings and guillotine-like guitars. That voice will still be a love-or-hate proposition for most listeners, but there's at least a couple straightjacketed cuts on here that we can all agree on.
—
Weyes Blood, The Outside Room (Not Not Fun)
Enough of the Kate Bush comparisons already. We want more Nico nods in the 'quirky female singer' department next year—spectral transmissions like Natalie Mering's (see also: Jackie-O Motherfucker) first proper LP as Weyes Blood.
—
Tom Waits, Bad As Me (Anti-)
Sixty-two years in, Thomas Alan Waits is still cooler than you'll ever be—a convulsive cartoon of a man who spends his nights smoking cigarettes with truck stop derelicts and singing off-key with Keith Richards.
—
Grouper, A I A : Alien Observer (Yellow Electric)
Someone had to be our Enya.
—
Kuedo, Severant (Planet Mu)
Jamie Vex'd sheds his dubstep side for a synth-guided tour around the moon.
—
Oneohtrix Point Never, Replica (Software)
While it's nowhere near as immediate as the glistening synthcapades of his last couple records, Daniel Lopatin's latest solo album explores his past, present and future by splicing deceivingly simple piano suites with scrambled samples that bring new meaning to the phrase "this is your brain on drugs." Any questions?
—
Motion Sickness of Time Travel, Seeping Through the Veil of the Unconscious (Digitalis)
Digitalis founder Brad Rose (see also: Altar Eagle, Charlatan and the North Sea) claims this record is the best demo he's ever received. Maybe that's why he remastered an initial cassette run for a proper vinyl pressing that fizzles and fades like a tall bottle of top shelf champagne.
—
Zola Jesus, Conatus (Sacred Bones)
Following the lead of her last two EPs (Stridulum, Valusia), Zola Jesus' second album douses her drama queen diatribes with swift strings, sleek synths and spare, punchy beats. We normally avoid remix records, but Conatus could sure use a complementary compilation that taps Nika Roza Danilova's inner house diva.
—
Julia Holter, Tragedy (Leaving)
On second thought, this one deserves to be in at least one of our Top 10's. Since it isn't, however, we're simply going to remind you that ancient Greek play adaptations don't get more engrossing, or jaw-droppingly beautiful, than this. Definitely keep an eye out for Holter's second album next spring.
—
Balam Acab, Wander/Wonder (Tri Angle)
Thanks to James Blake, Burial and countless other young British producers, phantom-powered, pitched-down vocals are as much a part of the arty electronic music landscape as shimmering synths and IDM-infused beats. Alec Koone projects his own purgatory onto his first LP, however, plunging us into a forested world full of trapped souls, crashing waves and crumbling trees.
—
Hype Williams, One Nation (Hippos In Tanks)
A queasy bong hit to the brain, and a mighty fine reminder of why we'll never, ever pop anything 'psychedelic' in our mouths ever again.
—
James Blake, James Blake (Polydor)
In retrospect, this is a pretty ballsy record—a stranger-than-it-appears exploration of the producer's hopes and fears, as set to vaporized vibes and some serious bass lines.
—
Dirty Beaches, Badlands (Zoo Music)
All the pomade and switchblade combs in the world can only hope to make the rest of us as remotely cool as Alex Zhang Hungtai is on his directorial debut. Someone needs to give Jim Jarmusch this guy's number so he can score the man's next road trip movie.
—
Earth, Angels of Darkness, Demons of Light I (Southern Lord)
The first half of a planned double LP literally drags Dylan Carlson's dust-caked desperadoes out of the darkness and into the light, cutting through his wildly expressive chords with waves of wistful cello and perfectly paced percussion.
—
Shabazz Palaces, Black Up (Sub Pop)
Sub Pop's first hip-hop signing happens to feature Ishmael "Butterfly" Butler of Digable Planets fame, a strange connection considering how flower power positive that trio was and how foreboding Shabazz Palaces is. Black Up isn't a hopeless listen, however; just a mercurial one.
—
James Ferraro, Far Side Virtual (Hippos In Tanks)
Now that the future's finally here, we can't think of a better way to revisit Robert Zemeckis' hoverboard-optional rendition of 2015 than by losing yourself in the waking technological nightmare of hypnagogic pop auter James Ferraro. Steve Jobs would not approve.
—
Other Lives, Tamer Animals (TBD)
Coming straight outta Stillwater (Oklahoma, that is), Other Lives channel their post-rock past with symphonic, windswept snapshots of what suffering from manic depression must feel like. File this album next to Youth Lagoon as one of the few 2011 full-lengths that made us stop what we're doing and actually listen every time they're on.
—
Kreng, Grimoire (Miasma)
One of the most memorable experiences we've ever had in New York was drifting through the dreamscape that is Sleep No More, a loose translation of Macbeth that breaks down off-off-Broadway's fourth wall and forces you to interact with wall-crawling actors and a noir-ish environment best described as a cross between a David Lynch film and a Raymond Chandler adaptation with little chance of redemption or anything resembling a happy ending. Kreng's latest album could easily soundtrack any one of the McKittrick Hotel's imaginary rooms, leaving you feeling intrigued and emotionally spent at the last time.
—
The Caretaker, An Empty Bliss Beyond This World (History Always Favours the Winners)
Speaking of ballroom music that's been beamed from the great beyond, Leyland Kirby's Caretaker guise also straddles the hazy line between stylized horror scores and borrowed nostalgia for the unremembered '20s.
—
Xander Harris, Urban Gothic (Not Not Fun)
Continuing with our theme of loving just about everything Not Not Fun put out this year is Xander Harris' debut album, which basically sounds like a Zombi record from 2006. Meaning: this is the music that Michael Jackson's undead friends danced to after they got done filming "Thriller."
—
Zomby, Dedication (4AD)
Unlike Joker's disappointing 4AD debut, Zomby's bid for indie cred on the same label expanded his crossover audience by ignoring dubstep's continued pop cultural presence and indulging his id. It's not what anyone expected, and he's still a bit of a string-pulling provocateur with the press, but this telling tribute to Zomby's fallen father has a beating, broken heart beneath it all.
—
A Winged Victory For the Sullen, A Winged Victory For the Sullen (Kranky)
If Stars of the Lid never make another album, we can take solace in side projects that cut straight through the bone like this neo-classical collaboration.
—
Prurient, Bermuda Drain (Hydra Head)
One of the noise scene's few enduring forefathers discovers black-lit dance music and funnels its cold-pressed keys through primal screams and psychoanalytic poetry. Scary stuff, although Prurient's totally '90s mixtape for self-titled hints that there may be a charred sense of humor driving his darkest impulses.
—
Real Estate, Days (Domino)
Well that was pleasant.