As Resident Advisor pointed out last month, Jonah Sharp (best known for his work as Spacetime Continuum) and Move D recently cut a killer live record under their Reagenz moniker. Performed at one of the infamous parties that gave The Bunker New York its name, it's a hardware-heavy set that still manages to maintain a decidedly human pulse. In the following exclusive feature, Sharp breaks down the duo's synth-heavy setup, and shares some records that pull from the same sonic palette.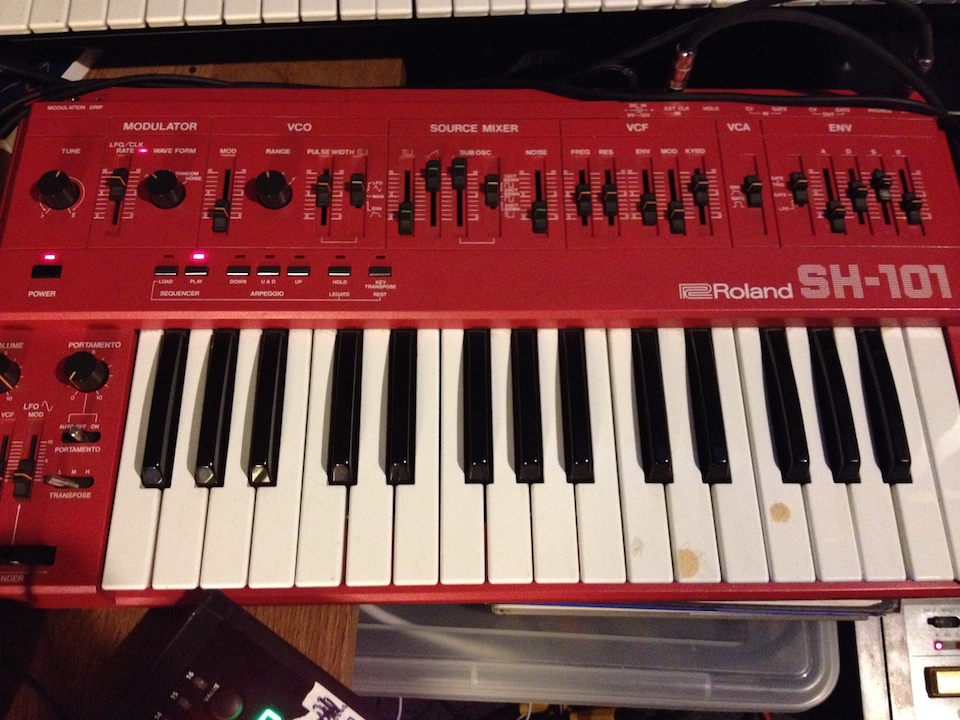 1. ROLAND SH-101 SYNTH
For the Reagenz live rig we use a few staple vintage Roland products that we both have gotten to know really well and love over the years. The SH-101 provides most of the bass lines and percussive sequenced parts using the internal sequencer which is triggered from the Roland TR 606 drum machine tom trigger outputs. This is a very simple and fairly rudimentary way to generate music, but the 101 is a highly effective and sweet sounding synth and the utter simplicity of the sequencer means we can write those parts on headphones in an instant.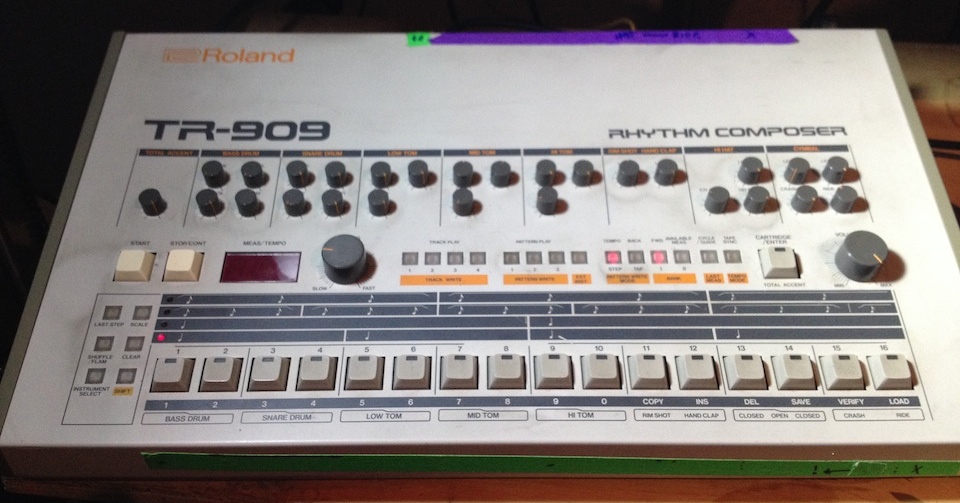 2. ROLAND TR-909 DRUM MACHINE
We have ended up using the TR-909 at most of the recent shows. It does what it does so well and sounds great. The kick drum is good at moving air. We usually program a few beats at soundcheck and then program it during the show in realtime depending on where the improvisations lead us. It also gets programmed from the master clock of the Akai MPC1000; the 909 MIDI spec is very useful in that you can start/stop whilst it is running and also play the notes from an external source over MIDI. The sounds, as we all know, are very distinct and powerful and lend themselves to further live processing.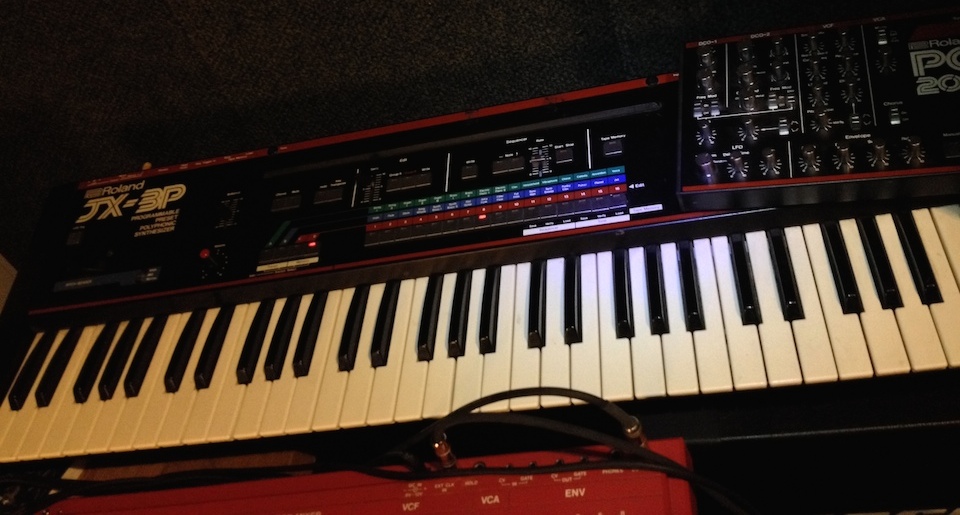 3. ROLAND JX-3P SYNTH
The JX is notable as one of Roland's first products to use MIDI. A simple and powerful poly-synthesizer that lends itself to being used in a improvised live setting. It has an internal sequencer like the SH-101, the difference being it allows you to program notes polyphonically (i.e. chords). Like the 101, we trigger the sequencer from the TR-606 drum machine tom triggers, making it possible to come up with cool stuff very quickly. It can be said that the sound of this synth is a little thin and that the filter is not up to too much compared to the fuller sound of, say, a Juno 106 but the simplicity and instant nature of the sequencer makes up for this.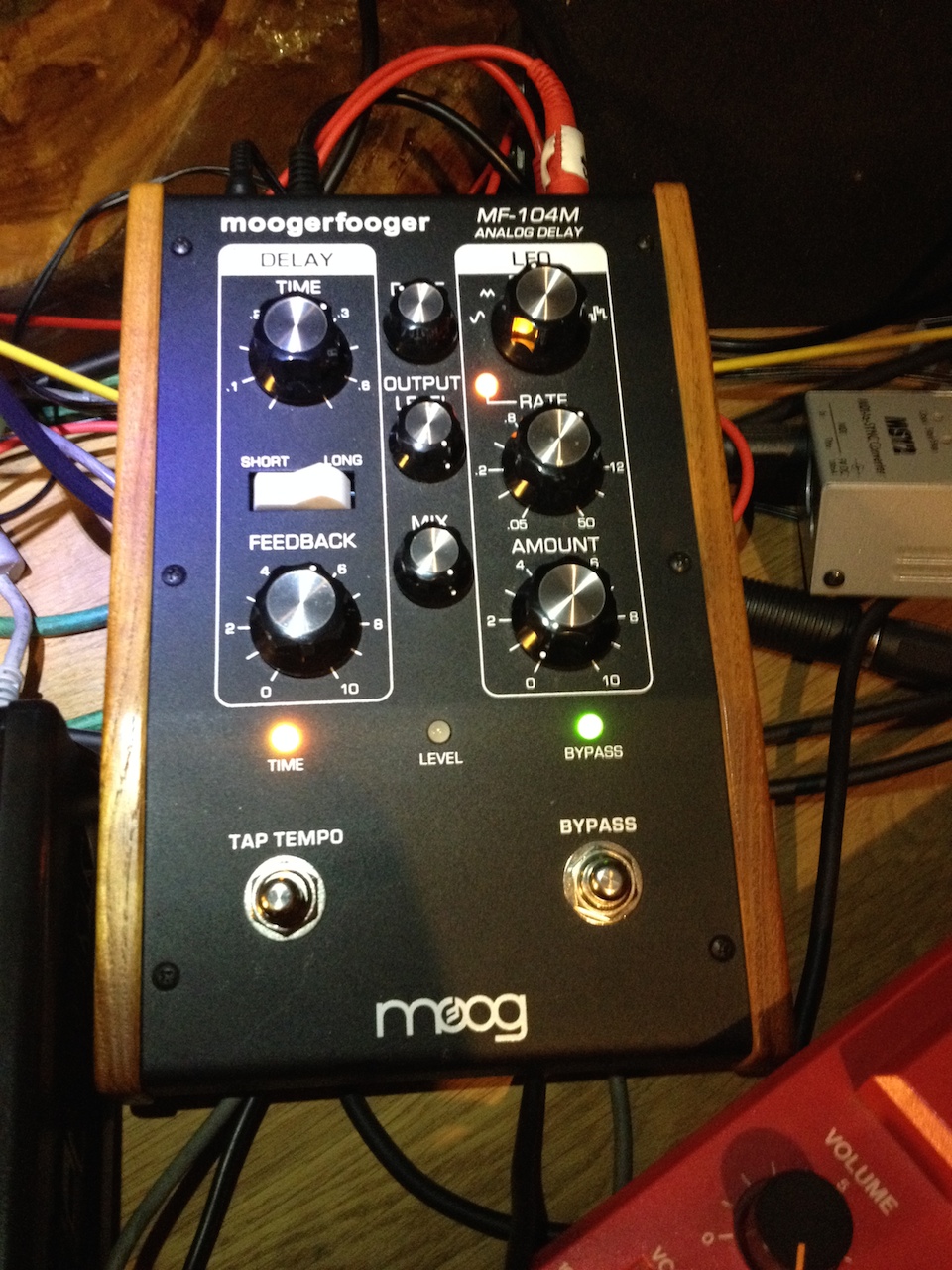 4. MOOG ANALOG DELAY
EFX are a big part of our live show. Analog delay adds a very organic feel. The Moog delay is a classic bucket brigade type with two seconds of delay time. This one has a convenient MIDI input for clocking the delay time.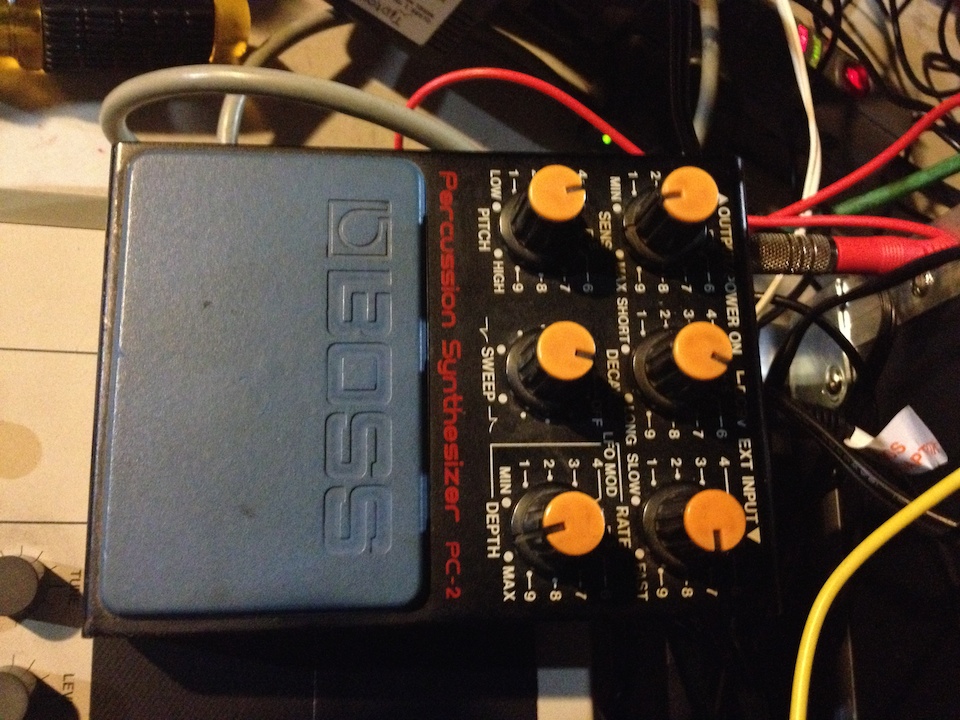 5. BOSS PC-2 PERCUSSION SYNTH
Essentially a mini synth with one oscillator, LFO and pitch envelope. Does the familiar disco tom sound but is capable of a lot more. Has external audio trigger in so it can be playing from say the MPC1000. Add lots of the Moog delay for maximum effect.
FIVE RECORDS THAT USE SOME OF THE SAME INSTRUMENTS
1. In Sync, "Storm" (Irdial)
Lee [Purkis] uses both the Roland TR-909 and TR-808, showing us the perfect example of how these two machines can work well together with their internal sequencers. The right 909 swing setting and inventive 808 programming make for a timeless classic.
2. G Strings, "The Land of Dreams" (G Strings)
I picked this up at Fat Cat Records in Covent Garden when I lived in London back in 1990 on a recommendation from In Sync, who was working behind the counter and I think an owner of the store at the time. This track is very stripped-down and basic in instrumentation but very lush sounding with a hard Chicago 909 drum sound. The other Chicago record with the same deep vibe was Ron Trent's "Altered States" / "Making Love". These records made me realize that you could get a lot of mileage from very little gear and make some very deep music.
3. Cabaret Voltaire, "Just Fascination" (Virgin)
This song is from the 1983 album The Crackdown, which marked a technological shift for the band with new drum and synth sounds. I went to see them a few times when I lived in North England at this time and was completely blown away with their mix of live instruments and machines together with Super 8 visual projections as almost the sole source of lights onstage. What struck me at the time was how great the grooves were and that people were really getting down on the dancefloor. The Juno 60 arpeggios are very apparent on this track.
4. Fingers Inc., "Can You Feel It" (Jack Trax)
Tuneful and very soulful, with a positive message. Great tough 909 beat, a defining Juno 60 bassline and beautiful warm chords. This track always stood out for me and has remained an absolute classic moment in house music.
5. Drexciya, "Aqua Worm Hole (Underground Resistance)
Its hard to pick a particular Drexciya track because so many are that good. This one is part of a double 12″ (Bubble Metropolis) that—like lots of James Stinson's work—has some very deep concepts. Musically the approach is very live sounding, as if the tracks were carefully thought out, programmed then played live in the studio straight to tape. No fussy, overworked production; just great, honest and utterly unique electronic music. Very inspiring.