As chaotic and caustic as A Place to Bury Strangers can be on record, nothing's quite like seeing the band live, rattling the room with nervous energy and charging across the strobe-lit stage like a pack of wild dogs. Enter the Brooklyn imprint Famous Class, who decided to press a collage of previously unreleased recordings from the trio's last tour onto a 7" with a blacklight reactive sleeve. Here's what it looks like: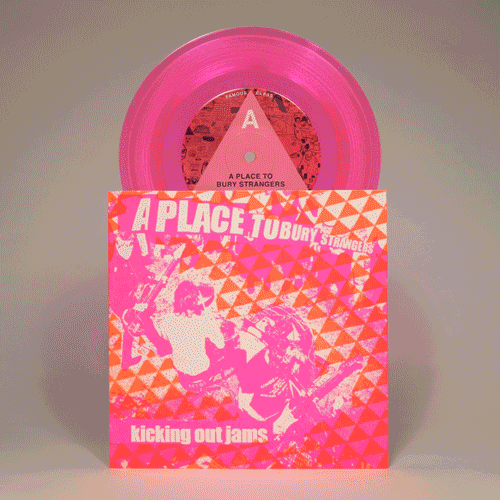 And what frontman Oliver Ackerman had to say about it:
I always wanted to have a band that would just come up with real pop songs on the spot. This is that minus the pop and plus the fucked up rock and roll. This is our raw, uncut, thought-of-on-the-spot A Place To Bury Strangers. The inspiration is you. You have inspired us to kick you in the ass and make you dance or at least flail your arms around until you puke. These five tracks were created in five different locations throughout the world in the middle of the crowd with people breathing down our necks and stepping on our feet. Sometimes someone would grab the microphone away and bark like a chicken and sometimes grab our collective ass. Here is the soul squeezed from the past years of the band's existence on this platter.
Kicking Out Jams hits the streets April 8th and is available for pre-order here. Check out our #selftitledpremiere of its B-side below, along with tour dates and a sampling of the other side…

A Place to Bury Strangers tour dates:
4/1 Bordeaux, France – Rock School Barbey
4/2 Évreux, France – L'Abordage
4/4 Lille, France – L'Aéronef,
4/5 Hasselt, Belgium – Muziekodroom
4/6 Eindhoven, Netherlands – Effenaar
4/8 Essen, Germany – Cafe Nova
4/9 Berlin, Germany – Lido
4/10 Copenhagen, Denmark – Loppen
4/11 Oslo, Norway – Revolver
4/13 Stockholm, Sweden – Debaser Strand
4/14 Helsinki, Finland – Kuudes Linja
4/15 St. Petersburg, Russian Federation – Zoccolo 2.0
4/16 Moscow, Russian Federation – 16 Tons
4/18 Tel Aviv-Jaffa, Israel – Barby Club