"I'm doing a DJ-Kicks mix," Matthew Dear wrote on Facebook this morning. "It feels so good to say those words. From the beginning of the series, I've been tuned in and inspired by legends like Carl Craig, Stacey Pullen, and Nightmares on Wax. Fast forward to great mixes by my friends and peers like Scuba, Seth Troxler and DJ Koze's enthralling 50th mix for the series. DJ Kicks has been a reflection of the electronic culture I dedicated my life to 20 years ago.
He continued, "A big part of me is still that 18-year-old kid, raving out to my favorite DJ's and their mixes. I only hope my offering can add to the storied legacy of our culture, and keep a place in your heart amongst this constantly evolving world of electronic music."
Among the selections on the January 27th set are tracks from Matrixxmann, Nils Frahm, and Simian Mobile Disco. Dear also contributed three exclusives—one under his own name, and two under his torrential techno project Audion.
"I always have a lot of unreleased music laying around," he explained. "Those I included on here seemed to fit. A mix like this is always a good place to showcase my own productions, but I didn't want to oversaturate it with my own stuff. I wanted to create a mix that could be listened to anywhere, and reflect a little bit of everything that I play. Whether you're in your car, preparing to open the club, or having a bottle of wine with friends at home, this mix is for you."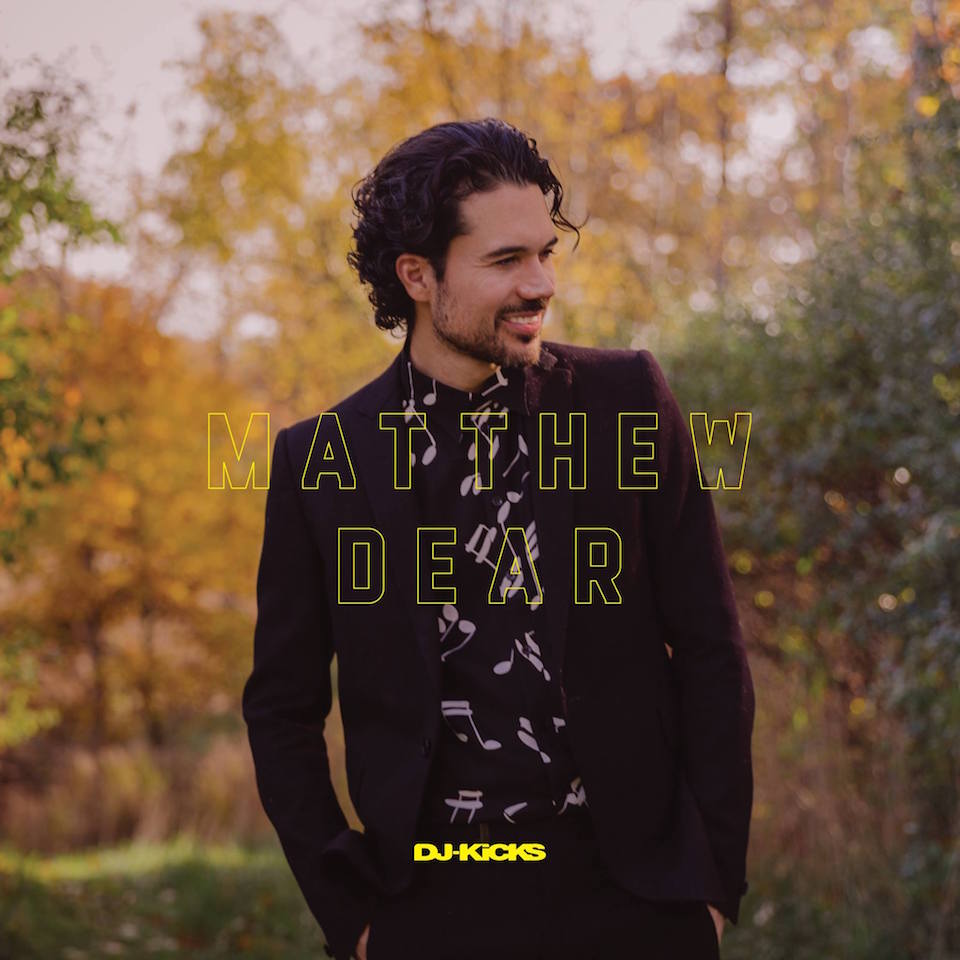 Matthew Dear
DJ-Kicks
(!K7, January 27th)
1. Nils Frahm – Ode
2. Matthew Dear – Wrong With Us (DJ-Kicks)
3. Mahal – Ongaku (HVL Remix)
4. Monsieur Georget – Double Lune (Third Child Boomer Mix)
5. Kreon – Silo Sol
6. Caserta – Ricky (Thatmanmonkz Remix)
7. Gwilym Gold x Doc Daneeka – Lust For Sale (MGF Mix)
8. Smoke – Nuutri
9. Decius – Bread & Butter
10. Italojohnson – ITJ10B1
11. Vin Sol – Instinct (Matrixxman Remix)
12. Groovesh – Glowing
13. Duff Disco – Feed The Horse
14. Dudley Strangeways – Hallam
15. Alex & Digby – Angolan Rumble
16. Gary Sloan & Clone – Harmonitalk (Alex & Digby Edit)
17. Randomer – Rendell Pips
18. Markus Enochson – Hot Juice Box
19. Simian Mobile Disco – Staring At All This Handle
20. Pearson Sound – XLB
21. Soulphiction – Sky So High
22. Audion – Live Breakdown
23. Audion – Starfucker
24. Audion – Brines
25. DJ Khalab & Baba Sissoko – Kumu