Photo DAN HOUGLAND
Setting the Records Straight is a new series where we ask our favorite artists to walk us through the most important and meaningful songs in their sprawling back catalogues.
This week's entry is another special Bandcamp Friday edition, featuring longtime s/t favs Black Dice. If you want to truly understand where longtime member Aaron Warren and co-founders Eric and Bjorn Copeland have been coming from creatively over the past 25 (!) years, we highly recommend setting an hour aside for this robust exchange with fellow experimental music icon Genesis P-Orridge.
Or if you want the Cliff Notes version, you can just head straight for this playlist, a best-of breakdown by 2/3 of the band that happens to include a bonus track from their imminent Mod Prog Sic remix EP….
Aaron Warren
"HONK"
This was on a Troubleman 10" and is on the Natty Lite reissue. I think this is the first tune I had any input on the music on. In 1999, I joined the group on bass and mostly I was just learning the old songs they had written with Sebastian [Blanck]. I had a hard time playing fast enough at first and I remember everyone was like, 'Is this gonna work out?' But I got up to speed and then we were writing tunes and I contributed the bass slide down to a power chord and I was psyched.
"THE RAVEN"
This was on the Cold Hands EP. We recorded theses songs with Dave Portner from Animal Collective at his parents' house in Maryland on an ADAT. This is the start of us getting into really repetitive parts and stretching out a bit. I'm playin one note for a long ass time.
"THE DREAM IS GOING DOWN"
This ones on Beaches and Canyons. I remember around this time, all I did was look at gear online and try to figure out what would be weird and obscure. I think I saw an electronic tamboura on eBay and saw the seller lived in Manhattan so I made an appointment to go by his place. It was this tiny apartment in Chinatown and the guy had a little business importing Indian instruments.
I used the heck outta this little box on B&C, but I think I retired it for Creature Comforts because it's such a specific sound and I felt like I had milked it enough. Every couple years I get it out and try to work it into a jam.
"SKELETON"
I like this one off Creature Comforts because this is where we were really stretching it out. We'd play this one for 20 minutes sometimes. Eric and Bjorn mixed the drums out when we were recording and we were all like, 'That's the sound.'
I make like one minimal bass sound on here and mix the guitar through some delay and that's about it. I mighta banged on a tom through a delay as well. Love the simplicity.
"WASTERED"
This was on a split 12" with Animal Collective. I remember we had to record this one while we were mixing Creature Comforts and we had not a lotta material. Eric went into the practice space before the session and busted out the amazing vocal loop. We tapped out the beat on a MIDI keyboard with Steve Revitte who recorded it. I like this one cuz it has sorta a weird hip-hop angle to it.
"GORE"
This was the first beat I made up on the MPC — so basic, but I like it. We did this one with Nicolas Vernhes at Rare Book Room and Bjorn did the bass synth riff with an oscillator and a pitch shifter.
"PIGS"
I like this one cuz Eric had the two main loops, but I was able to sync up a couple beats to it and this was one of our most playable tunes for years. I'm really happy with how this turned out on the record, but it got even better after playing it for years. We played it at Deerhunter's ATP [festival] as the last tune of the weekend and the place went nuts — so fun.
"BAD BET"
I like this one because we wrote it remotely, but also live, and can play it live now and it is so fun. Eric was in Spain and sent us the bass and drums. Bjorn and I played along to that live in the practice space and came up with most of the riffs. Then Rusty [Santos] helped us come up with the main guitar hook in the studio so it was a real team effort!
Eric Copeland
"CONE TOASTER"
This song was an early live 'hit' for us, when we were still a four-piece with Hisham Bharoocha drumming. It was also at the height of DFA's early buzz, so we tried making it into a single.
My memory is we took at least two, if not three, attempts to record it, eventually finishing a version at Rare Book Room with Nicholas Vernhes. The recorded version, to my ears, is a little clumsy and not as successful as the live versions. I don't think we were quite ready to allow someone else to produce it, so the result sounds half-produced — not quite slick enough for where we probably wanted it to go.
"BOB"
This was a song on a tour-only 7″ released by Rob Carmichael's Catsup Plate records. Black Dice is a live band, so creating tracks that we make entirely in the studio has never been our strongest work. "Bob" is the exception; it is based on an unknown sample and decorated with little synth warbles from Bjorn's handmade synth box. I'm not even sure I played anything on here. The song doesn't do much but is a perfect little recording.
"PISSED IN A CAVE"
This came out as a B-side to "Rodriguez" on Ribbon Music from our record Mr. Impossible. Besides having an amazing title, this is another track we created entirely in studio that I feel was successful. It is based on a loop I made that reminded me of Public Enemy, though a very lo-fi version.
I don't know what Aaron does here, but I'm assuming some vocals and maybe the beat. Bjorn plays the guitar part, which fit the track in a strange but very satisfying way.
We self-recorded this in our practice space of 10 years, an odd zone where we managed to stay without paying rent for five years. Had it not been for that space, we likely would have been a far different band. Eternal gratitude to Vic and the Pinball.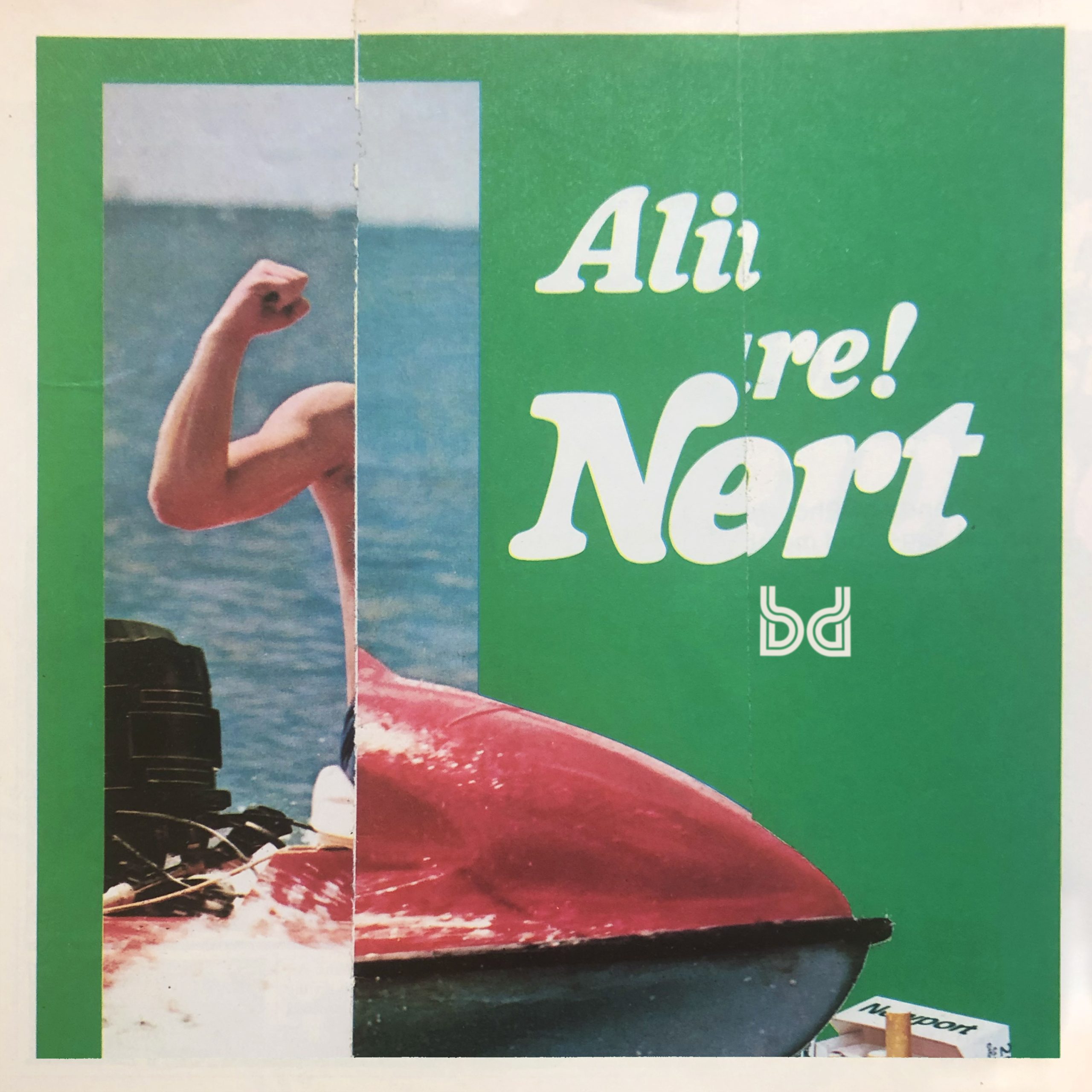 Black Dice
Mod Prog Sic Remixes
(FourFour Records, April 4th)
1. Bad Bet (Maral Remix)
2. Downward Arrow (DJ Lycox Remix)
3. Swinging (Inner Flight Remix)