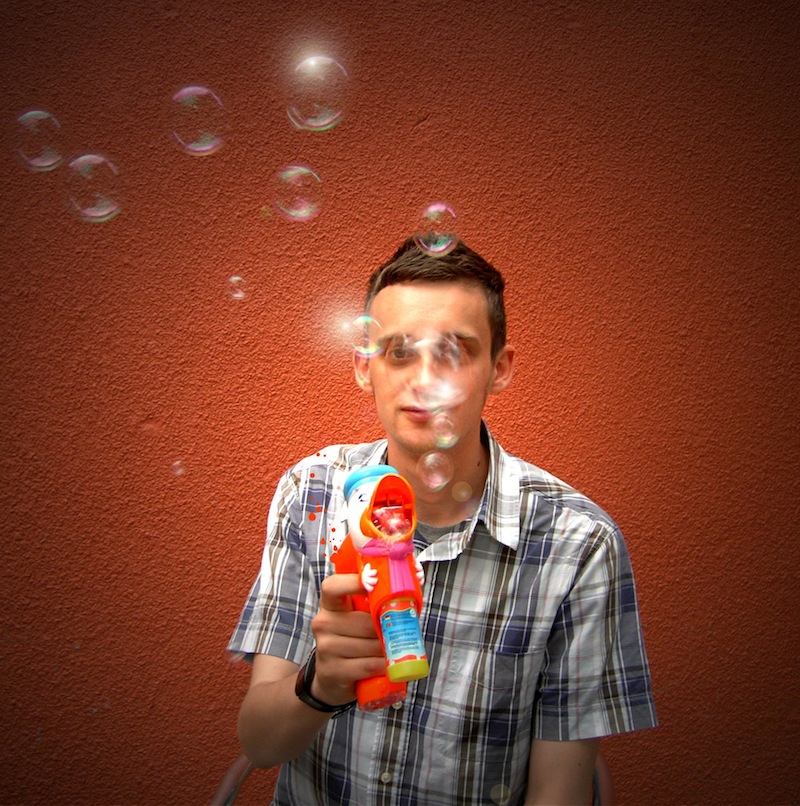 Words by Mitch Strashnov
If you take into account the amount of times Matt Cutler (aka Lone) has switched up his musical styles, you'd get a deluge of lush, liquidy vibes that'd dare you not to smile and dance. From his early solo effort Everything is Changing Colour (2007) to his later collaborative work with Neon Jung (formely Keaver + Brause) under the Kona Triangle moniker, Cutler has created an atmosphere that's inviting and vibrant. When he finally shifted towards the tempos of house music in 2010, he released the fantastic Once in a While on Werkdiscs and started his own imprint, Magic Wire, to release his mini-album Emerald Fantasy Tracks. Fast-track to 2012 and his newest album, Galaxy Garden, is being released on the recently revived underground institution that is R&S Records.
self-titled talked to Cutler about his evolution from broken beats to steady-rave charging, his ongoing relationship with R&S and his outlook for the future…
self-titled: It's been three years since your last album, Ecstasy & Friends; obviously your sound has changed, perhaps more with the times. Within the past few years, how has the current music climate affected your production process and output?
To be honest, I shut a lot of it out. I've been DJing a lot and getting new music, playing a lot of techno and 140 BPM stuff, but within the actual process of the album I was not taking any influence from it. The main thing with this record is where it goes back to what I used to do, which was just making music that no else did–just having fun. When I started releasing music, whether hip-hop, house or ravey stuff, it was very referential; but with this album, I just didn't want to give a fuck and not rely on any sort of outside influence.
The album is actually a lot more fervent in its pace than previous full-lengths you've done. How important was it for you to exhibit this frantic rave vibe without losing your usual lush sound?
The rave thing isn't really intentional; it's just me being into that music. It's the same way a blues band just plays blues–they can't really help it. With this album, I was trying to go away from it, but I recently realized I can't really get away from it. It's become my natural sort of state. So I'll just go with it until it leaves me.
This album is going to proudly bear the R&S Records emblem, which is appropriate considering their support of early rave/house/techno classics. How do you feel about releasing your first-ever 'dance' LP on a label that housed artists like Joey Beltram, Moby and Carl Craig?
It's pretty crazy! Obviously, it's a different crew of people nowadays. It's not like I'm alongside Aphex Twin or something. When I first started the record, I was a bit panicked but the fact that it was R&S really gave me a kick in the ass. In a few years, it'll hit me, considering Aphex Twin's Classics is one of my favorite records of all-time.
The current roster includes wunderkinds like Blawan, James Blake, Pariah and Space Dimension Controller; did you at all feel apprehensive during the album process because of your labelmates contributions?
The current gang spurs me on, really. We've all played a few of the same parties, and it seems like we all get along quite well. It's inspiring, really. I remember hanging with Blawan a few months back and thinking this was all fucking crazy and we weren't taking it for granted.
When you've used vocals in the past, it was for mood-setting–samples that led-up to a song's shifting point. Why did you use actual vocalists on this album?
It wasn't a massively conscious decision to start with; with Machinedrum, we spoke about doing stuff for a while now, but we were both so busy. We finally met in New York when I played the Unsound Festival in 2011 and we really had a chance to talk more about it. When I was working on the album, I sent him "As a Child" and thought he could sing over it; within a couple of hours, he was done! With Anneka, she contacted me about two years ago to see what goes on. It was all quite natural and not really thought-out.
Is there a particular template that people need to understand before diving into your music? With the album, there's really a lot more room to dance rather than just get lost in the sound like your previous work.
I think a decent imagination might help, some open-mindedness. Maybe this will reach a few more people than my previous albums; it's usually just the heads that know about it, but this one will get a bigger push than the others. As long as people are willing to give their attention to it, I'm grateful.
Your label Magic Wire is growing quite steadily, yet you've managed to attract interest without oversaturating the market. What's your label process like currently and what's next?
We've signed a few new people. Next up is a friend of Blawan's, Kommune1; he sent me a hard techno face-melter, we're gonna put it out with a remix from me. We've also signed Broke One from Italy and Neon Jung has a new release coming out as well.
Both you and Neon Jung obviously have done work together, should we expect you two to collaborate anytime soon?
LONE: Yeah, we've started something–just a couple of ideas and we've traditionally, like we always do, got lazy and left them alone! [Laughs] It'll come around eventually, but whenever the time is right. But there's no rush at the moment; hopefully this year we'll get to working something properly.
How's the live set going? Are you ready to finally just do that exclusively or DJ as well?
I'm almost ready for it. I'm going to test it out at Boiler Room and at the album launch party. I'm still into DJing and will be mixing it both. I'm using a Macbook with Ableton and such. Hopefully I can work with Tom (Konx Om Pax) who did the visuals and incorporate that as well into the set. Would be massive.